News > Spokane
YWCA recognition is 'a call to action for me,' says Nicole Jenkins-Rosenkrantz, the 2020 Women of Achievement Carl Maxey Racial and Social Justice Award recipient
Thu., Sept. 17, 2020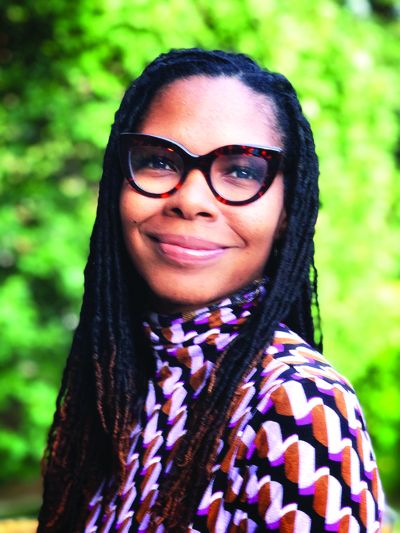 Nicole Jenkins-Rosenkrantz moved to Spokane sight unseen for college and once she arrived, she couldn't wait to leave again. But something shifted and she stayed, dedicating herself to helping children and students of color. Her work has earned her the 2020 YWCA Carl Maxey Racial and Social Justice Award.
The Carl Maxey award is part of the annual Women of Achievement awards, which are typically awarded during a fundraising luncheon. This year, however, there will be a virtual celebration on Oct. 1. The virtual event is free, but people can purchase a take-home meal from Masselow's Steakhouse and other Northern Quest Resort and Casino restaurants for $125. Registration information is available at ywcaspokane.org.
Jenkins-Rosenkrantz grew up in Southern California, where she was heavily active in sports. She was being recruited by colleges to play basketball and volleyball, but found herself hesitating.
"I really was burnt out," she said.
She had applied to Whitworth University as a test application and was accepted. She decided to attend the school where no one knew anything about her sports background. She earned a degree in sociology, but found the experience of being nearly the only Black woman on campus, with the exception of a few exchange students, difficult.
She recalled an incident in one class when the professor had the students call out stereotypes about Black people. Then he turned to her and asked if those stereotypes were true, she said.
"I used to go sit in the mall just so I could see Black people," she said. "That was my self-care."
She hadn't planned to stay in Spokane.
"My intent was always to go back to Southern California," she said. "Spokane was not very welcoming to me as a person of color."
But after she graduated, she had the opportunity to work as a child and family counselor at the Crisis Residential Center, which serves runaway youth and teens in conflict with their families.
"I have always had a heart for teens and particularly for spunky teens," she said.
Many of the teens in the program arrive there after being released from juvenile detention. Jenkins-Rosenkrantz said she found many of them were goal-oriented with a desire to improve their lives after that experience. She said she thought it would be easier for her to have an impact on troubled youth if she worked with them in juvenile detention, so she became a juvenile corrections officer.
She would spend 17 years working in the juvenile court system, including several years as a guardian ad litem, someone who works with children in the foster care system to determine their best interests.
"I was the voice in court for kids," she said.
Then she worked as the supervisor of the juvenile detention diversion program that worked with kids who were facing misdemeanor criminal offenses. The program provided counseling and other services to youth in the program, who then had their charges dismissed.
It was there that she first became interested in discipline issues in the local school districts, particularly Spokane Public Schools. Many of the cases sent to her were for extremely minor offenses and Jenkins-Rosenkrantz said she didn't think they warranted a criminal record.
"I started refusing to do some of the cases," she said.
Education is key for students. Someone who is expelled unnecessarily has a gap that can be difficult to overcome, she said. It can create what Jenkins-Rosenkrantz calls the school-to-prison pipeline.
"If kids are excluded from school, they're bored," she said. "What are they doing? They might be doing something illegal and then they're in the system. A lot of these stories start with disruption in school."
Jenkins-Rosenkrantz said she rarely saw students of color in her juvenile diversion program. They're more likely to be charged with felonies, which offers no chance to be considered for diversion, she said.
"Kids of color usually get overcharged, meaning their charges are more aggressive," she said.
During her work in the diversion program, she came to know the Spokane Public Schools administrators. She decided the best way to disrupt the school-to-prison pipeline was to take a job with the school district as it's community partnerships manager two years ago.
With the district's blessing, she applied for a grant that provided funding for her and several others to attend training for an in-school diversion program. Such a program would allow the district to deal with problems instead of referring them to the justice system. Then she got a grant to create the program, which is called RISE. The goal of the program is to direct students to whatever services they need, Jenkins-Rosenkrantz said.
"We can do that without using the justice system," she said.
She was also asked to write the district's resolution on racial equity, which was approved by the board in June. Jenkins-Rosenkrantz said she wrote it in plain language, pointing out where the district was falling short in racial equity. She said she included several sections that she was sure the district would remove, but they stayed in.
"I wrote everything the community and students have been begging for," she said. "Most of that was just me writing from the heart."
Jenkins-Rosenkrantz said none of her work was planned, but her jobs just seemed to flow from one to the next as she saw different opportunities to help children.
"It's amazing how things just drop in my lap" she said.
She's currently working on her doctorate in business administration with an emphasis on criminal justice. Jenkins-Rosenkrantz said she can't wait to see what unfolds next in her life and career.
"I don't know what I want to be when I grow up," she said. "I just go where my heart leads me."
Jenkins-Rosenkrantz said she was surprised when she was told she had been given the Carl Maxey Racial and Social Justice Award.
"I'm deeply honored," she said.
She said she usually works behind the scenes to create change, but receiving the award has made her reconsider her role in the community.
"I feel like winning this was almost a call to action for me," she said. "I love being behind the scenes, and it's time for me to not be."
Local journalism is essential.
Give directly to The Spokesman-Review's Northwest Passages community forums series -- which helps to offset the costs of several reporter and editor positions at the newspaper -- by using the easy options below. Gifts processed in this system are not tax deductible, but are predominately used to help meet the local financial requirements needed to receive national matching-grant funds.
Subscribe now to get breaking news alerts in your email inbox
Get breaking news delivered to your inbox as it happens.
---