Former Pasco officer recharged with murder in connection with 1986 Spokane killing
Sept. 18, 2020 Updated Fri., Sept. 18, 2020 at 6:34 p.m.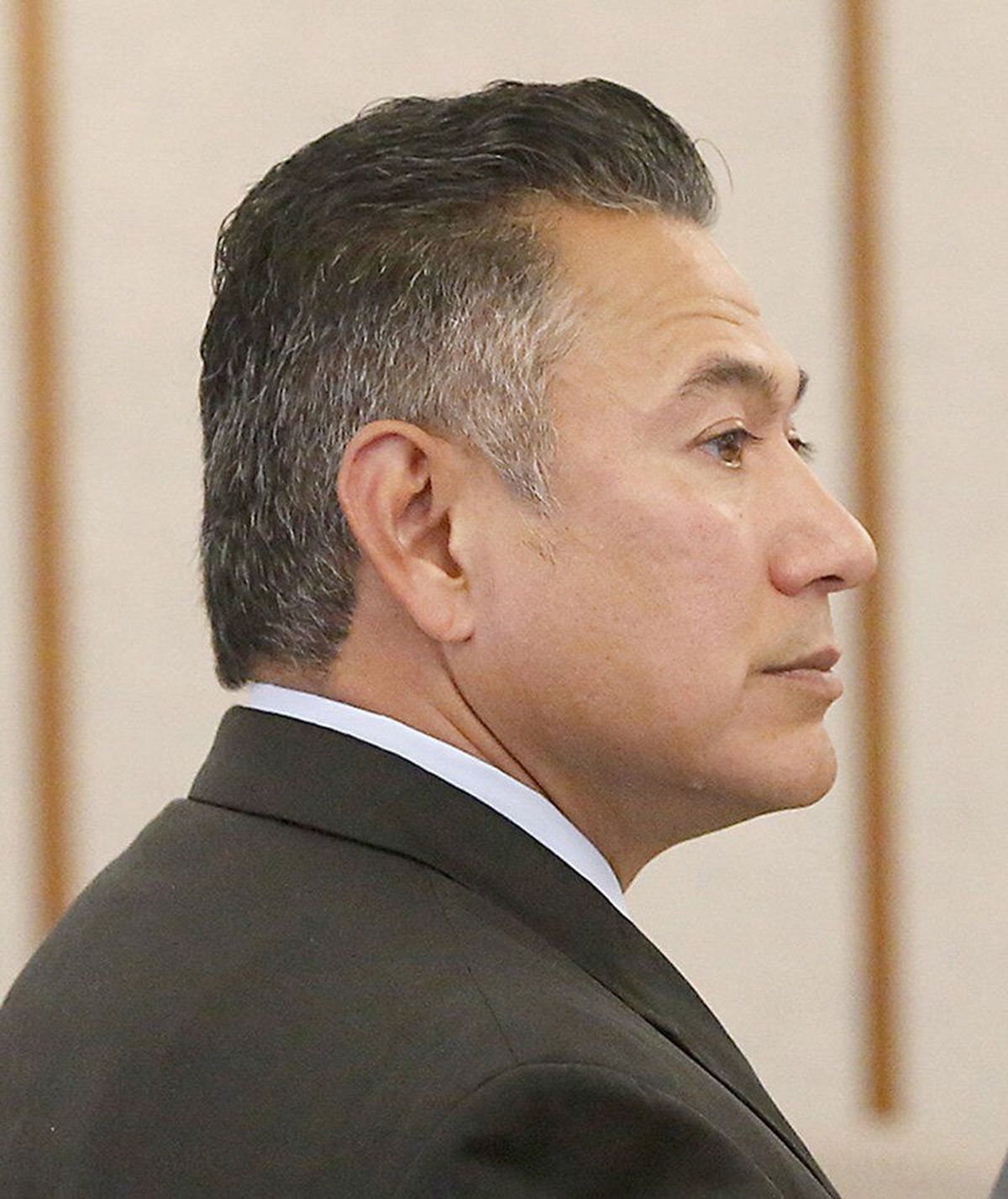 Former Pasco Police Officer Richard J. Aguirre, shown in 2015. (Tri-City Herald)
Spokane County prosecutors have re-filed a murder charge against a former Pasco police officer in connection to the cold-case strangulation of a woman killed in 1986 based on new DNA tests they claim link the suspect to the case.
Richard J. Aguirre, 56, previously was charged in 2015 with the killing of 27-year-old Ruby J. Doss, who was working as a prostitute at the time of her death. Prosecutors charged Aguirre after he submitted DNA for a separate rape investigation and it matched the evidence collected in the Doss case.
But that case was dismissed nearly three years ago over questions regarding the decades-old evidence.
The newly filed first-degree murder charge was entered on Sept. 11, according to court records. Aguirre, who remains out of custody, is scheduled to be arraigned Sept. 30 at 10:30 a.m. before Superior Court Judge John O. Cooney.
Aguirre's Seattle-based attorney, John Henry Browne, who defended serial killer Ted Bundy, did not immediately return a call Friday seeking comment. Spokane County Prosecutor Larry Haskell, likewise, did not immediately respond to an interview request.
The Doss killing occurred at a time in Spokane and Spokane Valley when prostitutes were literally disappearing off the streets. Investigators initially tried to link her killing on Jan. 30, 1986 to serial killer Robert Yates, who later pleaded guilty to 13 counts of first-degree murder and one count of attempted murder in Spokane County from 1975 through 1998.
Former Spokane Police detective Brian Breen investigated the Doss crime scene near 3118 E. Ferry Ave. According to court records, Breen found where it appeared Doss had sex with someone near a manure pit behind the old Playfair Race Track.
He also found shoe-heel impressions that indicated Doss had ran some 254 feet before her attacker chased her down and struck her in the back of the head with a blunt instrument. "The suspect then strangled the victim causing her death," Breen wrote in court records.
Near where the initial sexual interaction took place, Dectective Nicolas Stanley located a freshly used condom, but the case remained open at a time when DNA testing was in its infancy.
Then in 2001, Detective Rick Grabenstein submitted the condom for testing and the results were loaded in 2002 into the national database of DNA profiles.
Finally, on Jan. 30, 2015, the 29th anniversary of Doss' death, the profile came back as a match to Aguirre.
He had been placed in November 2014 on administrative leave from the Pasco Police Department, where he had worked for 27 years, after he was accused of raping his then-30-year-old niece in Franklin County. His DNA profile was collected as part of that rape case.
As part of an investigation related to the alleged rape, investigators discovered 76,060 pictures and 315 videos on one of Aguirre's cell phones. The other phone had 4,532 photos and 48 videos. Most of those files showed sex acts with men and women, according to court records. Investigators also found evidence in Aguirre's home indicating he had been using steroids.
Many of the people depicted in the videos appeared to be experiencing "pain and fear," and many did not seem to be aware they were being recorded, according to court records.
Prosecutors later charged Aguirre with voyeurism, which was later dismissed, based on an incident where he taped himself with a man at Mirabeau Park Hotel in Spokane Valley in February 2015.
The man told investigators that he met Aguirre through an ad on Craigslist and was "distraught" that he had been identified. The alleged victim told police that he agreed to pose for several photos wearing high heels and lingerie but he did give Aguirre permission to be filmed during sex, according to court records.
The legal case continued, and Aguirre's first trial for third-degree rape ended when the jury could not reach a verdict. A second jury later acquitted Aguirre of the rape charge in March 2017, a month after the voyeurism charge was dismissed in Spokane County.
That left only the murder charge from 1986. His attorney, Browne, unsuccessfully tried to get that case dismissed under the argument that military records showed Aguirre was in South Korea at the time Doss was killed.
Haskell successfully showed that the military records only reflected a reporting period and did not show when Aguirre had been at Fairchild Air Force Base.
Browne also sought dismissal of the murder case because investigators lost the condom, which prevented the defense from testing it as well.
As the trial date was approaching in December 2017, Spokane County prosecutors asked for a dismissal to wait for further DNA testing, which prompted the charges to be refiled last week.
"The investigation is ongoing and your declarant anticipates additional witnesses, information and evidence," Spokane Police Detective Kip Hollenbeck wrote in court records.
Local journalism is essential.
Give directly to The Spokesman-Review's Northwest Passages community forums series -- which helps to offset the costs of several reporter and editor positions at the newspaper -- by using the easy options below. Gifts processed in this system are not tax deductible, but are predominately used to help meet the local financial requirements needed to receive national matching-grant funds.
Subscribe now to get breaking news alerts in your email inbox
Get breaking news delivered to your inbox as it happens.
---