News > Washington
Women of the Year: And the nominees are…
UPDATED: Mon., Sept. 21, 2020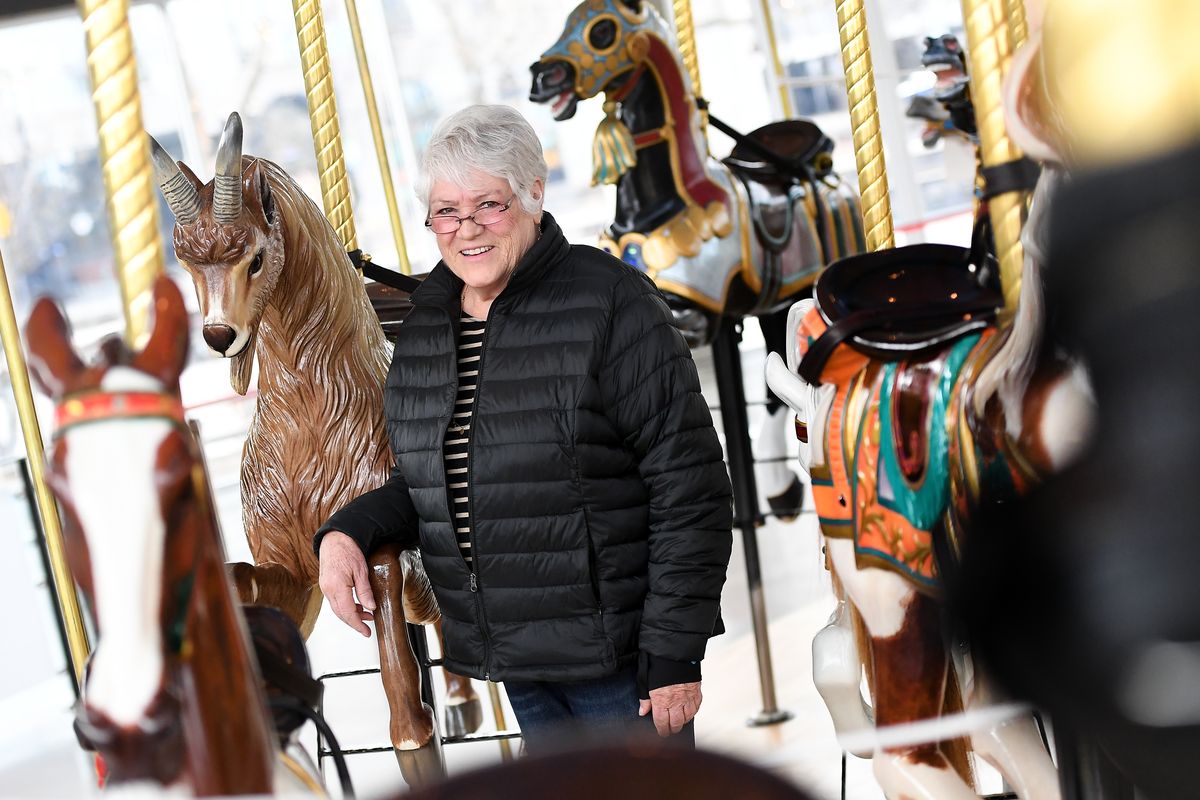 Bette Largent is seen in February at the Looff Carrousel in Riverfront Park. She was a Women of the Year nominee. (TYLER TJOMSLAND)
The Spokesman-Review
We asked our readers to send us the names of women they would pick as Women of the Year for 2020. And did they deliver! While it was a real challenge to pare down the list to 10 women who accomplished great things in 2020, and five women recognized for years of dedication and hard work, we don't want to leave anyone out. Below is the list of all the women who were nominated, and the kind words said about them.
Ashley DeMonville
Spokane Falls Community College professor and local theater director
Nominated by Kemuel DeMoville
As an instructor I have seen Ashley DeMoville work tirelessly to ensure the success of the students in her classes. Ashley is an instructor who genuinely cares about her students, and she takes an enormous amount of pride in their growth and success. Not only does she mentor student performers, designers and technicians in her free time, but she helps to find them employment in the industry. … Her leadership is also evident in the way she has worked toward inclusion and representation at the Spartan Theatre. Over the past two years Ashley has established a Season Recommendation committee made up of SFCC faculty, students, and community members, and have produced shows by playwrights of color, hired outside directors and designers of color, and has instituted a policy of color/gender blind casting at the Spartan Theatre since she arrived in 2017.
Rebecca Cook
Filmmaker
Nominated by Mira Whitehead
Rebecca has worked tirelessly to help keep film in Washington. She also works directly in efforts to increase women in film in the INW. She's astounding and very committed to the INW in general and Arts specifically.
Also nominated by Alena Schoonmaker
Rebecca is an incredible part of the film and theater community in Spokane. She is a phenomenal director, actor, and she is the Vice President of the Pacific Northwest IATSE union, President of the Spokane Film Project, and a Spokane rep to Washington Filmworks (always fighting for those working in the arts). Everyone who works on film in Spokane has gotten a chance to experience her generosity in sharing her knowledge and wisdom; I got my start on one of her short films. A local treasure!
Amber Hoit
Artist, business owner
Nominated by Katie Wilson
She's an amazing artist who did the Angela Davis mural for BLM downtown that was defaced. It really broke her spirit when that happened. But nevertheless, she still plans to repaint it. And at the height of COVID she started her own business AOD painting. She's just an all-around lovely human being that's extremely talented as well and deserves to be recognized.
Mary Stover
Suicide prevention activist
Nominated by Mira Whitehead
She founded a Suicide Prevention nonprofit and engages in Suicide Prevention walks and activities all over the INW. She's amazing.
Kate Burke
Spokane City Council Member
Nominated by Eva Silverstone
Kate is fearless! She is young but she sets her sights on goals to make Spokane a better place and does not stop until she has found the way to do that. She is also honest and human. She has been forthright and honest about the struggles of being a young woman in politics and that honesty is so welcome and needed if there is hope for change. The old boys club has existed for so long and Kate's honesty and work is helping open doors for women. I think she's an inspiration to so many young women. Students could look to her and say, "Yes, I could do that too." That kind of inspiration is so important to ignite the spark of learning and desire to engage in civic action. I met Kate years ago when she worked at my son's preschool and was impressed then and am triply impressed now. I don't think I ever had her kind of courage and I am so pleased to see her go after things that are important to her. … She is willing to learn on the job and make mistakes and make amends for them. She listens to citizens regardless of their party affiliation or position in life. For these reasons, I think she should be recognized.
Davy Jones
Artist and activist
Nominated by Oscar Parsons
Davy Jones is a mixed-race transfeminine artist, activist and educator who moved to the Inland Northwest almost a decade ago and has been tirelessly advocating and fighting for justice here since then. They donate their time and expertise to teach seminars and workshops on critical race, gender, social justice and poetry all over the country and especially the Northwest. They are recognized and known by the arts community here and in many other cities. They are an example of how strong Spokane can be when things get hard.
Laura Steininger, DPT, CAPP-OB
Physical therapist
Nominated by Meg Bateman
Laura recently took a massive leap and opened her own Pelvic Floor Physical Therapy practice, Inland Pelvic Health & Physical Therapy, in Hayden. She is extremely passionate about helping women recover from hidden & painful conditions like endometriosis, prolapse, pelvic congestive syndrome, painful bladder syndrome and more. Conditions that most women suffer from silently, feeling them "too taboo" to speak up and get help for. … Not only does Laura provide them care with her physical therapy practice, but she goes beyond to provide them with resources for their conditions. Whether it's giving them a call after hours to check in on them emotionally or letting them know about online resources – she does it because she cares for their mental and emotional health, not just the condition of their pelvic floor.
Martha Domitrivich
Food security activist
Nominated by Amanda King
One of the most talented women I know. Started the Supper Club providing low cost meals for families that are delicious while also donating to people in need. Does her own first aid up to and including stitches, used to be a massage therapist, always willing to help people even if she doesn't know them.
Tana Mae Tenold
Entrepreneur
Nominated by Allison Tenold
I nominate my mom, Tana Mae Tenold, in recognition of her work and dedication to improve life in the Pacific Northwest. Tana is a leader in business because she is an entrepreneur who gave up her beloved teaching career to start a mortgage company with my dad, and in place of formal training or experience she possessed a powerful drive and devotion to run the company and assist families with the American Dream of homeownership … We need more people like Tana who are willing to take a chance and who have the grit and determination to be successful. For over 25 years, Tana has helped spread the business to an extensive network of consumers across all of Washington and Idaho. A great leader will discover what they do best and where their weakness lies. While my dad makes the sales and is the face of Jack Tenold LLC (located above Auntie's Bookstore), Tana applies her organizational and customer-service skills and remarkable work ethic to her roles as marketing manager, production manager, office manager, purchasing agent, art director, receptionist, webmaster, and blogger, to name a few. She is a workhorse, and never takes any credit or receives any accolades.
Shauna Kennedy Carr
Cancer survivor, volunteer
Nominated by Kirsten Schierman
Shauna has blessed our community in so many ways – turning tragedy into fierce and tenacious proactive action. From beating breast cancer twice, to helping at Race for the Cure, to starting the non-profit Stop the Silence after the tragic murder of her sister, Shauna shines a light around her in every dark corner. She personifies the strength and resiliency we women recognize and dig deep to find when we need it. I nominate her wholeheartedly for this honor and recognition.
Barbara Miller
Silver Valley environmental health advocate
Nominated by Betty Hill
Barbara Miller has worked to provide data and documentation for the ecological recovery for the Bunker Hill Superfund site she has also worked with nation and international medical professionals to create the Children Run Better Unleaded project. … Throughout her years of activism Barbara helped to pass legislation for Personal Care Services allowing elderly the choice to remain in their own homes vs. costly nursing homes. The Silver Valley is holding on due to the grassroots action of the Silver Valley Community Resource Center the nonprofit organization she help found and the local job hiring for the cleanup jobs which put millions of dollars into the local economy. In 2007 with news from Cd'A tribal members and the Kootenai Environmental Alliance that EPA was planning a toxic waste site at the Old Mission at Cataldo, a National Historic Landmark she set to work gathering facts and informing thousands of affected citizens as well as national groups to oppose the location. … She is on the board of the Northwest Toxic Community Coalition, Community Action Partnership, the Silver Valley Rock Painting Group and Monarch Butterfly resurgence effort. She attends Mass at St. Rita's Catholic church in Kellogg.
Julie Garcia
Founder, Jewels Helping Hands
Nominated by Barbara Weber
Julie … organizes showers, meals, clean-up of Spokane and connects the houseless to services to help get them off the street. Twice a night she organizes groups to go out and look for individuals and families recently homeless and helps them find shelter. There is a growing need for her services because of COVID-19. Every day she sees more and more individuals who have lost a place to live.
Also nominated by Candace Smallfoot
Julie … is the most giving kindest one of a kind that this community needs to advocate for our homeless in Spokane. She ran the Jewels Helping Hands shelter and when that contract ran out "no problem." She took it to the streets to help our homeless with endless and innovative outreach. She not only helps our homeless, she cleans up our community. … This community is so blessed to have such a positive giving person who is selfless.
Josephine Keefe
Theater artist, founder of the Spokane Theater Arts Council
Nominated by Sid Al-Thumali
Josephine has consistently been at the forefront of spreading awareness of diversity and inclusion not just within Spokane's theater community, but to other parts of the community that are marginalized. Josephine was recently diagnosed with COVID-19. Her willingness to share gruesome details about her diagnosis and the aftermath was truly inspirational and fit her mission of developing a better community, especially during a time when the American people consistently underplay the Coronavirus pandemic. Under STAC, she continues to fight for diversity within Spokane's theater community. … She is also a teacher at Gonzaga University and is admired by all her students. As an alumni I never got the chance to be under her tutelage, however she has mentored and offered me advice as a young and emerging theater artists.
Mariah Rose McKay
Business leader
Nominated by Jackie Treiber
I admire Mariah because of her commitment to Spokane. She's a 5th generation Spokanite who has worked hard to build relationships w/local/small business owners to champion their progress. She is an endless "connector" who works hard to keep community members interested in activism and more, connected. She is a force of nature who loves this city so much.
Germs
Artist
Nominated by Morgan Walters
She is an outspoken artist in our community and an artistic leader. Not only has she taught at the Corbin Arts Center, she organized an event called Art on the Go, as well as the Indian Trail Night Market. She continues to inspire and amaze with her watercolor techniques and how much of herself she gives to this community.
Jenni Spedick
Outreach pastor, Sun City Church
Nominated by Lola Lile
She is so passionate about helping kids and going the extra mile to make sure their needs are met.
Lisa Diffley
Women & Children's Free Restaurant
Nominated by Evelyn Hopkins
Lisa's leadership of the Women & Children's Free Restaurant and Community Kitchen is very well deserving of this recognition. She led the organization's ability to dramatically increase the number of meals provided during the pandemic from an average of 7,000 a month to 85,000 in June of 2020. There is so much incredible work to describe that she has accomplished with the organization since becoming Executive Director. Prior to this she was the ED of the Women Helping Women Fund. She is a long time leader of Spokane's philanthropic community.
Lisette Alent
Executive director, Inland Northwest Farmers Market Association
Nominated by Robert L. Allen
As executive director of the Inland Northwest Farmers Market Association, Lisette writes contracts and raises funds for 10 markets and helps keep them operational during these challenging economic times. Previously working for WSU and SCC, she has now secured a total of $40 million to be used to advance food security and agriculture in the Inland Northwest. Recently, Lisette secured the local federal U.S. Department of Agriculture contract that has opened the door for 400 food boxes to be delivered to homes weekly by Spokane Food Fighters and Share Farm.
Suzy Dix
Dishman Hills Conservancy, Nature Conservancy
Nominated by Allen T. Miller
Suzy is a life-long Spokane resident and has been instrumental in creating and expanding the Dishman Hills Natural Area in the heart of Spokane. She has been a board member of the Nature Conservancy and the Dishman Hills Conservancy for many years. Her expertise as a realtor has helped us purchase and conserve acres of property that will enjoyed by the public for recreation and wildlife habitat in perpetuity. Another reason to honor Suzy Dix as Woman of the Year is her years of philanthropy supporting the Ronald McDonald House with fundraising through the Spokane Polo Club Classic annual event. Through her involvement over $1 million have been raised for Ronald McDonald House.
Laurel D. Hansen
Scientist, science professor
Nominated by Diana De Felice
Hansen is a world-renowned expert on carpenter ants who has published in science journals and taught at SFCC for over 50 years. Her research, done in Spokane and all over the Northwest, has benefited people here and around the world, helping to limit damage to homes done by these insects and still respecting the environment.
Michelle Girardot
Chief Executive Officer, Spokane Habitat for Humanity
Nominated by Tess Welliver
Spokane's Habitat For Humanity has emerged as a leader in permanent affordable housing, in offering opportunities to low-income people to build wealth for themselves and their kids. The housing crisis needs to be attacked from a variety of angles – from emergency shelters to home ownership, which in a unique way targets structural/generational poverty. Under Michelle, Habitat has become a top-tier organization working on this issues in Spokane and beyond.
Janeen Graham
Entrepreneur, volunteer
Nominated by Donald F. Morgan
Janeen may be the busiest woman in America. She is a wife and mother, a nurse, a serial entrepreneur, a critical link in the local homeschooling community, a teacher and a missionary with an annual mission to Haiti. If that isn't enough, she and her husband Ben volunteer dozens of hours every week with the local Civil Air Patrol cadet program. She is quiet, humble and always there.
Mable Dunbar
Founder and President of the Women's Healing and Empowerment Network
Nominated by Shannen Talbot
The Women's Healing and Empowerment Network is a Spokane County nonprofit organization that provides healing and empowerment to individuals, families, homes, churches, schools, and other organizations through education, counseling, healing centers, resources and other support services in the areas of domestic violence, sexual abuse, and related abuse, particularly within the faith community. WHEN consults with and assists religious and secular organizations in establishing policies and procedures that can help prevent child abuse, protect victims and hold perpetrators accountable for their actions. Mable has a Ph.D. in family mediation, a Master's in education and counseling psychology, is a certified cognitive behavioral therapist, and clinically certified domestic violence counselor. … Mable is the heart and soul of WHEN, which operates the only domestic violence shelter on the West Plains, which allows women and their children to stay for six months or more while receiving counseling, therapy, and other resources to help them escape intimate partner violence. WHEN also operates Cleone's Closet Food Pantry in Airway Heights, which distributes thousands of pounds of food for families in need each month. For many years, Mable has been the one to respond to crisis phone calls in the middle of the night and helped panicked domestic violence survivors navigate the complex web of resources available to them. She is a compassionate haven for survivors and a galvanizing force for advocates.
LaRae Wiley
Educator, founder of the Salish School of Spokane
Nominated by Jessika Ladig
LaRae is a Native woman who started an entire school to revitalize her language (Salish School Of Spokane). She is like a mother to everyone who works or has children there and is like a grandmother to all of the children. She had a fall about a year and a half ago and still never stopped working hard to preserve her language while still following her doctors recommendations. She is the sweetest person i have ever met. She works tirelessly to preserve her language and culture.
Norma Gavin
Community volunteer
Nominated by Susanna Fries
At 88 years young, Norma Gavin shows no signs of slowing down from decades of volunteer work and dedication to improve life in the Inland Northwest. She has been an advocate for bridging cultural differences, showcasing the beauty of nature in the area, as well as welcoming/helping all ages and ethnic backgrounds, and she always does it with enthusiasm and a smile. Norma was born and raised in the Philippines and came to the United States through the Exchange-Visitors Program in 1956, eventually making Spokane her home. She always wanted to share and preserve her Filipino heritage through humanitarian, educational and cultural activities and events. Following Expo '74, Norma was encouraged by a friend to start The Filipino America Association of the Inland Empire. In 1987, the first meeting was held with 28 attendees. Over the years, the organization Norma founded has grown and thrived, and more than fulfilled its mission by being involved in numerous charitable, cultural and education events. Norma is also an incredible gardener who served the Associated Garden Clubs of Spokane up til this year for years as its annual Plant Sale Coordinator and a board member.
Bette Largent
Carrousel caretaker
Nominated by Don Largent
Bette was responsible for the restoration and maintaining the horses and other antique wooden carvings on Spokane's 1909 Looff Carrousel from 1991 to 2019. She oversaw the complete restoration while it was down during the building of a new home for the carrousel. In addition to working on the Spokane Carrousel, she painted at least 10 other carousels around the United States. She has served on the Board of Directors of the National Carousel Association and served as President from 2004 through 2018. She is recognized as one of the foremost carousel restorationists and historians of carousels around the world. She is recognized throughout the Spokane Community as the person who has taken care of one of Spokane's most recognized iconic piece of history.
Hailey Landrus
Attorney
Nominated by Kyle Nolte
She is a top-notch attorney, focused on helping people, she served as President of Executive Women International Spokane, she was just selected to fill the only Court of Appeals Commissioner position in Spokane.
Reach the writer at carolynl@spokesman.com
or (509) 459-5068.
Local journalism is essential.
Give directly to The Spokesman-Review's Northwest Passages community forums series -- which helps to offset the costs of several reporter and editor positions at the newspaper -- by using the easy options below. Gifts processed in this system are not tax deductible, but are predominately used to help meet the local financial requirements needed to receive national matching-grant funds.
Subscribe now to get breaking news alerts in your email inbox
Get breaking news delivered to your inbox as it happens.
---