News > Washington
Women of the Year - Legacy: Nadine Van Stone made thousands of area families' lives better through Catholic Charities
Sept. 20, 2020 Updated Mon., Sept. 21, 2020 at 10:17 a.m.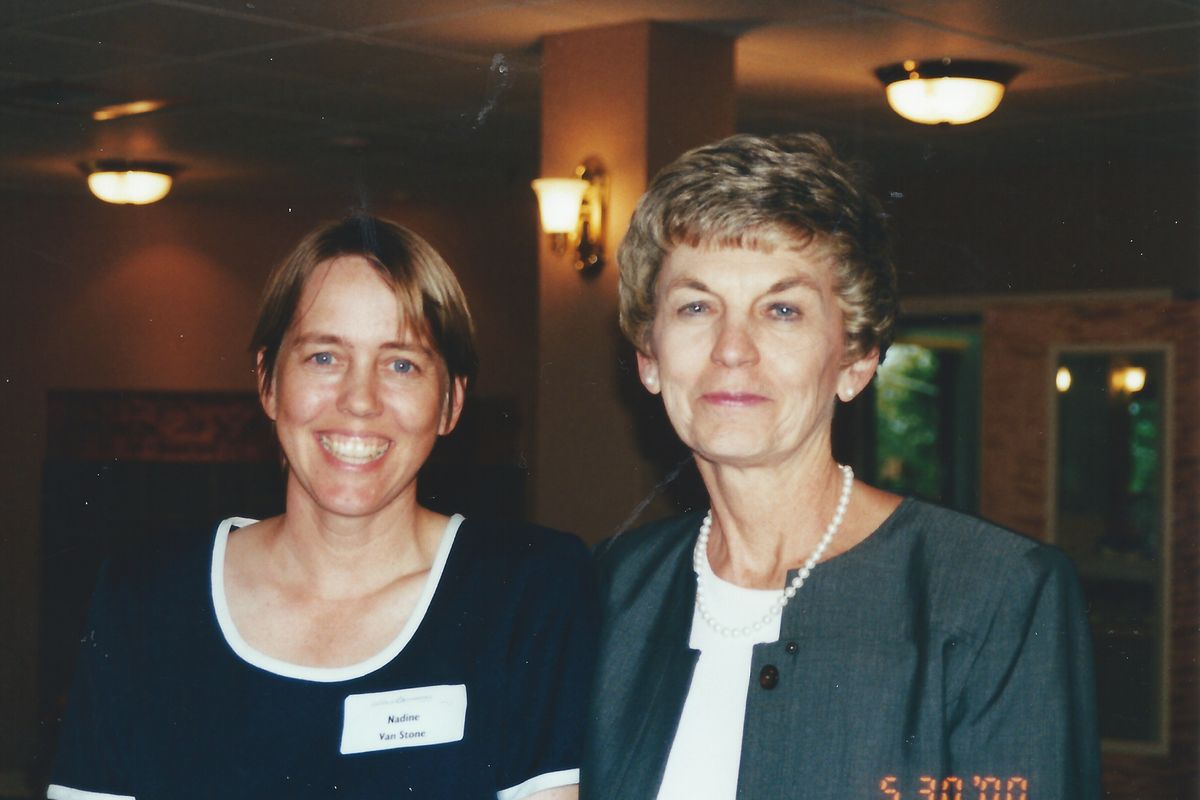 Nadine Van Stone, left, is seen with Donna Hanson, former director of Catholic Charities. Van Stone, who recently passed away, is a 2020 Legacy Woman of the Year. (Courtesy photo)
For more than two decades, Nadine Van Stone helped serve nearly 4,000 families through Catholic Charities Eastern Washington.
She helped open St. Margaret's shelter in 2000, and then started CCEW's Rising Strong program 16 years later. Through both organizations, Van Stone helped families in crisis access housing and other community services.
In all those pursuits, Van Stone, who died Sept. 9 at 63, led quietly, her sister Jody Nelson said, with an instinct for knowing what people needed.
For all that she poured into her work, she was most at home in her garden or on the family farm in Medical Lake, where Van Stone, Nelson and their four sisters grew up.
"(As children) we had little rows we could hoe," Nelson said. "Nadine was more the helper. She was often my dad's outdoor go-to person. When the cows were born, she was out there with Dad."
"Farming carried with her, her whole life," Nelson said.
As the middle daughters, Nelson said she and Van Stone, who was two years older, were particularly close. After high school they hitchhiked from Spokane to New York, and then went their separate directions – Van Stone to San Francisco, Nelson to Texas – for a time until both returned to Spokane.
"We had a certain role as connectors between the olders and littlers," Nelson said of her sisters' birth order. "I always admired her."
When Van Stone joined Catholic Charities in 1999, she started designing the new St. Margaret's facility for the homeless women and children who would live there. She received numerous awards for her work, including the Donna Hanson Award, named after a former director of Catholic Charities in Spokane.
She began more projects there, too, such as The Pearl, which offers used clothing and retail work experience for those in the program; the Food For All Program; and the CCEW Furniture Bank that Nelson said began "as basically a giant 'free' box."
Five years ago, Van Stone became Vice President of Crisis Response and Stabilization for CCEW and formed the Rising Strong program, which aims to support families with children at risk of entry into foster care, as the families recover from addiction and heal from trauma.
"I've always felt called to use my talents to make the world a fairer place for those who had less access to the things they needed to have a better life," Van Stone said in her eulogy, which she recorded in April. "Everyone has their own calling for work in their life; I can honestly say that was mine, and I was lucky to find it and be supported in carrying out that work."
But amid all that, Van Stone always had a passion for food access for all, Nelson said, and that guided many of her efforts. She helped establish the Vinegar Flats Community Garden of St. Margaret's, as well as the Perry Street Market. After moving to north Spokane, she continued to tend a garden.
"She was kind of an introvert, and it gave her space where she could connect with her thoughts and keep busy and figure things out," Nelson said. "The garden was her creative space."
But she wasn't always alone: Van Stone would welcome others, and she enjoyed helping people learn how to garden and how to preserve food, Nelson said.
"She wanted to serve the most vulnerable people, not just in her work life," Nelson said. "People would come work in her garden just to be around her and visit with her."
Van Stone was diagnosed with brain cancer in July 2019, and it was "a very heavy diagnosis," Nelson said.
Since, Van Stone devoted herself to finishing projects that she could and spending time with family, frequently visiting her daughter in Seattle until her deteriorating health kept her at home, Nelson said.
She also wrote poetry and kept a daily journal, a practice Van Stone said was "a culmination of that day, those thoughts, a life lived and loved."
"Life is precious and no matter how long, not long enough for all the connections one would want," Van Stone said in her eulogy. "There is too much love to share, too much to think about and see, and too much to write about."
Local journalism is essential.
Give directly to The Spokesman-Review's Northwest Passages community forums series -- which helps to offset the costs of several reporter and editor positions at the newspaper -- by using the easy options below. Gifts processed in this system are not tax deductible, but are predominately used to help meet the local financial requirements needed to receive national matching-grant funds.
Subscribe now to get breaking news alerts in your email inbox
Get breaking news delivered to your inbox as it happens.
---