A&E > Food
Chef Michael Wiley to take over Prohibition Gastropub on Oct. 1
Sept. 21, 2020 Updated Tue., Sept. 22, 2020 at 7:01 a.m.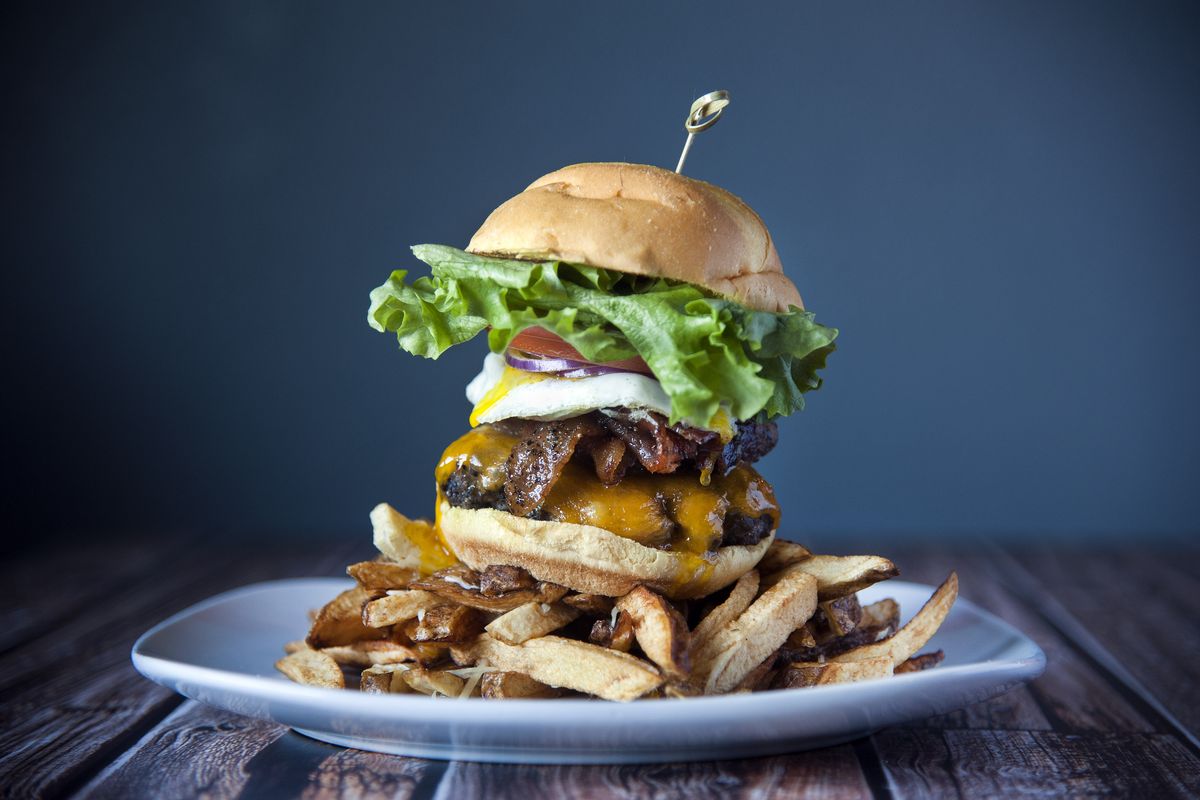 The Al Capone Burger at Prohibition Gastropub in 2016 includes a beef patty with coffee grounds, dirty ketchup and candy-coated bacon topped with a fried egg. (Dan Pelle/The Spokesman-Review)
Editor's Note: It was previously reported that Prohibition Gastropub is closing; that information is incorrect. Prohibition Gastropub is not closing.
Prohibition Gastropub executive chef, owner and manager John Leonetti announced on Prohibition Gastropub's Facebook page on Thursday that chef Michael Wiley will assume ownership and operation of the restaurant on Oct. 1, as Leonetti and his family are moving to Phoenix after operating the business located at 1914 N. Monroe St. for five years.
Wiley is known for Wiley's Downtown Bistro and will continue to run Wiley's, as well. Here is Leonetti's Facebook post edited for publication:
"Dear friends, it is with both great excitement and some sadness that we share this news with you.
"For five years, you have given me the opportunity to create, compete, challenge myself to do better and use my talents to serve this community. It's been the hardest thing I've ever done, especially since it was just my wife and I, no investors, just us … fighting to keep it going against all odds, and we did.
"Together with so many staff members who were a part of the Prohibition story over the years, we lived our dream. I can confidently say I gave my all as a chef/owner, learned so much about the business and how truly wonderful our community is and am excited for what is to come.
"We would love to have the Prohibition family join us in welcoming chef Michael Wiley, who will be moving in on Oct. 1! We couldn't have found a better person to write the next chapter of this building filled with memories and to continue to make his mark in Spokane food. We are certain with his attention to detail, fabulous customer rapport and creative mind that it is in good hands.
"If I've learned anything in 2020 and from some of the losses we have personally endured, it's that family is my most important and priceless investment. Jill, my wife, my support, the official taste tester and my biggest fan, needs me now. It's my turn to support her while she saves the trees and continues to follow her dreams. Big opportunities await her in Phoenix, in the world of recycling, and we've put off following her dreams long enough. It's her time to shine.
"We will be here until Sept. 30 and hope that between now and then, you come say goodbye, use your gift cards and welcome chef Michael, who will be training alongside me.
"Jill and I both will be here Sept. 26 for a fabulous party that evening. More details to follow. Please come by and wish us well. We would like to see you.
"Our most sincere thanks and appreciation for the love, kindness and patronage of our business. We appreciate all of you. Cheers!" – Chef Leonetti, Jill and Baby Chef
The last time I was at Prohibition Gastropub was for my first Secret Burger experience, and the staff, service and food were all excellent. Best of luck to the Leonetti family in Phoenix – they will be missed in Spokane – and to chef Wiley, as well, in his new endeavor in Spokane's culinary industry.
Local journalism is essential.
Give directly to The Spokesman-Review's Northwest Passages community forums series -- which helps to offset the costs of several reporter and editor positions at the newspaper -- by using the easy options below. Gifts processed in this system are not tax deductible, but are predominately used to help meet the local financial requirements needed to receive national matching-grant funds.
Subscribe to the Spokane7 email newsletter
Get the day's top entertainment headlines delivered to your inbox every morning.
---