News
Massive 830-pound pumpkin takes prize at Spokane County Fair
Tue., Sept. 22, 2020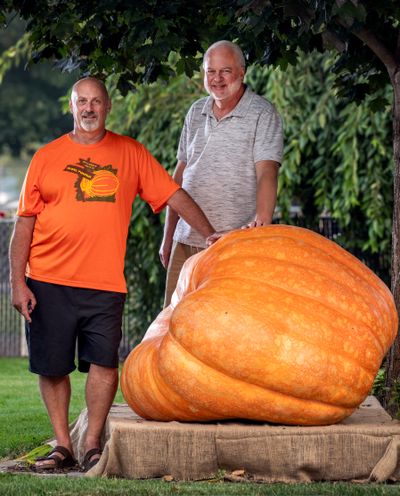 For Spokane Valley neighbors Gerry Klumb and Greg Johnson, growing the perfect pumpkin goes far beyond planting a seed.
Their pumpkins were the top two at the Spokane County Interstate Fair this year, with Klumb's pumpkin taking first at 830 pounds, Johnson's second at 628 and Johnson's father, Jim Johnson, rounding out the top three with a 625-pound pumpkin. Klumb has been growing pumpkins for four years, and the Johnsons have planted them for a decade.
Klumb and Greg Johnson have growing down to a science and have a formula they follow to produce award-winning pumpkins every year.
"My philosophy is go big or go home," Klumb said.
Both men have had pumpkins place in the top three at the fair for the last several years, trade tips back and forth and this year grew their pumpkins from the same seeds.
Bonnie Sewel, Spokane County Interstate Fair Agriculture Supervisor, said 16 pumpkins were entered into this year's fair, five of which were large gourds. She said that was fewer entries than in a normal year.
The two men both live in the south Spokane Valley. Greg Johnson grew up there and recently moved back to help care for his father who is in his 90s.
While Klumb, a chef and handyman, and Greg Johnson, a quality engineer, compete with each other to grow the biggest pumpkin, their main goal is to try to grow the largest pumpkins out of anyone in the county.
"There's a friendly competition between us," Klumb acknowledged, "but I don't care if I'm first or second, as long as we can beat everybody else."
To grow this year's winner, Johnson started the plants from seeds the pair purchased at a pumpkin auction, and eventually gave one of the seedlings to Klumb, who raised it at his home, and transplanted it. The men use heated coils in the ground to ensure the pumpkins don't freeze and rot in the spring, and each fashioned PVC pipe cages with clear plastic over the top to protect their plants from the elements.
Once their pumpkins start to grow on the vines, each gardener chooses one and culls all other blooms or fruit that could take energy away from the pumpkins destined for the fair. Klumb said each plant needs about 300 feet of space for vines to sprawl for a large pumpkin to grow. They also fertilized their pumpkins at least once a week, with a solution made from either blood meal or feather meal, which are fertilizers typically made from cattle blood and chicken feathers. They have also used seaweed fertilizer in the past. Johnson said he wanted to fertilize the pumpkins as naturally and organically as they could.
Johnson, a graduate of WSU's Master Gardener training program, said the precautions the two men take to grow their pumpkins to the maximum size are still limited by two factors, the variety of pumpkins they plant and Washington's growing season. He said people grow far larger pumpkins in other parts of the country, and the variety of pumpkin, or the lineage of that particular seed, could determine how large a pumpkin grows regardless of the growing season.
"One of the most important things is genetics," he said.
He said 800 pounds is quite large for Eastern Washington, but other varieties grown in other parts of the country can grow as large as 2,000 lbs.
Though Klumb, Greg Johnson and Jim Johnson may be known for winning awards in the fair for their pumpkins, community members may have seen their pumpkins at community events over the last few years. Several of Klumb's pumpkins have ended up at Scarywood and the Johnsons have had several displayed at the My Fresh Basket grocery store in Kendall Yards and at Fairchild Air Force Base.
Jim Johnson's pumpkin is currently at My Fresh Basket and the pumpkins Greg Johnson grew are displayed at his home and on another neighbor's porch.
Klumb said he planned to carve his 830-pound pumpkin into a scary Halloween creature, which will likely include lights and a fog machine.
Local journalism is essential.
Give directly to The Spokesman-Review's Northwest Passages community forums series -- which helps to offset the costs of several reporter and editor positions at the newspaper -- by using the easy options below. Gifts processed in this system are not tax deductible, but are predominately used to help meet the local financial requirements needed to receive national matching-grant funds.
Subscribe now to get breaking news alerts in your email inbox
Get breaking news delivered to your inbox as it happens.
---