News
Mead finally begins the school year
Tue., Sept. 22, 2020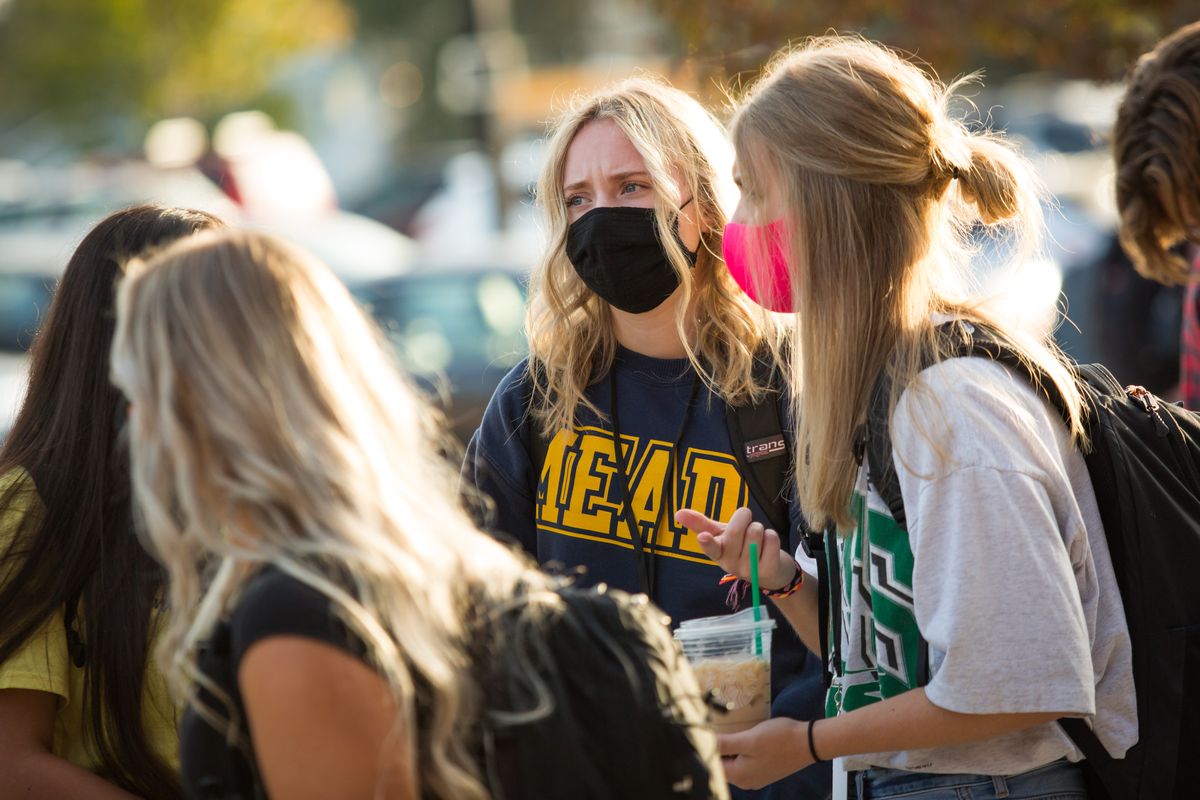 Mead High School junior Delaney Fritz, center, chats with junior Lindsey Krygier while waiting to enter the building Monday. (Libby Kamrowski/ THE SPOKESMAN-R)
Even during a pandemic, some things never change.
Underdressed teenagers, for example.
As the school year finally began Monday morning at Mead High School, most students wore short-sleeved shirts despite temperatures in the mid-40s.
And they were wearing masks, a prerequisite for getting back into school buildings for the first time in 6 months.
Originally scheduled to begin Sept. 1, the return to school for Mead students was delayed by two weeks to allow teachers and families to prepare for in-person and remote learning.
Then hazardous air quality forced a series of one-day delays that eventually consumed the entire week.
"We looked outside and said, 'you've got to be kidding me!' " Superintendent Shawn Woodward said, shaking his head.
Last week's air quality was the latest in a turbulent month for Spokane County's third-largest school district.
Bucking the trend among larger districts, Mead voted this summer to go with a hybrid learning model that sends elementary students to classes full time and the rest half time.
Mead is the largest district in the state to send students back to in-person instruction. The move was applauded by parents but criticized by health officials as well as many teachers in the district.
To ease the transition, the district pushed its original opening date back two weeks. However, much of that time was spent in negotiations with its teachers' union, the Mead Education Association, over the challenges of giving simultaneous lessons remotely and in person.
In the meantime, the district has lost about 400 students – about 3.5% of its total enrollment of 11,700 – as families have enrolled in private schools or opted for home schooling or other programs.
Then came the smoke, which left the district a victim of its own precautions.
According to Woodward, part of the coronavirus mitigation was its HVAC system. "We wanted to pull in that outside air into the buildings, but we couldn't do that with the smoke."
However, by Monday morning the future seemed clear and bright at Mead High School. Just after 7 a.m., cheerleaders and student government leaders were at the front entrance, cheering classmates as they arrived.
The student body president, Elijah Whitman, wore a tutu. Given the occasion, it didn't seem out of place, even on the body of a defensive tackle.
In yet another bit of bad luck, there won't be any football this fall for Whitman and his teammates – despite the recent completion of the district's new football stadium.
"But I'm excited – 100%," Whitman said. "I feel the best way to go into this is with an optimistic mindset.
"Just being back, and being able to be with each other makes a big difference."
Also at the front entrance was Principal Jeff Naslund, who noted that 80% of Mead High students wanted to be in classes rather than learn remotely.
"We're just very excited to welcome kids back to school," said Naslund, who proceeded to do just that.
Well before 8 a.m., students were lining up to enter the building. In addition to the masks, they had filled out online attestations that they hadn't been exposed to COVID-19.
Inside were the now-standard sanitizing stations, socially distanced desks and tables, officials said. However, media members were not allowed inside buildings.
Should an outbreak happen, Woodward said the district and staff are prepared to shift to distance learning only.
"We are confident that we can pivot rather quickly," Woodward said. "We are also prepared for classes and schools to possibly shut down, and it's more likely that that will happen rather than the whole school district."
Moments later, the doors opened.
"I'm a little nervous," said
Grace Carlton, a senior. "But mostly I'm excited to see everyone again."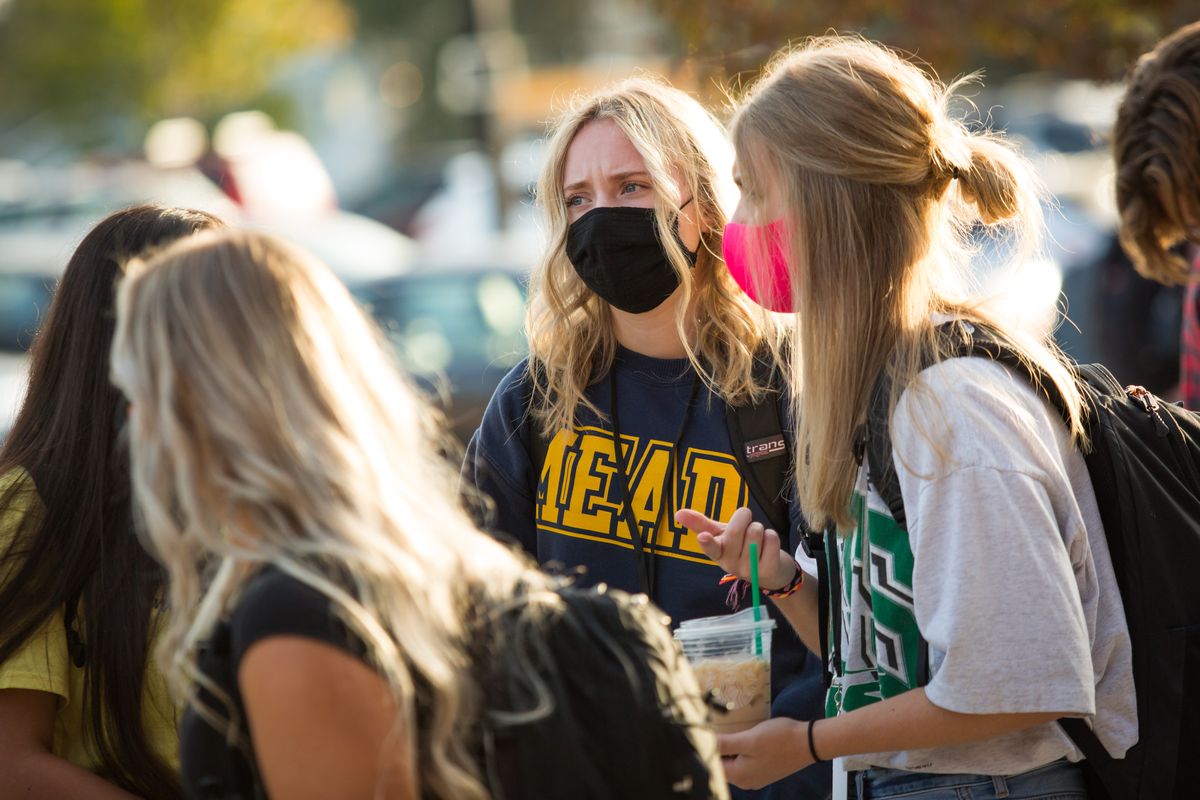 Mead High School junior Delaney Fritz, center, chats with junior Lindsey Krygier while waiting to enter the building Monday. (Libby Kamrowski/ THE SPOKESMAN-R)
Local journalism is essential.
Give directly to The Spokesman-Review's Northwest Passages community forums series -- which helps to offset the costs of several reporter and editor positions at the newspaper -- by using the easy options below. Gifts processed in this system are not tax deductible, but are predominately used to help meet the local financial requirements needed to receive national matching-grant funds.
Subscribe now to get breaking news alerts in your email inbox
Get breaking news delivered to your inbox as it happens.
---