News > Spokane
100 years ago in Spokane: City a summer tourism hot spot
UPDATED: Wed., Sept. 23, 2020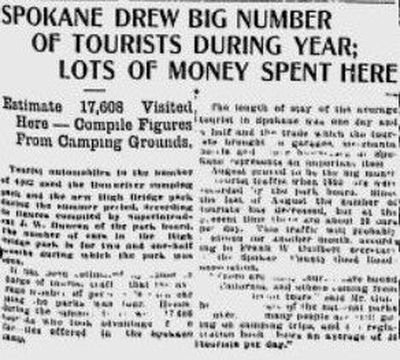 Spokane's tourist industry was thriving, according to the summertime statistics.
More than 4,000 cars and 17,000 people used the "Downriver camping park" and the new High Bridge park, according to J.W. Duncan of the city's park board.
The average stay was 1½ days, and the tourists spent a considerable amount of money at local garages and other businesses.
Many of these tourists were on their way to or from the big national parks – Glacier and Yellowstone – and many others said they were bound for California.
From the safecracker beat: A posse was on the hunt for a "robber gang" that entered a Quincy, Washington, hardware-and-grocery store in the wee hours and blew open the safe.
The gang escaped with thousands of dollars of cash, bonds and mortgage notes.
A pair of bloodhounds was dispatched from nearby Ephrata, but as of that afternoon, no trace of the robbers had been found.
From the marital beat: An aged Spokane couple, 82 and 83, had married several years earlier for "companionship."
That companionship had evaporated, and now the wife, Elsa Schweigel, was seeking a divorce because her husband had "pounded her" and chased her out of their Hillyard home.
One of the husband's grandsons testified that his grandfather had a "nasty temper and would often fly into fits of rage."
The judge granted the divorce.
Local journalism is essential.
Give directly to The Spokesman-Review's Northwest Passages community forums series -- which helps to offset the costs of several reporter and editor positions at the newspaper -- by using the easy options below. Gifts processed in this system are not tax deductible, but are predominately used to help meet the local financial requirements needed to receive national matching-grant funds.
Subscribe to the Coronavirus newsletter
Get the day's latest Coronavirus news delivered to your inbox by subscribing to our newsletter.
---