News
Bloomsday reveals virtual-finisher shirt
UPDATED: Fri., Sept. 25, 2020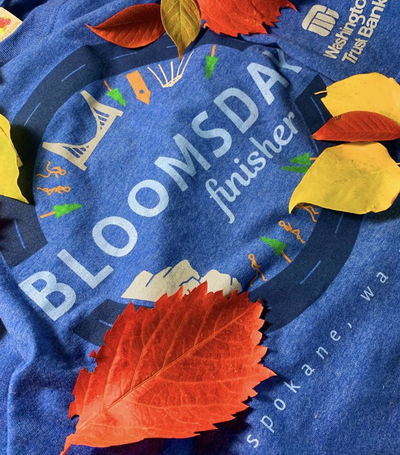 Bloomsday revealed its 2020 virtual-finisher shirt Friday afternoon, a heather blue cotton tee with small drawings of runners, trees and a few of Spokane's landmarks.
The shirts will be mailed in early October, according to race director Jon Neill.
This 44th running of Bloomsday is unlike any other after the pandemic postponed one of the city's signature events for four months and turned a race known for its mass of people into a virtural if not solitary run and walk for more than 25,000 people.
The look of the shirt is among the best-kept secrets every year.
Neill said this year's shirt was designed by Bailey VanderWilde, a former Lewis and Clark High School cross-country and track athlete who now attends St. Olaf College in Minnesota.
She ran her own 7.46-mile Bloomsday race last Sunday in Minnesota and submitted her results.
It's not too late to participate, finish and receive a shirt. People can still sign up and have until Sunday, Sept. 27 to finish their own course and submit their results.
Local journalism is essential.
Give directly to The Spokesman-Review's Northwest Passages community forums series -- which helps to offset the costs of several reporter and editor positions at the newspaper -- by using the easy options below. Gifts processed in this system are not tax deductible, but are predominately used to help meet the local financial requirements needed to receive national matching-grant funds.
Subscribe to the Coronavirus newsletter
Get the day's latest Coronavirus news delivered to your inbox by subscribing to our newsletter.
---