News
Keys to a long, happy life: Larry Morse, 100, shares his secrets
UPDATED: Sun., Sept. 27, 2020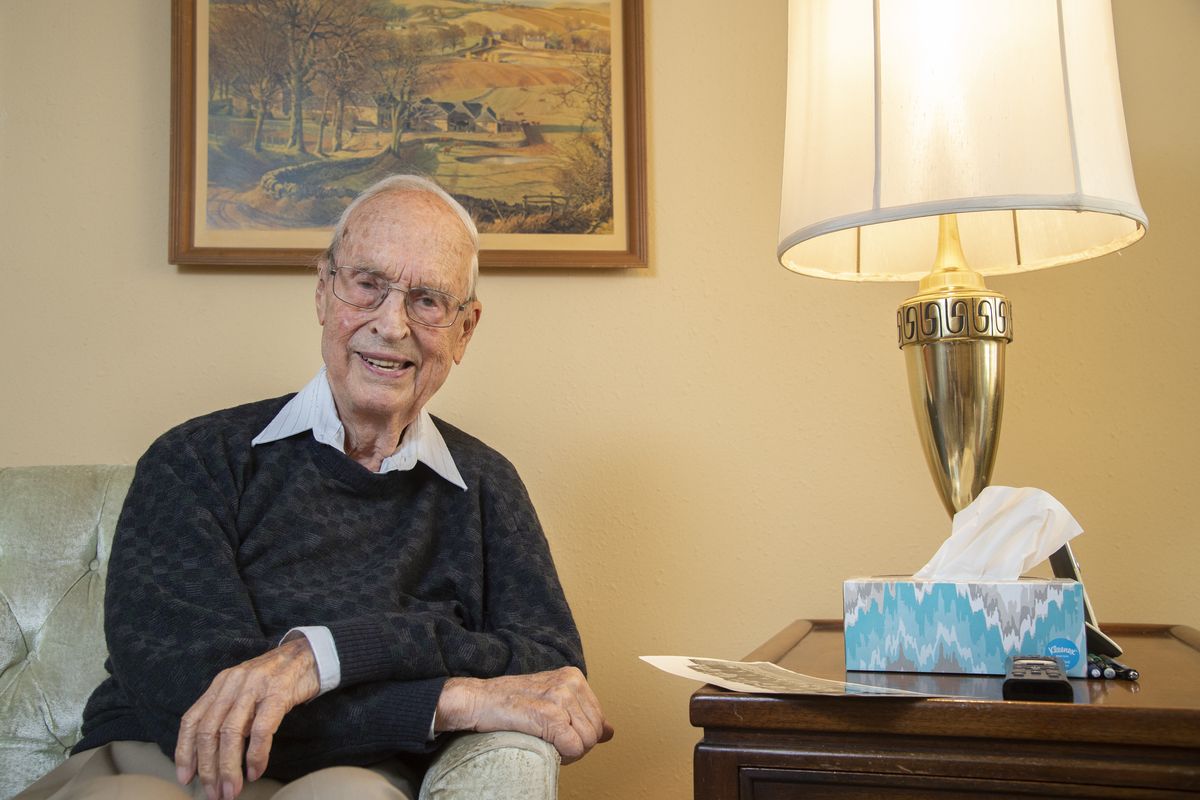 Larry Morse, who turned 100 recently, sits for a photo on Sept. 14 in his apartment at Rockwood Retirement Center in Spokane. Morse served in World War II, following the D-Day invasion into France working as a replacement officer for units already on the European continent, then married and became an accountant with his own firm. (Jesse Tinsley/The Spokesman-Review)
Editors note: After living through the Great Depression, World War II and now a global pandemic, three men at Rockwood Retirement on the South Hill turned 100 this month.
They all agreed living as long as they have requires some special tricks. Whether it's huckleberries, whiskey or raising kids, each has his own theory on what it takes. But one thing they all agree on is getting along with the people around them made their lives a whole lot better.
Larry Morse was born on a ranch outside of Glendive, Montana on Sept. 6, 1920.
Despite graduating with a degree in business from the University of Minnesota, Morse's father wanted to raise cattle.
"He thought he should be a rancher so we got this ranch way out in the country," Morse said.
The ranch didn't have power or running water, which became a problem when a young Morse got curious about the hired men's cigarettes.
His parents didn't smoke but three hired men who lived in their attic did.
"I was interested in how they did that," Morse said.
So he snuck upstairs, rolled up his very own cigarette and lit up.
"My mother found that I was not in the right place," Morse said. So she started calling for him.
Morse panicked and stuck the lit cigarette in a crack in the floor.
"About a half hour later my mother smelled smoke," he said. "In those days there was no fire departments or anything and it just went on and burned the house down."
While the story is funny now, more than 90 years later, the loss of the ranch house did cause his family to move, this time to a ranch in Western Montana.
Morse and his siblings rode their horses to a little one-room school house each day.
"Everybody in school rode a horse to school," Morse said. "There was no buses. There were cars but people didn't want to use 'em for that, so we all rode horses to the school house."
Morse's horse was the oldest of his schoolmates and had a thing for being in the lead, never allowing other horses to nose past.
"So when some of the those younger horses thought that's not right and they started running – he would keep up with them," Morse said with a chuckle. "I had to hang on."
Eventually the Morse family moved to Spokane when Morse's father got a job at a local bank.
After high school, Morse headed to Washington State College to study business with a specialty in accounting.
World War II broke out and Morse joined the ROTC so he could finish his education before deploying.
While at school he met Betty Allen, a woman a few years behind him in school studying education.
"She was a ranch girl from the Yakima valley – big old cherry farm," Morse said.
The two started going steady and before Morse headed to training at Fort Benning he gave her his fraternity pin and proposed.
After becoming a second lieutenant and completing training at Fort Benning, Morse was given two weeks of leave before being sent to Europe.
He married Betty on May 22, 1944, the same day she graduated from college.
"We had a little period of time there, two weeks, to get married go on our honeymoon and away we went," Morse said. "I didn't see her for another year and a half."
Morse was deployed in Europe arriving on Omaha Beach shortly after D-Day and later fought in the Battle of the Bulge.
A German hand grenade, often called a potato masher, exploded near Morse during one battle leaving him with 20-30 pieces of shrapnel embedded all over his body.
Medics were able to remove all but one piece.
"I can still feel it, almost see it under my skin," Mores said. "That's a piece of my shrapnel that's still with me."
He received five battle stars and a Purple Heart for his service and returned home to Betty.
"We were just so happy to get together again and she stayed with me for over 70 years," Morse said of his homecoming.
After passing his CPA exam in Oregon, where his parents had moved, Morse returned to Spokane.
The couple rented a house on the north side of Spokane for themselves and their growing family, at a price unfathomable today: "$15 a month for a house for a bunch of little kids and myself and my wife," Morse said.
He went into business with an accountant in Spokane who had been a CPA since 1917.
"I didn't work there long before he died," Morse said. "The company had about five employees and I had to be the boss."
Morse and his wife had four children, something he considers one of his greatest life accomplishments.
In 1955, they built a house in the Comstock area, where they lived for nearly 40 years.
When Morse was in his mid-60s, he sold the business to Schoedel & Schoedel and helped with the transition for a few years before retiring.
"We used to have everything in books, and ledgers and books. Everything was done in pencil and ink," Morse said. "Now, they handle it all through the devices. I don't know I can't explain it because I didn't do this stuff that they're doing now."
When Morse did finally retire, he spent time traveling to 65 countries with his wife, Betty.
Morse loves to hike and spend time on expeditions in the Alps, various mountains in South America, and even Antarctica, although the only mountain he can still remember hiking by name is Mount Rainier.
Even at 100 years old, Morse hikes daily.
"I still try to hike in the morning, a mile or two or three and in the afternoon a mile or two," he said.
He credits his active lifestyle of hiking, fishing and golfing to keeping him going for an entire century. Well, that and huckleberries.
"I eat huckleberries every day," Morse said. "I used to go out and pick 'em myself but now I have to go to the farmers market."
Morse and his wife Betty eventually moved into Rockwood Retirement home on the South Hill about 25 years ago where they lived together until her death in 2018.
Morse's family is still close by and growing with six grandchildren and seven great-grandchildren.
After 100 years on earth, Morse has some advice. He has read the Bible cover to cover five times in his life and has one big takeaway.
"Well, the Bible says and I have to agree with it: You have to get along with people," Morse said. "You've got to get along with people all the time. Everybody will be happier."
Local journalism is essential.
Give directly to The Spokesman-Review's Northwest Passages community forums series -- which helps to offset the costs of several reporter and editor positions at the newspaper -- by using the easy options below. Gifts processed in this system are not tax deductible, but are predominately used to help meet the local financial requirements needed to receive national matching-grant funds.
Subscribe now to get breaking news alerts in your email inbox
Get breaking news delivered to your inbox as it happens.
---