News
Beloved local veterinarian Brian Hunter remembered after unexpected August death
Mon., Sept. 28, 2020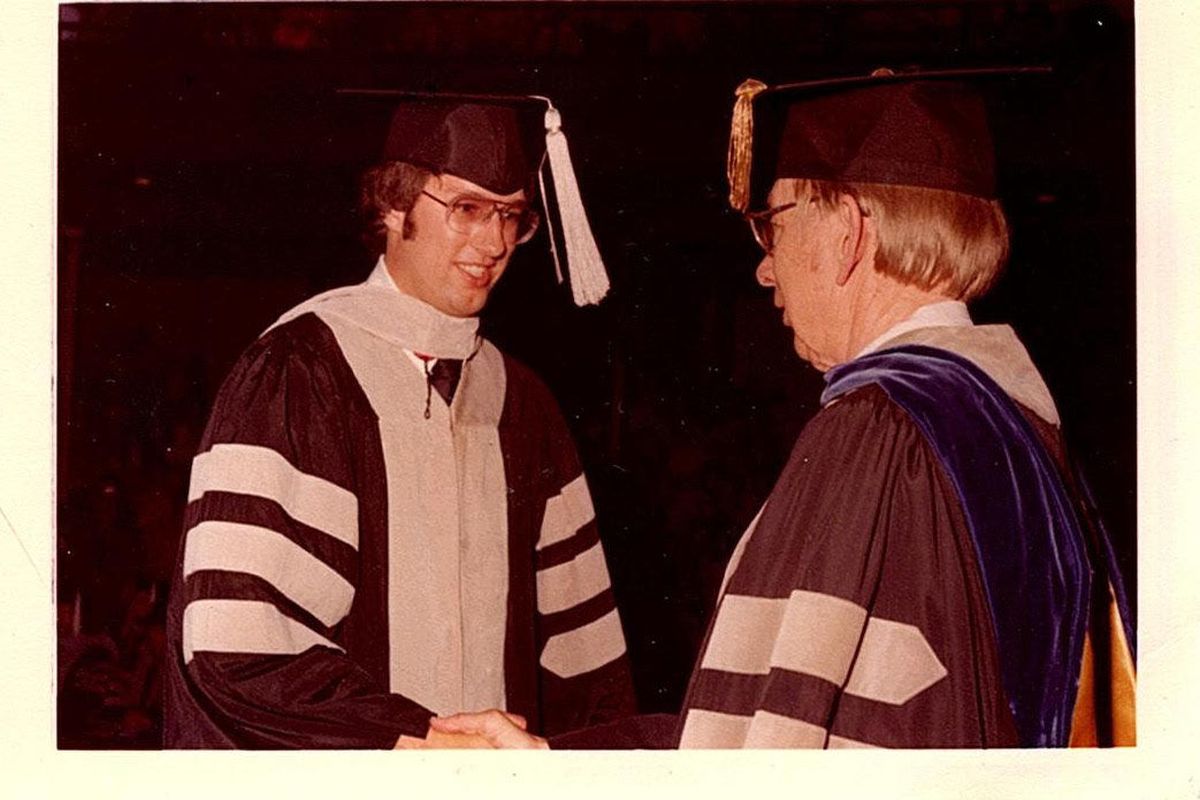 Dr. Brian Hunter, who was a Spokane veterinarian for 40 years and died of kidney cancer in mid-August. Hunter was an alumni of the WSU College of Veterinary Medicine, which has established a scholarship fund in his memory. (Courtesy Hunter Family)
Kyle Hunter remembers his father, Brian Hunter, going fishing for salmon in Alaska without him when he was young. But when he was 10 years old, he finally got to go.
That trip ignited a tradition between Kyle and his father: a late August trip to Yakutat, Alaska, to fish every summer for about 11 years in a row.
"It immediately became my favorite place," Kyle said.
As they returned to Yakutat, a few local people there learned that Dr. Hunter was an accomplished veterinarian. Sometimes, Kyle said, people would ask Brian questions when he came about their pets. There is no veterinarian in Yakutat, except for a traveling vet who visits a few times a year, Kyle Hunter said.
In 2001, the lodge owner asked Hunter to take a look at his dog's eye. Hunter determined it needed to be removed surgically, agreeing to take the dog, named Julio, back to Spokane with him and perform the surgery.
When the surgery was complete, he headed to the airport to send Julio home, but that was on Sept. 11, 2001, and his flight was delayed. Kyle recalls Julio staying with the family until he was allowed to be flown back to Alaska.
Kyle learned early in his fishing adventures with his father that he was always willing to help others, even dogs that he had no attachment to, like Julio.
The last fishing trip Kyle went on with his father was in October 2019, along the Snake River. Sturgeon was on Dr. Hunter's bucket list for fish. Over the years, Kyle had grown to love fishing with his father, and they did so regularly, on family vacations or just out in Lake Coeur d'Alene on the weekend in the summers.
Last fall, Dr. Hunter caught an 11½-foot sturgeon, Kyle said.
A little over a year after retiring, Dr. Brian Hunter, a 40-year veterinarian and beloved community member in Spokane, died of kidney cancer on Aug. 19.
He left behind his wife, Gail, and children Kyle and Mikayla, as well as other family members and colleagues who remember him as actively involved in the community, dedicated to his work, always willing to lend a helping hand.
Dr. Hunter was born and raised in Spokane, where he would eventually follow in his father's footsteps to take over the Hunter Veterinary Clinic, still operating today. Hunter and his wife, Gail, knew each other long before they started dating, Mikayla, his oldest and only daughter said.
Both sets of Mikayla's grandparents are close. Her father's mother and her mother's father were best friends since kindergarten. They went to college together and settled their families near each other in Spokane. They had Thanksgiving dinners together and other family gatherings, thus Brian and Gail grew up together, and eventually married.
Mikayla and Kyle also grew up in Spokane, and the tight-knit family was always connected to veterinary medicine. Kyle and Mikayla remember helping out at the clinic growing up.
Brian's parents established the Hunter Veterinary Clinic in 1953. His father had attended the Washington State Veterinary College and started his private animal practice in Spokane. Brian grew up in the clinic, and eventually attended the College of Veterinary Medicine at WSU. After finishing an internship in Santa Cruz, California, Brian returned to take up the family practice.
Dr. Hunter was active in the state's veterinary community, serving on some of its boards, where his opinions were highly regarded and respected.
Charlie Powell, public information officer at the College of Veterinary Medicine at WSU for 32 years, knew Hunter in his work and his involvement as a WSU alumnus and in the veterinarian community. He recalled a story from the early '90s when some veterinary students opposed killing animals to practice surgery. The dean at the time told them he would provide an alternate route for them, but he needed a year to make that change. Hunter reportedly supported the dean's decision, which was not the popular opinion at the time, Powell said.
Then things changed dramatically in veterinary science. Today, no terminal exercises are performed on animals in the veterinary college, Powell said, and no mandatory courses involve euthanizing animals.
"The biggest thing I learned from all that, and Dr. Hunter was a part of that, was to keep an open mind, realize that dogma might be wrong and that times have changed, and be willing to accept change," Powell said.
Dr. Hunter, who was considered a quiet leader, was always willing to discuss veterinary medicine. Powell called it his "laser focus." Kyle noted that while his father might not have been the loudest at the table, when he did speak, everyone listened.
"He wasn't always the most talkative person at the table, but when he said something it was always on point," Kyle said.
Dr. Hunter not only worked at his own clinic, he volunteered his time, energy and expertise in several other arenas. He was the president of the Inland Empire Veterinary Medical Association for 27 years.
He offered continuing education and dog-bite prevention training as well as volunteered at Cat Tales, a wildlife rescue and sanctuary in Mead. Mikayla said she grew up visiting the park, where her father worked with large cats like lions, tigers or bobcats, confiscated after being on the black market, that could not be reintroduced to the wild.
Beyond animals, Dr. Hunter was also involved in the Spokane community. He was an active member of the Rotary Club 21 in Spokane, serving on its international committee.
Dr. Hunter was the "Pet Vet" on KXLY for several years, and he would volunteer his time for continuing education events for veterinarians.
He was named "Veterinarian of the Year" in 2008 by the Washington State Veterinary Medical Association.
Candace Joy, chief executive of the association, said the award goes to a veterinarian with a longstanding and outstanding career who are invested in their community and the veterinary community in the state as well.
"It was a wonderful moment to see him win the award because he was so unassuming and humble and quiet," Joy said. "It was a pleasure to see him receive that."
Dr. Hunter retired in March 2019. He and Gail then moved to the Puget Sound area and bought a house in Gig Harbor.
Dr. Hunter's cancer diagnosis came as a surprise to the family in early 2020. Mikayla, who had just flown home from England after completing her doctorate degree at Oxford University, was staying with her parents in Gig Harbor.
Brian had not been having any health issues, but he felt out of breath one day with no other symptoms, Mikayla said.
Her father returned from the doctor's office with a Stage 4 kidney cancer diagnosis.
The pandemic meant that Gail, Mikayla and Kyle could not go into appointments with Dr. Hunter, but they were also able to spend quality time together this year.
Mikayla described her father as a man who could get the worst cards dealt to him and still make the best hand out of it.
"He ended up using (that) as a metaphor when he was in hospice," Mikayla said. "He was very strong and stoic and he said, 'Well, you play the hand you're dealt.' "
Kyle, who still lives in Spokane, drove west every weekend to see his father and spend time with him and the family this year.
Dr. Hunter was able to receive hospice care at home with his family in Gig Harbor, and he died on Aug. 19 at the age of 66.
WSU has established a scholarship fund in Dr. Hunter's name begun by a Spokane veterinarian after his death. Memorial donations can be made to the scholarship fund (giving.vetmed.wsu.edu/giving-opportunities/dr-brian-douglas-hunter-scholarship) for future veterinary students at the WSU College of Veterinary Medicine. It will be administered beginning in spring 2021.
Local journalism is essential.
Give directly to The Spokesman-Review's Northwest Passages community forums series -- which helps to offset the costs of several reporter and editor positions at the newspaper -- by using the easy options below. Gifts processed in this system are not tax deductible, but are predominately used to help meet the local financial requirements needed to receive national matching-grant funds.
Subscribe now to get breaking news alerts in your email inbox
Get breaking news delivered to your inbox as it happens.
---