Sports
A Grip on Sports: Despite Seahawks defensive issues, Cowboys are unable to upend Seattle thanks to Wilson's record-setting play
Mon., Sept. 28, 2020 A GRIP ON SPORTS • It's been a tough year to be a cardiologist. Russell Wilson and the Seahawks are probably aware of that. It seems as if they are trying to help.
•••••••
• With COVID-19 putting a strain on hospitals since March, other medical procedures have been put on hold in a lot of places. But the Hawks are well on their way to ensuring everyone of their fans have heart issues, despite the team's first 3-0 start since the 2013 season.
In Sunday's 38-31 victory over the visiting Dallas Cowboys, there were more than enough moments to cause rhythm issues: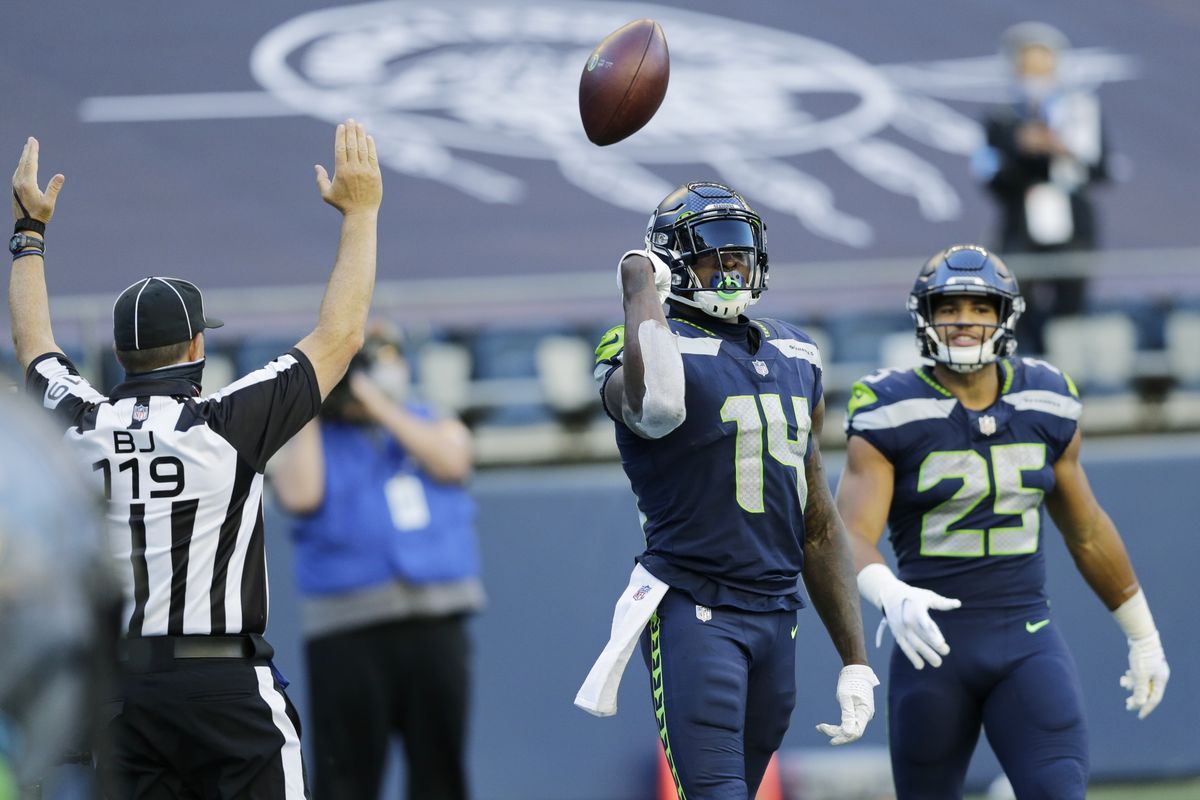 – DK Metcalf celebrating a touchdown before he got to the endzone, and then not scoring because Dallas' Trevon Diggs punched the ball out to force a touchback;
– Wilson missing just often enough to ensure a second-half offensive lull that allowed Dallas to actually take the lead;
– Jamal Adams blitzing time and again, but never getting home – as was the case for the defense as a whole for much of the contest. Finally, the safety ended up injuring his groin and sitting out the last part of the game;
– Trysten Hill's questionable late-game gator roll of Chris Carson's leg, causing an injury and forcing the Hawks' best running back to the sidelines;
– Retaking the lead – on a Metcalf catch – with enough time left to allow the Cowboys a shot at redemption, only to see Adams' replacement, Ryan Neal, come up with an endzone interception to seal the win;
– Finally, the defense's porous nature, giving up 472 passing yards in this one, looks nothing at all like the Hawk defenses of Pete Carroll's past and causing the 12s to check their pulse rate ever few seconds.
There were also plenty of plays to get the heart pumping for good reasons, from Tyler Lockett's career-high three touchdown catches to the three turnovers the defense came up with.
Of course, there is Dr. Feelgood in control as well, with Wilson more trusted than Dr. Fauci in the Puget Sound. It's tough to ask more of your quarterback, but with Adams' injury, the troubles cornerbacks Shaquill Griffin, Tre Flowers and Sunday's absent Quinton Dunbar are experiencing, along with the chance Carson may miss some time, the Hawks will have to rely on Wilson even more in the coming weeks.
It may not be the recipe Carroll envisioned when the season began, but the meals have been exquisite thus far. Even if they may be a bit too rich for our cardiac health.
• How true is the "next-man-up" theory of the NFL? Well, Neal and Shaquem Griffin were both added to the active roster Saturday. And both made big plays during the Cowboys' final drive.
Griffin was used as a pass rusher for a while, and then as a coverage linebacker. And Neal was in the right place at the right time on Dallas' final offensive play.
• The number of injuries throughout the NFL is staggering. The Hawks are not exempt. Their defense could be down half of its game-one starters by the time game four kicks off Sunday in Miami.
• The Mariners' season is over. Once again, they are not part of baseball's postseason. No surprise there – they haven't made the playoffs since 2001 and went into the year with the express purpose of working toward 2021 and beyond – but there were a few positive signs.
Take Marco Gonzales for instance. The lefthander from Gonzaga turned into a legitimate staff ace, albeit one not cut from the modern mold. Without an overpowering fastball, Gonzales gets hitters out the old-fashioned way, by changing speeds and hitting spots.
Gonzales tied for third in baseball with seven wins and had a legitimate chance yesterday to pick up his eighth, which would have tied for the top spot. He did, however, lead baseball in strike outs-to-walk ratio (9.143 to 1) and the American League in fewest walks per nine innings. In other words, there were few pitchers in baseball who were better at locating their pitches.
Yes, the M's have many questions. This year has shown Gonzales' ability isn't among them.
•••
WSU: Around the Pac-12 and college sports, the Associated Press football poll is kind of out of whack. The organization allowed voters this week to vote for anyone, even if they haven't played. Some did, some didn't. In any event, Oregon finished 14th. … Whatever schedule comes out, it is going to raise questions. … Scheduling seven games won't stop Utah from making budget cuts. … In basketball news, it doesn't look as if Arizona will be playing an intrasquad games this year.
Gonzaga: The Blazers are counting on Zach Collins to reach his potential next season.
Golf: Corey Prugh won another Pacific Northwest PGA Championship recently. That information leads off our weekly local briefs.
Preps: The new WIAA schedule of seasons is causing unforeseen problems. Other states are making allowances for it. Washington doesn't seem to be amenable to doing that.
Seahawks: Our John Blanchette observed the Hawks' white-knuckle win and has this column. … Theo Lawson kept track of the NFL yesterday and has a look at how local products performed. … Wilson set an NFL touchdown record Sunday. There are a lot of reasons for that success. … The Seahawk defense isn't happy with the way it is playing. Fine. Now do something about it. … There are grades. There are always grades. … There are injuries. There are always injuries. But not usually this many. … Neal came up big. … Metcalf went from goat to something of a hero.
Mariners: The M's finished out the season yesterday with a 6-2 loss in Oakland. … Good or bad, there are awards to hand out. … Seattle isn't alone in taking a step back. … Kyle Seager played all 60 games. Good for him. He had almost as many walks this season as he had in 2018, with 155 games. That bodes well.
Sounders: The L.A. Galaxy aren't as good as they once were. Seattle's 3-1 win last night in Los Angeles extends a long streak of Sounders' domination. … We mentioned this a bit yesterday, but there is a problem with international call-ups and the pandemic. It needs to be ironed out. … Portland stopped "host" Vancouver.
Storm: Seattle blew out Minnesota 92-71 and swept their WNBA semifinals. The Storm will wait and see if they will play Connecticut or Las Vegas for the title.
•••       
• I had a list of chores to do today. It got longer before the clock struck 8 this morning. That nap I had planned? It might be put on hold. Car problems and having to deal with health insurance. Heck, if our sewer line happens to break, I could be dealing with the Holy Trinity of adult complications. Until later …
Local journalism is essential.
Give directly to The Spokesman-Review's Northwest Passages community forums series -- which helps to offset the costs of several reporter and editor positions at the newspaper -- by using the easy options below. Gifts processed in this system are not tax deductible, but are predominately used to help meet the local financial requirements needed to receive national matching-grant funds.
Subscribe to the sports newsletter
Get the day's top sports headlines and breaking news delivered to your inbox by subscribing here.
---