Idaho Falls man's TikTok video goes viral, racks up 36M views and counting
Sept. 30, 2020 Updated Wed., Sept. 30, 2020 at 8:34 p.m.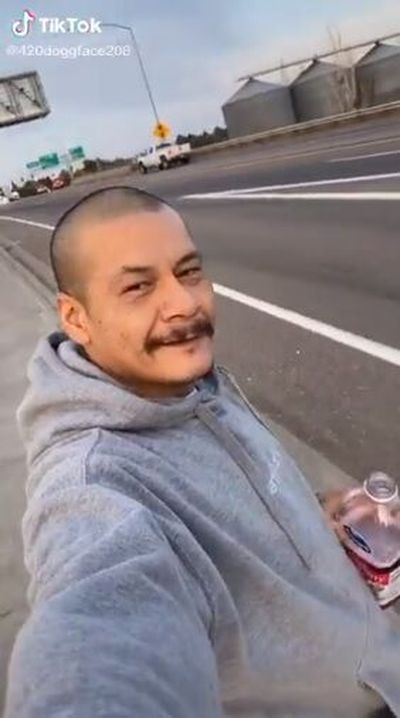 IDAHO FALLS – To many over the age of the 30, the ways of TikTok seem utterly unintelligible.
Ostensibly, it's simply a video-making and sharing app. In truth, it's home to winding caverns of niche trends and strange subcultures. There's cottagecore TikTok, Jello-enthusiast TikTok and nihilism TikTok.
Its algorithmic rabbit holes are full of gummy bear challenges, Carole Baskin impersonators and, perhaps most hauntingly, teenagers making more off 10-second dance videos than most make in a year.
The target audience and majority of popular TikTok accounts are in the Gen-Z range. Nineteen-year-old Addison Rae Easterling is the highest-paid TikTok star. The Louisiana native and amateur dancer who achieved fame through the app in 2019 earned $5 million last year.
So why has a middle-aged man from Idaho Falls suddenly become famous on the app?
The vibes, man, the vibes.
"I don't use this verbiage often, but this is a whole vibe, simple as that," wrote Twitter user DrewFrog, garnering more than 831,000 likes.
"I will never be as cool as this guy, skateboarding, drinking juice straight out of the bottle, and vibing to Fleetwood Mac," reads one retweet.
"Everything he posts is pure. Protect this man. I don't want to inhabit a world without him," reads another.
"I can't begin to describe to you how opposite my life is to the 420 Fleetwood Mac skateboard dude. Slugging his cranberry juice, skateboarding on the highway with his head tatt'd up listening to 70s rock is the antithesis of me," tweeted Barstool Sports blogger Kevin Clancy.
Nathan Apodaca, or 420doggface208 as he's known on TikTok, posted the video on Friday. In it, he can be seen gliding on his skateboard down U.S. Highway 20 in Idaho Falls listening to Fleetwood Mac's "Dreams." Apodaca casually sips from an open jug of Ocean Spray cranberry raspberry juice. Halfway through, he turns to the camera and begins lip-syncing to the song.
"Morning vibe," he captioned it.
It has since been watched 21.4 million times on Twitter and 15.4 million times on TikTok.
Even Fleetwood Mac approved. "We love this!" the band tweeted.
So who is Apodaca? Not much is known about our local TikTok star. He lives in Idaho Falls. His first video is of him dancing in front of the water tower. He went to Skyline High School and Idaho State University, according to his Facebook page. He has two daughters to whom he credits with getting him on the app.
The Post Register reached out to Apodaca for an interview but has not heard back. It seems Apodaca has not granted an interview to anyone, despite media outlets like Vogue and Billboard writing about him. He did, however, let fans know how he felt about becoming a viral sensation on, you guessed it, TikTok. He has 1.3 million followers on the app.
"I just want to say thank you from the bottom of my heart from doggface, me and my family, to all you guys," he said in the video expressing his incredulity.
In a second video posted Monday, he celebrates reaching 1 million followers by dancing in a tutu with his daughter.
As for why this seemingly simple 22-second video went viral, perhaps it's not that complicated. With forest fires raging, a pandemic and a looming presidential election, maybe we're all yearning to get away with a jug of juice in hand.
Local journalism is essential.
Give directly to The Spokesman-Review's Northwest Passages community forums series -- which helps to offset the costs of several reporter and editor positions at the newspaper -- by using the easy options below. Gifts processed in this system are not tax deductible, but are predominately used to help meet the local financial requirements needed to receive national matching-grant funds.
Subscribe now to get breaking news alerts in your email inbox
Get breaking news delivered to your inbox as it happens.
---