News > Pacific NW
Keys to a long happy life: According to Stan Bennett, it's `Good food, good whiskey and good women'
Wed., Sept. 30, 2020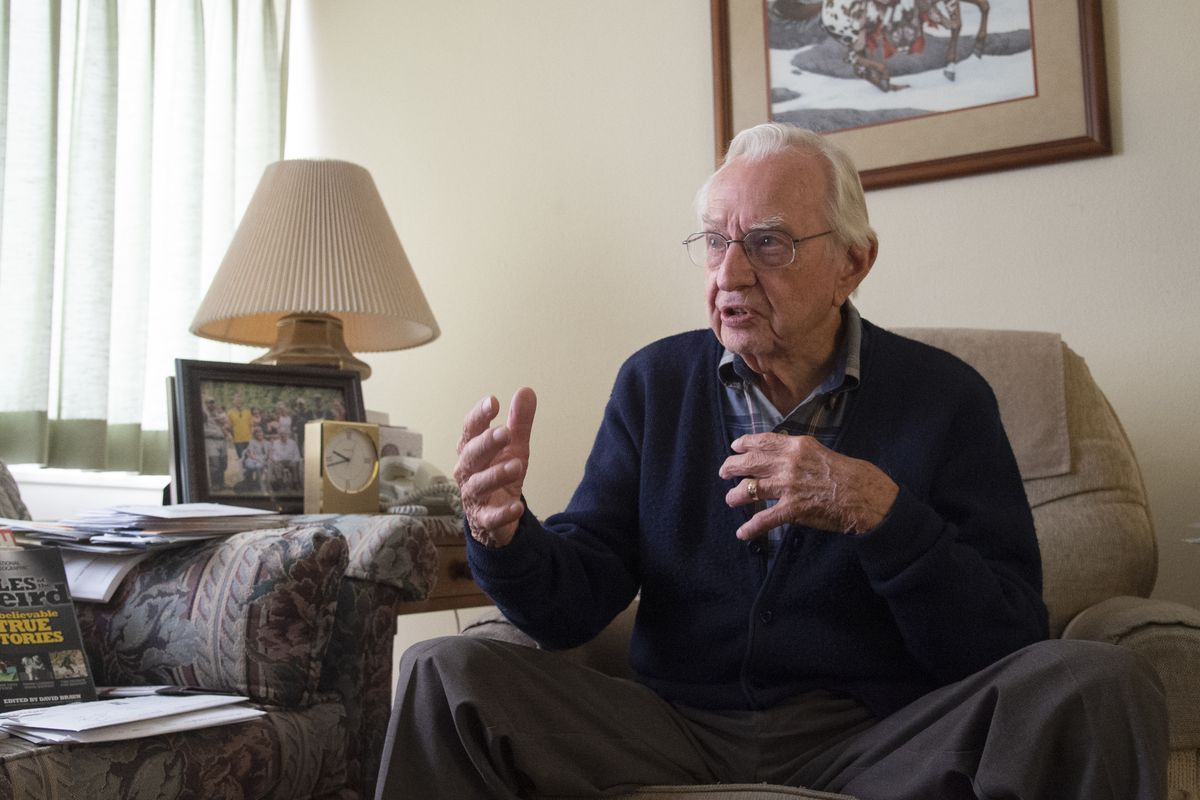 Stan Bennett, who turned 100 recently, was a corporate lawyer for most of his career, which followed his service in the Army Air Corps in Europe during World War II. He is photographed Sept. 14, at his apartment at Rockwood Retirement Center in Spokane. (Jesse Tinsley/The Spokesman-Review)
Editors note: After living through the Great Depression, World War II, and now a global pandemic, three men at Rockwood Retirement on the South Hill turned 100 this month.
They all agreed living as long as they have requires some special tricks. Whether it's huckleberries, whiskey, or raising kids, each has their own theory on what it takes. But one thing they all agree on is getting along with the people around them made their lives a whole lot better.
Stan Bennett was born Sept. 8, 1920, in the town of Ford, where his father owned a "country grocery store."
"My dad, he was a hardworking man," Bennett said. And innovative.
He built one of the first refrigeration systems in the area to store fresh meat and vegetables.
By the time Bennett was in high school the family moved to Spokane. The transition from a one-room schoolhouse in Ford to North Central High School was difficult for Bennett.
"I remember standing in the hallway of the school, I didn't know anybody, I didn't know a soul," Bennett said. "It was kind of lonely, lonesome."
Bennett said he struggled through his last two years of high school.
"To be very honest with you, I was a terrible student in high school," Bennett said. "Out of 365 people in my class, I was 364th. I mean, I really was just lost."
But he graduated and headed to Washington State College to continue his studies.
When the United States entered World War II, Bennett joined the Air Force.
"I was primarily an administrative quartermaster, is what they called it, and that had more to do with supplies," he said.
After returning from the war in Europe, Bennett enrolled in law school at Gonzaga University, where he graduated in 1948.
Bennett then became a corporate lawyer and worked in Spokane. One day he was grabbing a meal at the lunch counter in the Packard Building when he saw a woman named Irma.
It was love at first sight, Bennett said.
The two were married and created a blended family with Irma's 2-year-old daughter, Sherry.
The couple then had a daughter, Jan, together.
Having lived in Spokane for most of the past 100 years, Bennett said Expo '74 caused the greatest era of change that he can remember.
"Having lived in Spokane and watched it all those periods of time, Expo just created so much change in the city, in every respect," Bennett said. "They replaced the old with the new and did everything to improve the city to make it look better – to brighten it up."
Reaching 100 isn't a big surprise for Bennett. Members of his family regularly live into their mid-90s. His older sister died at 91, about the same age as their father.
The closest to hitting 100 is Bennett's "little grandma" who lived to be 98.
"They called her 'little grandma' because she was such a tiny thing," Bennett said with a laugh.
After her husband died, she ran a boarding house for sawmill workers near Lake Coeur d'Alene.
"As a little, tiny kid when I used to go up there to visit my grandma, I used to go up and run the log boom," Bennett recalled.
Having a good family, Bennett said is part of the secret to living to be 100.
"I just had a good life and was very lucky to have a good family," Bennett said.
The other secret?
"Good food, good whiskey, and good women," Bennett said with a laugh.
"And you can put those in whatever order you like."
Local journalism is essential.
Give directly to The Spokesman-Review's Northwest Passages community forums series -- which helps to offset the costs of several reporter and editor positions at the newspaper -- by using the easy options below. Gifts processed in this system are not tax deductible, but are predominately used to help meet the local financial requirements needed to receive national matching-grant funds.
Subscribe now to get breaking news alerts in your email inbox
Get breaking news delivered to your inbox as it happens.
---