News
Spokane County will stay in Phase 3 for now; Whitman County among those moving back
April 12, 2021 Updated Mon., April 12, 2021 at 9:56 p.m.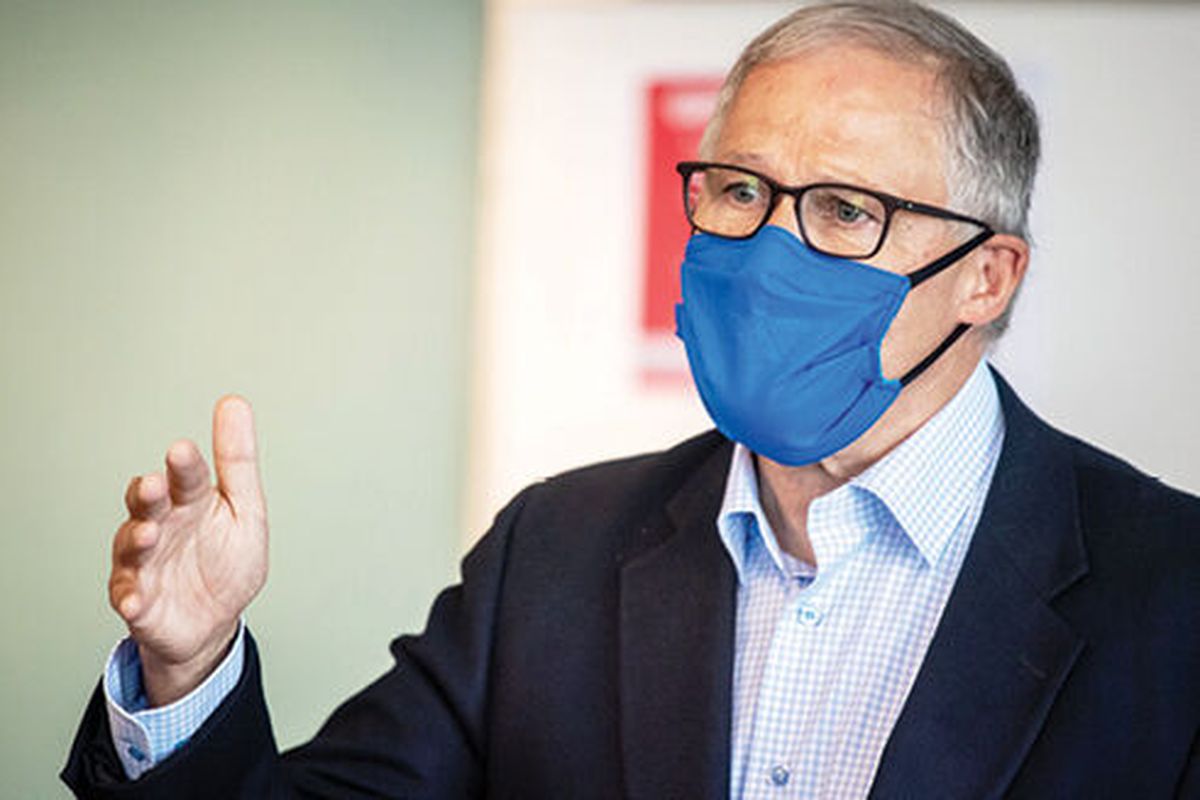 Gov. Jay Inslee is warning Washington residents of a possible fourth coronavirus wave as cases creep back up, including from variants and "breakthrough" infections after people were fully vaccinated against the virus.  (SSR)
OLYMPIA – Spokane County will remain in Phase 3 for the next three weeks, leaving bars, restaurants and gyms open at 50% capacity.
Cowlitz, Pierce and Whitman counties will be moving back to Phase 2 this Friday, after new COVID-19 cases and hospitalizations exceeded state-mandated thresholds on Monday.
Phase 2 means limiting capacity at restaurants, gyms and entertainment establishments to 25%. The state has eased some restrictions on spectator events for counties in Phase 2, including allowing more capacity at professional and higher education sporting events and school graduation ceremonies.
In order for a county to move back to Phase 2, Gov. Jay Inslee announced Friday it would have to fail both COVID-19 case rate and new hospitalization metrics.
Those larger counties moving back have more than 200 new COVID-19 cases per 100,000 people for the last two weeks and more than five new virus hospitalizations per 100,000 people for the last week. The Department of Health said it used the most recent complete data available, which means case data for the two weeks ending April 2 and hospitalization data for the week ending March 30.
With the data the department used, Whitman County's case rate was 416 new COVID-19 cases per 100,000, and its hospitalization rate was 5.9 new hospitalizations per 100,000 people.
Whitman County is considered a "large county" by the Department of Health because it has about 50,000 residents. The metrics are different for counties with fewer than 50,000 residents.
In a statement, Inslee said the metrics are driven by the virus.
"We can't let up now," he said. "These are not punitive actions; they are to save lives and protect public health."
Previous guidance said a county only had to fail one metric to move back. If Inslee hadn't loosened the metrics last week, Spokane, along with many other counties statewide, would have moved back to Phase 2 this week. Spokane County's case rate for the last two weeks of March was 181 cases per 100,000 people, just staying below the threshold of 200 cases per 100,000 people.
Spokane County had a hospitalization rate higher than needed from March 24 to March 30, however, at 6.1 hospitalizations per 100,000 people during that time.
Inslee told reporters Friday the change came after an increased confidence in vaccine distribution as well as the importance of evaluating hospitalizations and case rates together.
If current data were used to evaluate the region's status, Spokane County likely would be moved back. The current two-week case count is 217 cases per 100,000 residents. Case counts in Spokane County continue to trend in the wrong direction, with young adults driving infection rates.
More than 76% of Spokane County's confirmed COVID-19 cases in the last months are in residents 49 and younger.
"The whole community needs to work together in order to avoid a fourth surge of cases," Interim Health Officer Francisco Velázquez said in a news release. "This means we need to wear our masks, distance ourselves from others in public, avoid large gatherings outside of our household and be smart when planning private gatherings."
Counties that were on the verge of being pushed back to Phase 3 have three weeks to curb the growth in cases or else face the consequences May 3, when the next evaluation will be.
Inslee told reporters Thursday there were concerns with a number of counties that have "let their guard down."
"This letting our guard down is really, really dangerous," he said. He encouraged residents to remain patient until vaccines are widely available. All residents aged 16 and older will become eligible for the vaccine Thursday.
The Department of Health has the ability to move back a county at any point, health officials said last week.
A look at local numbers
The Spokane Regional Health District confirmed 130 new COVID-19 cases on Monday.
There are 35 patients with COVID-19 in Spokane hospitals.
The Panhandle Health District confirmed 58 new cases on Monday and no additional deaths.
There are 33 Panhandle residents hospitalized with the virus.
Local journalism is essential.
Give directly to The Spokesman-Review's Northwest Passages community forums series -- which helps to offset the costs of several reporter and editor positions at the newspaper -- by using the easy options below. Gifts processed in this system are not tax deductible, but are predominately used to help meet the local financial requirements needed to receive national matching-grant funds.
Subscribe now to get breaking news alerts in your email inbox
Get breaking news delivered to your inbox as it happens.
---