News > Pacific NW
Most power restored Monday morning after overnight windstorm hit Spokane area
April 19, 2021 Updated Mon., April 19, 2021 at 8:51 p.m.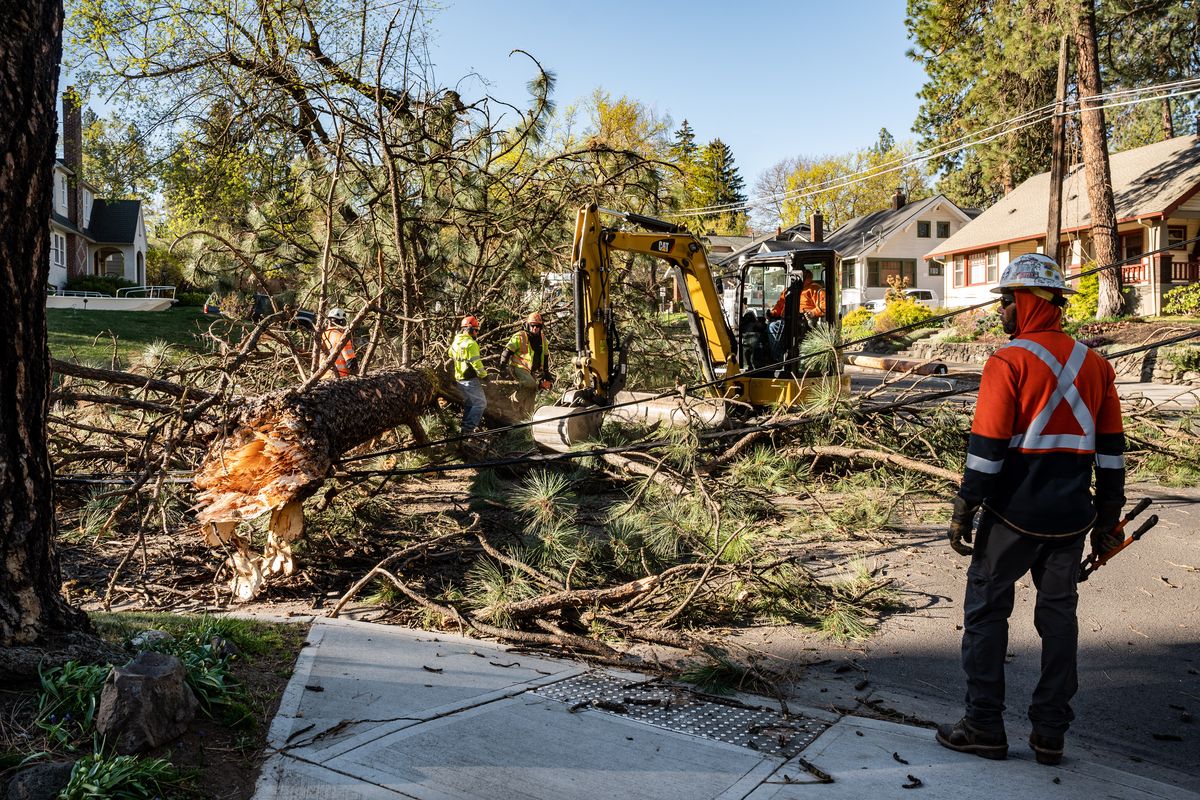 Workers remove a large ponderosa pine at 22nd Avenue and Lincoln Street that snapped, taking out power lines during Sunday night's windstorm. (COLIN MULVANY/THE SPOKESMAN-REVIEW)
Most homes and businesses that lost power during a strong windstorm Sunday night had electricity restored overnight.
Despite the breezy morning, Steve Wing donned a jacket and work gloves to clean up the sticks littering his yard on East 16th Avenue.
It was a long night for Wing who lost power at 8 p.m. Sunday and didn't get it restored until 8 a.m. Monday.
More than 40,000 utility customers were without power late Sunday after wind gusts of 50 mph rushed into Eastern Washington and North Idaho.
As of 7:30 a.m., about 1,600 Avista customers were without power, down from about 17,000 customers without power just after midnight. That number dropped further by 1 p.m. with just over 400 customers without power. By Monday night there were several dozen customers without power.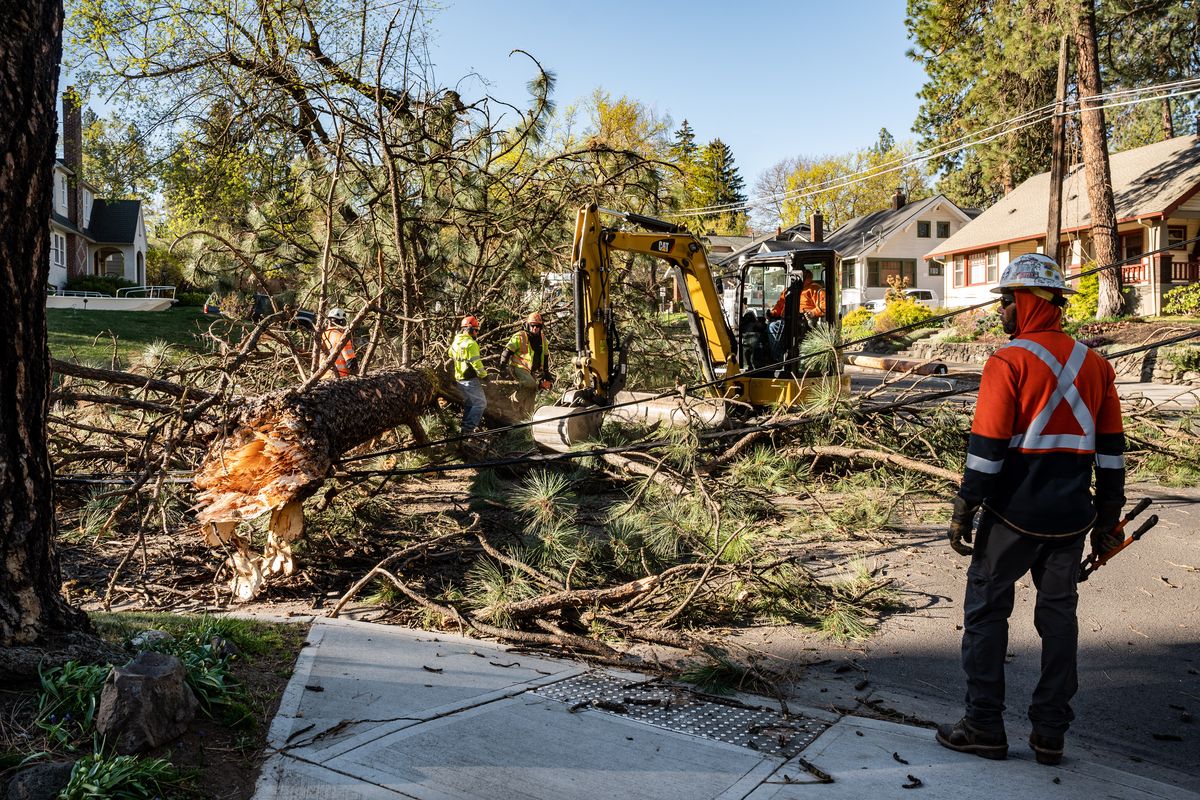 Workers remove a large ponderosa pine at 22nd Avenue and Lincoln Street that snapped, taking out power lines during Sunday night's windstorm. (COLIN MULVANY/THE SPOKESMAN-REVIEW)
More than 1,500 Inland Power and Light customers had power restored at about 7:30 a.m., down from more than 6,300 about 10 p.m. Sunday.
After 30 years living in the Lincoln Heights neighborhood, Wing said he and most of his neighbors have lost trees to one of the frequent wind storms.
In fact, just up the street a large pine tree was the most recent casualty narrowly missing nearby homes, Wing said. On Friday his neighbors had two of their large trees taken out because the roots had been loosening with each windstorm, Wing said.
The two large trees probably would have caused major damage to the neighborhood if left to endure Sunday's somewhat mild storm, he said.
The wind peaked Sunday at about 8:15 p.m. with gusts of 47 mph at the Spokane Regional Airport, said Joey Clevenger, National Weather Service Meteorologist. The weather service received reports of 53 mph gusts in Sandpoint and Athol.
Winds began to slow about 11 p.m., Clevenger said. The weather service's wind advisory expired at 2 a.m.
The windstorm was in line with the high winds in March but was weaker than the storm in January that left 100,000 people without power and killed one woman.
As of Monday morning the storm did not appear to cause as many trees to uproot or branches to fall as prior storms, something Clevenger said is partially due to less moisture prior to the storm. Moist soil makes it easier for trees to uproot.
"It wasn't a prolonged wind event," Clevenger said.
In Idaho, 3,527 Northern Lights customers were without power as of 8 a.m. Monday, down from nearly 16,000 Sunday night.
About 125 Kootenai Electric Cooperative customers were also without power, down from about 8,400 Sunday night.
The Pend Oreille Public Utility District reported about 44 customers without power at about 8 a.m. Monday.
While the worst of the wind had passed, Monday was still forecast to be breezy, Clevenger said.
Temperatures were forecast in the upper 50s or low 60s.
"We're going to quickly rebound and by Wednesday we should be around that 70 mark again," Clevenger said.
Local journalism is essential.
Give directly to The Spokesman-Review's Northwest Passages community forums series -- which helps to offset the costs of several reporter and editor positions at the newspaper -- by using the easy options below. Gifts processed in this system are not tax deductible, but are predominately used to help meet the local financial requirements needed to receive national matching-grant funds.
Subscribe now to get breaking news alerts in your email inbox
Get breaking news delivered to your inbox as it happens.
---