News > K-12 education
'A passion for life': Mead senior, facing inoperable brain cancer and blood clot, honored with early graduation
April 20, 2021 Updated Thu., April 22, 2021 at 9:05 p.m. Thursday afternoon brought a few raindrops to the Mead community but almost no tears.
Jaden Baer appreciated that, because this was a day of joy and he didn't want his friends to feel anything else.
Hundreds of them gathered at Union Stadium to cheer on a boy who puts others first, who makes newcomers feel welcome and who makes his teachers laugh.
Baer also is the boy who, after being diagnosed with inoperable brain cancer and given just nine months to live, thought only of comforting his mother.
More than a year later, Baer is still laughing, loving and giving. However, cancer has advanced to the point where his family asked to move up Baer's graduation by a few weeks.
The school district embraced the idea, and the community did the same on Thursday as Baer walked onto the turf and made history as the first Mead High School student to graduate at the district's new stadium.
The Mead band played the processional and a U.S. Army Color Guard presented the flag as the jazz choir sang "The Star-Spangled Banner." Also in the crowd were Superintendent Shawn Woodward and several school board members, all of them standing and applauding.
Then Baer took his seat alongside his closest friends, who also chose to graduate with him.
"Jaden, you have taught us how to live, love and belong," Mead Principal Jeff Naslund said as friends, family and classmates rose and cheered.
His voice already betraying emotion, Naslund tried to keep the mood light.
"I've never had a student who had two dress-code violations that were so funny we decided to take a picture before asking that he put a Mead shirt over his top," Naslund said.
"My wife and I had a good laugh over that," Naslund said.
Baer's friends offered praise in song and words. One of them, Alicia Araiza, recalled moving to Mead as a sophomore, "with no friends."
Now she has many, among them Baer – "the most beautiful soul and person I could ever meet," Araiza said.
A few minutes later, Baer took the microphone, looked out to the crowd and calmly told them that he'd left his prepared speech at home.
There was nothing left but to speak from the heart.
"Thank you, this is amazing," said Baer, thanking his teachers and his family for "doing your best to trust me to be who I am."
"And of course there are the boys," Baer said as he looked to his friends.
"School hasn't always been the easiest for me, even in kindergarten," Baer said. "But I couldn't have done it without your support."
Support has also come in the form of almost $80,000 raised on Baer's GoFundMe page to cover medical expenses.
Then his stepfather, Brian Eckersley, took the microphone. With Baer's mother, Jessica, at his side, he recalled the chilling diagnosis – "big, scary news, but he was so strong and so loving, all he wanted to do at 16 years old was to comfort his mother."
"And he never complained," Brian Eckersley said.
After receiving their diplomas, Baer and his friends did what teenagers do. They tossed their caps into the air, took selfies and hugged one another.
Afterward, friends approached Baer, offering best wishes and the hope that he'll be back in June to see the rest of his classmates graduate.
Against that hope is the reality that doctors are unable to remove a life-threatening clot in his heart, on top of the cancer diagnosis.
Yet he has seldom complained.
Dana Rowan, a Mead teacher who had Baer in her sophomore social studies class, said earlier this week that his "love for life is something I will always remember about him."
"He has a passion for life," Rowan said, "but he's also a realist, and he gets it better than some adults do."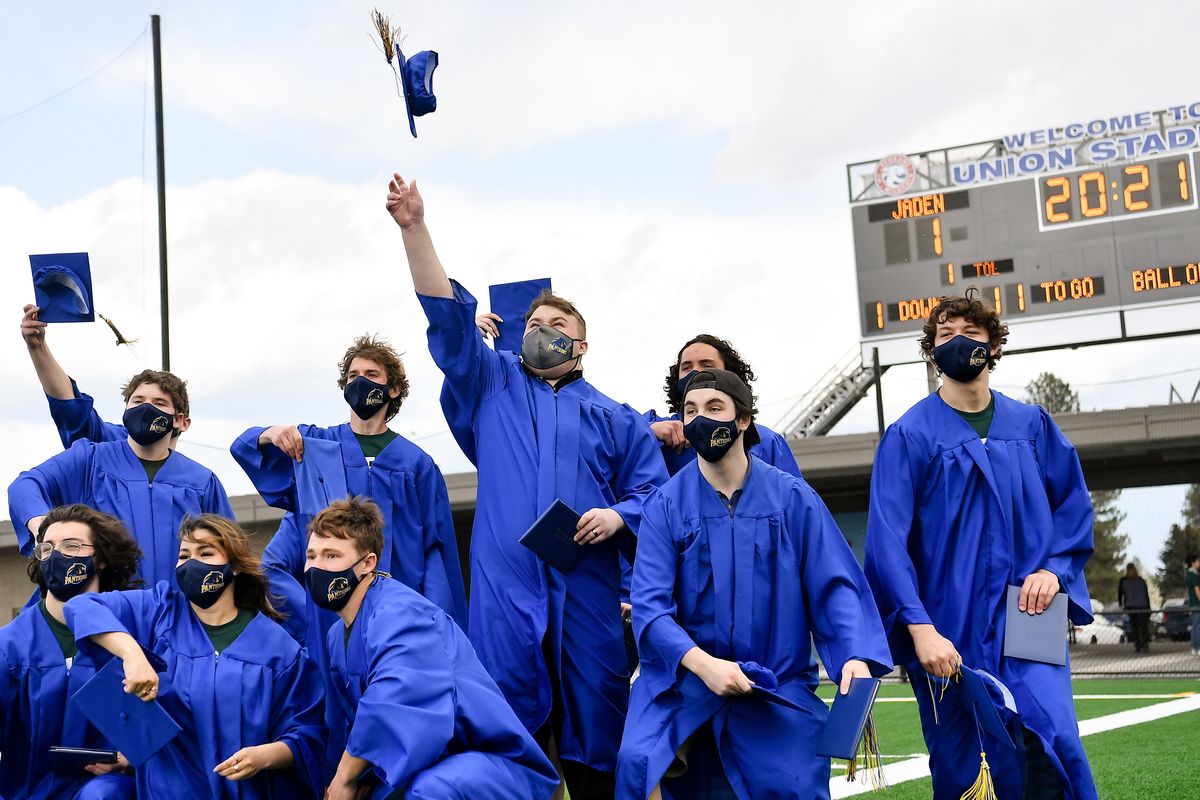 Jaden Baer, a senior at Mead High School, center, leads his friends in tossing their graduation caps for a photo set up by Mead yearbook teacher Makena Eusch during a special graduation ceremony for Baer on Thursday, April 22, 2021, at Union Stadium in Mead, Wash. After Baer was has spent the least year in treatment for terminal brain cancer and was recently diagnosed with a potentially fatal blood clot in his heart, the Mead school district decided to hold an early ceremony for Baer and his closest friends. (Tyler Tjomsland/The Spokesman-Review)
Local journalism is essential.
Give directly to The Spokesman-Review's Northwest Passages community forums series -- which helps to offset the costs of several reporter and editor positions at the newspaper -- by using the easy options below. Gifts processed in this system are not tax deductible, but are predominately used to help meet the local financial requirements needed to receive national matching-grant funds.
Subscribe now to get breaking news alerts in your email inbox
Get breaking news delivered to your inbox as it happens.
---