Marketing > Sponsored
Providence Playscape gives kids of all abilities the chance to explore
First all-inclusive playground in Spokane meets the diverse needs of our community.
Sun., Aug. 1, 2021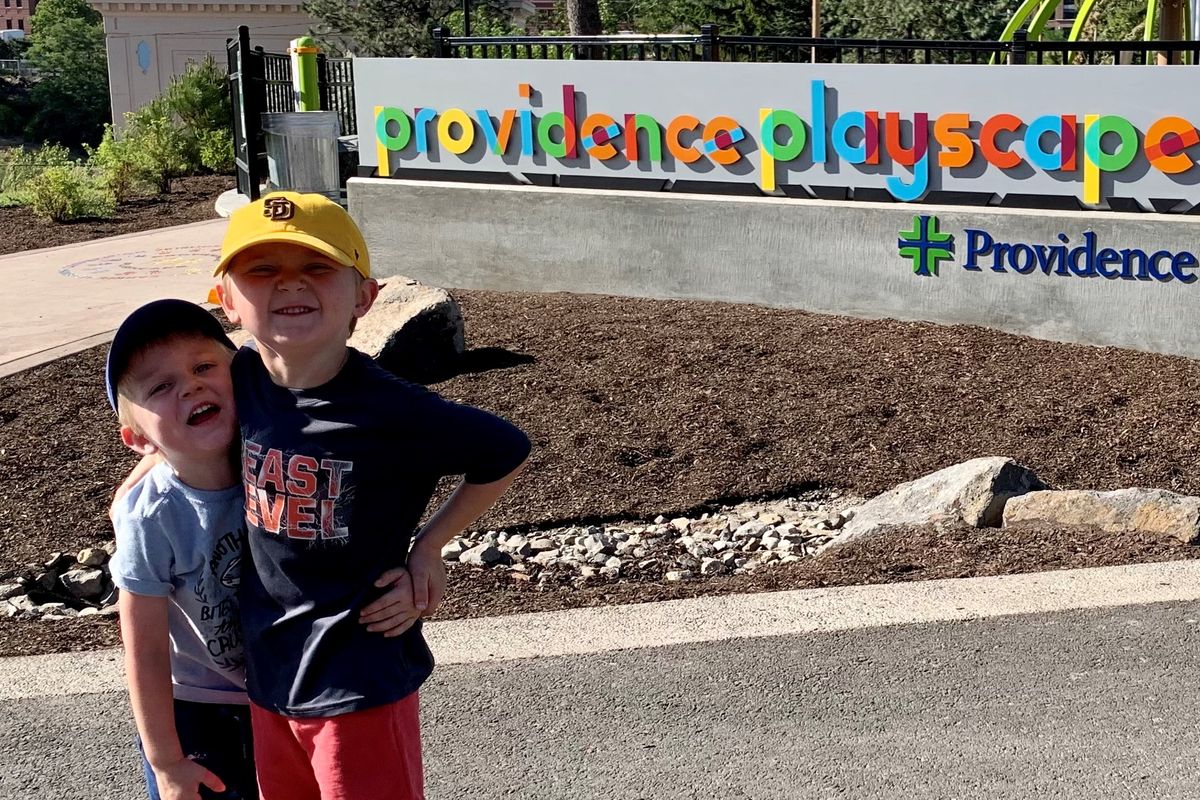 Brothers Colin and Shaun Hyams pose in front of the new Providence Playscape sign. (Courtesy Providence Health Care)
Playgrounds are irresistible. They spark imagination, foster a sense of freedom, and provide a setting for spontaneous play and uninhibited joy. No matter the condition or the location, swings, slides and jungle gyms have a way of drawing in kids. Even adults can't resist them on occasion.
Depending on a child's abilities, most playgrounds are limiting. Ground cover can be difficult or impossible to navigate, and traditional playground equipment hardly accommodates walking aids or wheelchairs.
Providence Playscape at Riverfront Park is different. It is the first all-inclusive playground in Spokane. The Providence Playscape gives families a chance to interact and play more independently with their peers, family members and caregivers – and a reason to giggle.
Completed in October 2020, Providence Playscape was made possible through a community benefit grant of more than one million dollars from Providence Health Care. The grant is part of the Spokane Parks Foundation's Campaign for Riverfront Spokane.
"In a time when kindness and cooperation is needed more than ever, Providence Playscape provides a safe and fun environment that promotes inclusivity, dignity and accessibility for people of all ages and abilities," said Peg Currie, chief operating officer for Providence Health Care. "This magical space aligns with our values and our commitment to create healthier communities."
Beyond accessibility
Since 1990, the Americans with Disabilities Act (ADA) has required public spaces, including playgrounds, to be accessible to people with special needs and disabilities. While many ADA-compliant playgrounds offer ways for visitors in wheelchairs or walking aids to access the space, few have something to offer for children with disabilities.
Inclusive playgrounds go beyond minimum ADA accessibility guidelines, offering children of all abilities and ages the chance to use the space in its entirety.
Inclusive playgrounds transform the play experience and support a range of emotional, cognitive and physical needs so that all visitors can experience the joy and benefits of play in an environment that feels safe and exciting.
Providence Playscape, an inclusive space
Providence Playscape benefitted from the generous gift of planning and design from Inclusion Matters by Shane's Inspiration, with input from community focus groups made up of parents, children and health professionals specializing in adaptive and sensory play.
Colorful rubber surfacing covers the 11,600-square-foot nature-themed area, which features more than 20 different types of play pieces designed to support independent play and provide developmental benefits, sensory and imaginative play, and build cognitive skills.
The interactive play pieces include a "we-go-round" that's suitable for wheelchairs; swings designed for all bodies and abilities; wobble rods and a roller table in which kids pull themselves through a tunnel over rolling bars. There are also different types of music-making pieces that give kids a chance to create and explore sounds with chimes and rainmakers.
Sensory engagement and imaginative play
"My favorite group of elements on this playground are the sensory play pieces that represent the theme of Riverfront Park while engaging the children in imaginary, tactile and visual play," said Diane Scanlan, PLA, senior vice president of design at Inclusion Matters by Shane's Inspiration. "Sensory, interactive play through digital technology has given children with auditory and visual impairments a chance to engage more fully on the playground. Introducing sounds and music elements, one at a time throughout the playground, offers the non-verbal child an opportunity to use music as a means of communication."
Children of varying abilities and ages can enjoy fun sensory features, such as the sand table, that create a tactile experience.
"[Children] on the autism spectrum may find sand too rough and look for smooth fish graphic images embed in the table. The table is wheelchair accessible on one side, with sand on the other, ensuring that children with disabilities are engaging in the same space at the same time as their peers," Scanlan said.
The riverboat is a themed piece that provides a calming effect from its controlled rhythmic movement. Scanlan explained that the play piece was designed to look and function like a riverboat, with a modified interior for wheelchair access, as well as a play table to encourage kids to play together.
For kids who feel over-stimulated by the playground and interactions, a small, rounded piece dubbed "the cozy dome" provides a place to retreat.
"Our family is so grateful to see such a wide-open play space with accessible equipment and surfaces," says Keesha Sonnemaker, mother of four. "We can now go to one spot that offers something for everyone – for my son in his wheelchair, my daughter with core balance needs, and our older kids who want to do bigger-kid things. Providence Playscape is truly all inclusive and a place for us to be together, have fun and meet other families."
Family-friendly accessibility
Providence Playscape is located at Riverfront Park, along the Howard Street Promenade, north of the Orange Bridge. An adjacent parking lot offers eight ADA parking stalls.
Parents and caregivers will find ample benches and seating areas available, some of which include receptacles for charging wheelchairs. There's a water station to fill water bottles, and two wheelchair-accessible family restrooms fitted with adult-sized changing tables. These additional details were a priority to parents who participated in the community forums. Providence listened, ensuring that every element at Playscape offers a truly inclusive experience.
Providence Playscape is open year-round, 6 a.m.–midnight. For more information, visit spokanecity.org. To learn other ways Providence is investing in the community, visit Providence Health Care.
Local journalism is essential.
Give directly to The Spokesman-Review's Northwest Passages community forums series -- which helps to offset the costs of several reporter and editor positions at the newspaper -- by using the easy options below. Gifts processed in this system are not tax deductible, but are predominately used to help meet the local financial requirements needed to receive national matching-grant funds.
Subscribe now to get breaking news alerts in your email inbox
Get breaking news delivered to your inbox as it happens.
---