Marketing > EVERCANNABIS
Giving the gift of green:  Enjoy our annual holiday shopping guide
Fri., Dec. 3, 2021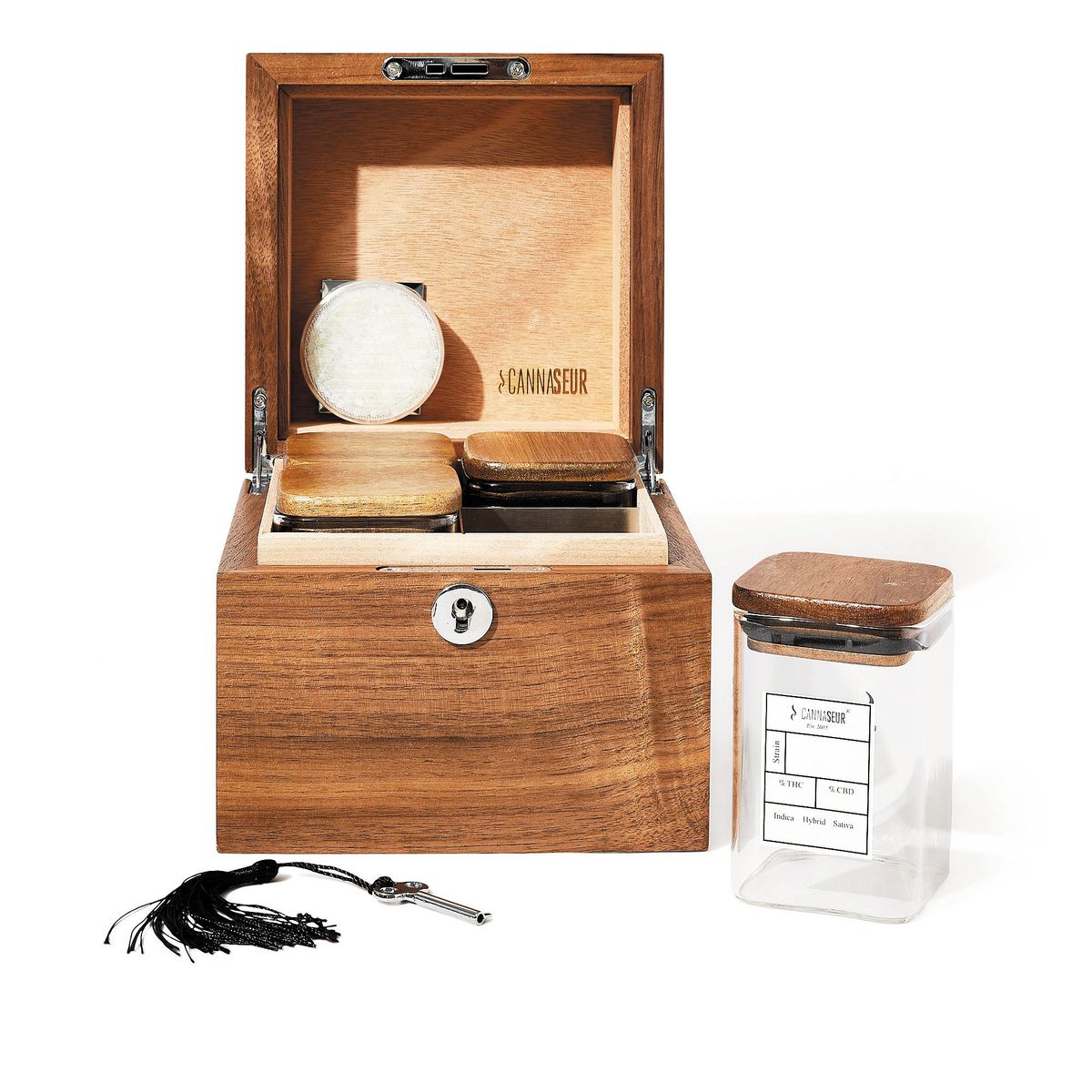 Whether shopping for yourself or your favorite canna-enthusiast, everybody deserves a green holiday!
My first recommendation for 'green gifts' is to start local. Ask your friendly neighborhood budtender to recommend their latest flower or new edibles and stick to growers nearby. If you're shopping for others, use Leafly.com and search strains by "Feelings." This filter can give you recommendations based on someone's personality and preferences. For example, you can choose a strain that "adds feelings" (like energy or creativity) and/or "avoids feelings" (like dry eyes or paranoia).
When it comes to finding other creative ideas, we've got you covered. From stocking stuffers to more luxury options, we have suggestions for lots of lifestyles and budgets.
Stocking stuffers
Papers + Ink Custom-Printed Organic Rolling Papers Kits
https://papersandink.com/collections/custom-printed-organic-rolling-papers
Intriguing, artsy and unique – these dreamy rolling papers are designs with everything from secret notes and maps to animal and paisley prints. A fun and inventive website, Papers + Ink provides DIY tutorials, stocking-stuffer worthy supplies and vintage-style ashtrays.
Foria Botanical Vape Pen with CBD
https://www.foriawellness.com/products/intimacy-vape-pen
For those who want the chill of a vape, without the high of THC, this product is luxurious, and a personal favorite. The pen itself is gorgeous and works exceptionally well (I love the leaf that lights up on the bottom). The blend of organic botanicals includes peppermint and ginger, and a broad-spectrum CBD that can "enhance intimacy in the bedroom," but I also enjoy it before yoga, after a massage or just before bed.
Boy Smells Best Buds Candles
Want to take a mental ride down the old town road? Cowboy Kush is one of four cannabis scents available from Boy Smells featuring earthy aromas, like suede and spice saffron. They come nicely packaged in full-sized or votive sets, or as singles.
Banana Boys Char-Cool Filters
Gives the hit without the heat. These filters make any herb smoother than ever, filtering out nasty stuff and giving you an elevated taste with less throat irritation. Filter holders come in black and cool blue, and are made of high-quality silicone, making them cleanable and reusable. Filters also allow you to share without germs, easily popping one in and out of your holder so you can pass your smoke safely.
For Pets on Your List
Doggie Delirious
Doggy Delirious has created a holiday selection of treats, specifically for your furry family members, such as the Howl-iday Treat Mix, Reindeer Noses and Gingerbread Merry Mix. The treats are 100% human grade, sourced in the U.S., certified non-GMO, and free from preservatives, chemicals and animal byproducts.
Pet Releaf
Keep everyone calm this season with Pet Releaf's Calming Edibites. Great for easing furry family members during the holidays, and trial sizes make perfect stocking stuffers. Ease your mind knowing Pet Releaf has been in business over 10 years helping millions of pets on their health journey with products that support calmness, a healthy immune system, healthy hips and joints, and healthy digestion.
Ganja gadgets
Blazy Susan Rolling Tray
https://blazysusan.com/product-category/blazy-susans
These retro-style rolling trays feature small compartments for every type of accessory including lighters, pre rolls, bangers, even cell phones! Built by smokers for smokers, this homeware accessory will not disappoint. Quality is top notch and comes in a variety of colors. If you're crafty, you can even get an unfinished tray to create a totally personalized gift. Give it a spin – your coffee table will never be the same!
Banana Boys OG OTTO Grinder
https://bananabros.com/products/otto
The OTTO grinds, fills and rolls your favorite herb with just the push of a button. Engineered to offer advanced technology in an easy-to-use, sleek design, the blades automatically adjust pressure, speed and direction to deliver the perfect grind. We gave it a go and found it made perfect cones in seconds.
Cannabolish https://www.cannabolish.com/ I've mentioned the Cannabolish candles in the past (still a great holiday option), but they have new products worth checking out, including cannabis odor-relieving sprays and candles in scents like lavender and wintergreen. For those not into candles, they also offer a gel. Just leave an open jar in any room to extinguish lingering smoke odors, and the plant-based formula works as it evaporates. No harsh chemicals or synthetic fragrance. Kits and small sizes make great gifts for smokers in your life.
SensiBox by Spiced UP
https://www.cratejoy.com/subscription-box/sensi-box/
Can't decide on the right gift? Get a subscription to a box of goodies. SensiBox acts like your personal shopper, sending unique and quality cannabis-themed essentials each month. No need to go to the head shop, SensiBox sends cool stuff with themes like the Stoney Babe Box and Hippie Butler. Many
include artsy bongs and fun toys.
For serious connoisseurs
Bespoke Post
Bespoke Post has a fantastic selection of "smoking tools" that can't be beat. Find things like flax rolling papers (that come in wood boxes), helping you roll better and fight deforestation.
You will also enjoy cool stash boxes, smoking cones, pouches, lighters, trays and 24k gold rolling papers. Everything is luxurious and highbrow. My favorite is the Cube Walnut Locking Cannabis Humidor.
"High on Design"
https://us.gestalten.com/products/high-on-design-cannabis-culture
Your favorite new coffee table book, "High on Design" showcases new brands, designs, and the creators behind the cannabis revolution. Your guide to the best brands, the most stylish dispensaries, the slickest products and the most creative entrepreneurs in a beautiful, full color, hardcover edition.
Foria Intimacy Kits https://www.foriawellness.com/collections/sexual-wellness Foria has released new kits just in time for the holiday. The Quickie Kit features deluxe minis of Awaken Arousal Oil, Sex Oil, and Intimacy Suppositories, great for enjoying intimacy anytime, anywhere. Or the All Night Long Holiday Box, a bigger version of the Quickie, includes one of my favorite products, Intimacy Bath Salts. Foria products are designed for and by women and come beautifully packaged. Perfect for pampering.
Stündenglass Gravity Hookah
https://stundenglass.com/products/stundenglass-gravity-hookah
For those who want to go over the top, the Gravity Hookah is a 360-degree rotating glass hookah that generates kinetic motion activation via cascading water displacement, using opposing airflow technology and the natural force of gravity.
It includes an aluminum hookah bowl kit and glass liner, but can also connect to any smoking or vaporization device. A silicone hose provides contactless consumption. It's durable, futuristic in design and superb in function.
Whimsical Ideas
Tiny Vacuum Cleaners Urban Outfitters offers the world's smallest vacuum cleaners, also available on Amazon. These tiny wonders are perfect for cleaning up your mess after a night of spinning the Blazy Susan or practicing with your new OTTO grinder. Lit Lighters Do yourself a favor and search 'cannabis lighters' or 'unique lighters' on Amazon. You'll find a treasure trove of ideas worthy of the holidays and beyond. Some favorites are the Tesla Triple Arc Rechargeable Lighter with LED Lights, the Anrapley Torch Lighter, and the Clipper Mary Jane Lighter set. Vintage Wall Art Find it on Etsy, Amazon, or any wall art site. Do an image search for Vintage or Retro marijuana wall art. Create your own decoupage or finish off the basement walls with cool art that reminds us Reefer Madness is here to stay. Become An Historian I recently came across AntiqueCannabisBook.com which paints a colorful history of cannabis and a wealth of knowledge on everything you ever wanted to know about how marijuana was once used and sold as a medicine. This fascinating website is full of ideas for how to repurpose old labels or bottles to create your own collection. Or, go on Etsy and find cool stuff that someone has already made. Books, Books, and more Books! From healing or cooking to growing your own plants, there is a never-ending supply of great books on weed. Don't be shy, type the word 'cannabis,' with any word after it on Amazon, and you'll find a book. Dank Shoes You can always find T-shirts, dresses, socks or hats emblazoned with green leaves or anything smoking a joint, but shoes have taken it to new heights. Think dog walking Crocs dappled in pot leaves, NIKE's Skunk Dunks (all greened-out with hazy purple pops and a stash pocket behind the tongue), the Huf Hupper's pledge to the leaf with a blunt take on their home-grown hightops, or dank green Air Jordan's with a saddle-bag-stash pocket. Or check out MasterDank.com for more ideas, including pot leaf flip flops.
Local journalism is essential.
Give directly to The Spokesman-Review's Northwest Passages community forums series -- which helps to offset the costs of several reporter and editor positions at the newspaper -- by using the easy options below. Gifts processed in this system are not tax deductible, but are predominately used to help meet the local financial requirements needed to receive national matching-grant funds.
Subscribe now to get breaking news alerts in your email inbox
Get breaking news delivered to your inbox as it happens.
---