I didn't think I would ever need WA Cares: I was wrong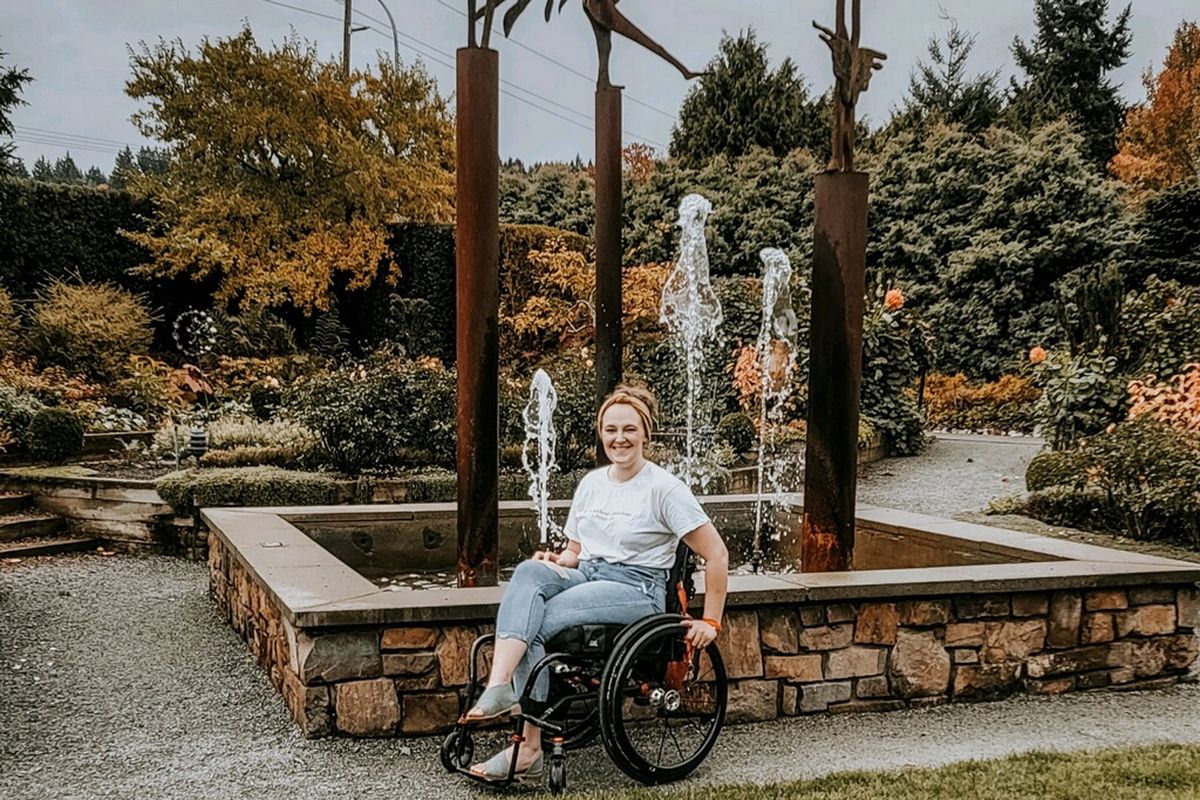 I never thought I would need someone to care for me.
Three years ago, when my son turned 2, I went into the hospital for a common medical procedure. Everyone swore it was safe, and low risk. I came out with a spinal cord injury, spent three weeks in the hospital, and six weeks more in a rehab facility. I was 30. I will be in a wheelchair for the rest of my life.
In a split second everything in your life can change, and you end up being the one that needs long term care. I'm self-sufficient today, but if I require more help at home — if my husband has to quit his job to care for me — we'd have to sell our house.
I don't know how we'd make it. We're just a few of the thousands of people who need the benefits that our state's new public long term care program, WA Cares, will provide.
If this happens to millionaires, what about the rest of us?
The irony is I'm a professional caregiver myself. Growing up with siblings who have serious disabilities, it was in my blood. I became a certified care provider, helping folks who can't care for themselves, but want to stay in their homes. When I go to work every day, I know I'm making a difference in somebody's life.
I've seen so many people - including my own grandparents - go through their savings and sell their home, to qualify for Medicaid to cover the costs of long-term care. If you can't afford to pay out of pocket for help, and you don't have the ability to take care of yourself, you are stuck between a rock and a hard place.
One of my clients was a millionaire.
I helped her with daily living tasks so she could stay in her home, but it also meant she had to spend everything she had, and didn't have anything left to hand down to her kids after she passed at the age of 98. If this happens to millionaires, what does that look like for the rest of us?
Except for the top 1%, most of us are not financially prepared for the likely eventuality that we'll need long term care at some point in our life, or we'll need the option to get paid to stay home and care for a family member. Even with my amazing health insurance, what happened to me financially devastated our family.
News flash: Medicare and health insurance don't cover long-term care
WA Cares is for the 90% of Washingtonians who will retire without enough savings or insurance to cover their long-term care needs. WA Cares gives everyone an affordable, reliable option of getting help at home when they are injured, sick, or elderly.
It never occurred to me that I would need care, much less in my 30s. So when I hear working age people say they won't need long term care themselves, I shake my head. Statistically, more than 70% of us will need long term care services at some point in our lives.
Folks also believe health insurance or Medicare will cover the costs should they ever need longer term in-home help, or care in a rehab or nursing home. They won't.
Corporate long-term care insurers are unreliable
To people choosing to opt out of WA Cares, please beware that corporate long term care insurance is expensive ($7,000 a year on average for a retired couple, and it goes up as they get older), and notoriously unreliable.
Long-term care insurance companies often exclude people with pre-existing conditions, charge higher rates for women than men, and have a track record of dropping plans and not delivering promised benefits to consumers. You'll have to keep paying escalating premiums your entire life. With WA Cares, you stop paying when you stop working, and it's always there for you.
According to a recent investigation of consumer complaints filed with the WA Office of the Insurance Commissioner, many long term care insurance companies use "bait and switch" tactics, jack up premiums by as much as 300% with no warning, drop coverage with no refund, and regularly delay and deny promised benefits.
Improve WA Cares with these 3 changes
WA Cares was created to meet the needs of millions of us who are in the gap: we can't afford to pay privately for long term care, but are not yet at the poverty level required by Medicaid.
WA Cares isn't perfect, but it's a giant step in the right direction. Just like Medicare and Social Security, we pay into WA Cares while we're working, so it's there for us when we're injured, sick, or just getting too old to care for ourselves safely.
In 2019, when I went to the "Caring Across Generations" conference in Detroit, everyone flocked to our table — they wanted to know how we got the WA Cares program. I was so proud to be a Washingtonian inspiring action in other states. Now some wealthy political interests want to take away care needed by tens of thousands of us.
I've just signed this letter asking policymakers in Olympia to move quickly to strengthen WA Cares with these three improvements:
1) Allow people who retire before fully vesting in the program to qualify for a prorated benefit.
2) Allow certain out-of-state workers, military families, and temporary workers to opt out of the program.
3) Explore options to allow the state to provide benefits to retirees who move out of state.
I hope nothing like what happened to me happens to you or someone you love. But if an illness, injury, disease, or simply the challenges of aging cause you to need help with daily living tasks, the WA Cares program will help you stay home, instead of entering into poverty to go into a facility on Medicaid. That saves the state money, and allows us to keep living the life we want to live - it's a win-win.
About the author: Dani Rice of Asotin, Wash., is a mom, caregiver, and disability leader.
For more info about Washingtonians for a Responsible Future, visit walongtermcareoptions.info
---