Punter Nick Haberer, wideout De'Zhaun Stribling reflect on rookie seasons at Washington State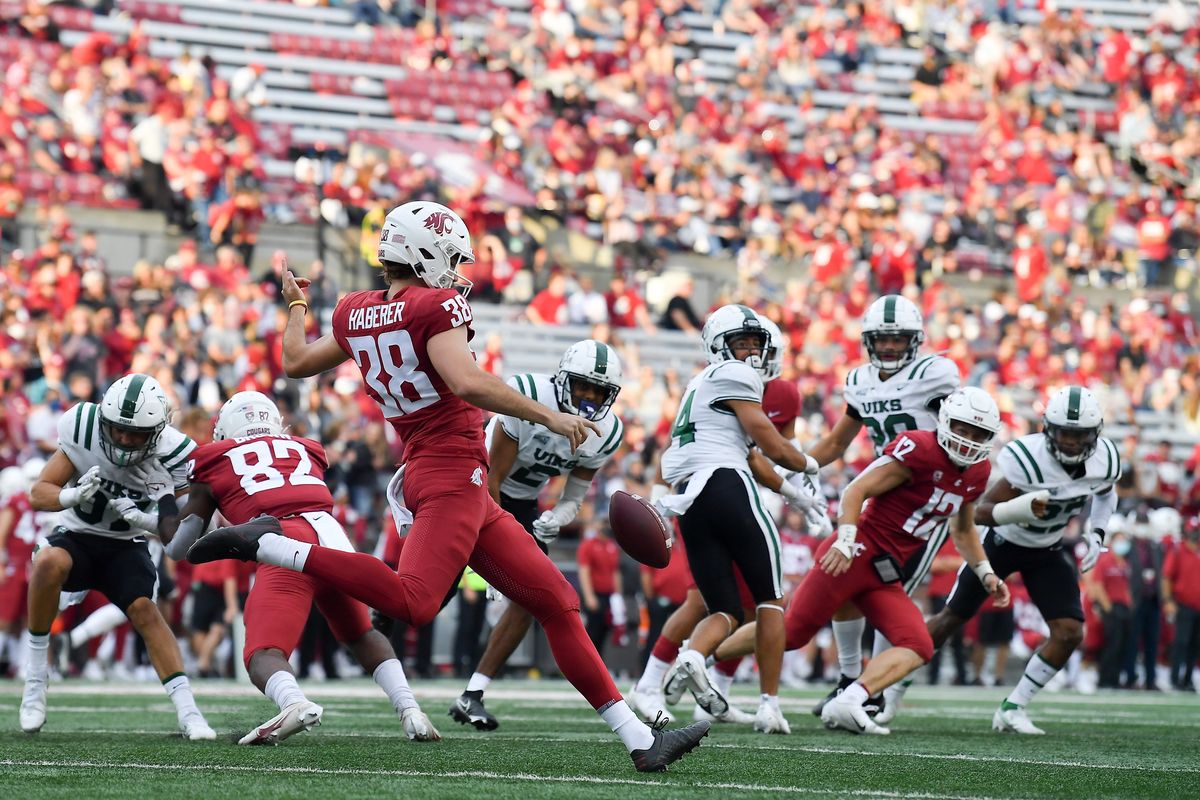 EL PASO, Texas – De'Zhaun Stribling had to acclimate himself to the speed and "intensity" of football at this level. Nick Haberer had to familiarize himself with football in general.
Both fared well in their debut seasons as collegiate athletes, locking up starting roles for years to come at Washington State.
Stribling, a wideout, and Haberer – WSU's punter from Down Under – will cap their rookie campaigns when the Cougars (7-5) meet Central Michigan (8-4) in the Sun Bowl at 9 a.m. on Friday in El Paso.
The Cougars' two most impactful true freshmen reflected on their seasons last week during their first media sessions since arriving on campus.
For Haberer, a "brand new" experience
The Aussie spent his first eight months in America "trying to be a sponge," and soaking in the rules of an unfamiliar game.
Haberer departed his balmy hometown – Sunshine Coast in Queensland, Australia – and landed in the frigid Inland Northwest in January.
He had experience in the Aussie-rules version of the sport and trained at a renowned punting/kicking academy in his home country. Recruiting outlets considered Haberer one of the top punting prospects in the 2021 class, but he had never stepped foot on an American football field before this year.
His extended offseason period from January to August featured a healthy dose of film study with WSU special teams coordinator Kyle Krantz and former coach Nick Rolovich, among others.
"It's been a wild ride, to be honest – coming in and not knowing much about the game, if not little to none," he said.
Although Haberer now feels comfortable with his general responsibilities, he'll admit that he has a way to go before mastering his vocation.
"I still don't know many of the rules," he said. "I'm still asking questions when stuff happens, just asking away: 'What went on there? Why is that flag being thrown?'
"I'm still learning the game, but I'm sure that's going to take time. It's probably going to be my whole career learning the game."
Haberer's first attempt at American football included "a few mistakes – I'm not going to lie."
Haberer mishandled one PAT hold across 41 tries and had a punt attempt blocked Oct. 2 at Cal after holding onto the ball for one too many steps.
"Just knowing those situations and the feel of the game is going to help me moving forward," he said.
Besides a couple of mistakes, his inexperience rarely showed.
Deploying a combination of Aussie-style rollouts and conventional punts, Haberer averaged 42.7 yards on 45 kicks, recording a long of 60 yards, and dropped 12 kicks inside opponents' 20-yard lines.
"My job is pretty simple as a punter," he said. "Catch the ball, kick it and hopefully land it in the right place and give it enough hang time for the boys to go down and cover. That's my job and I try to do that to the best of my ability."
While adapting to the rulebook of a foreign sport, Haberer also had to adjust to life in a place 7,000 miles away from his hometown. He had never traveled to the United States before signing on as a Cougar specialist.
"Everything was brand new to me," he said. "It's challenging because you leave all your networks back home, especially family and your support systems, so you have to try and build new support systems over here.
"That's what's been great about my coaches. They've just taken me under their wing."
Teammates, too. Haberer forged a close friendship with fellow special teamer Dean Janikowski, and the two took a trip in May to the kicker's hometown near San Diego.
"Where I'm from, I live on the beach, so it was good to go down and put my feet in the sand," Haberer said, noting that the wintry weather in Pullman is "pretty unique to me."
He went 11 months without seeing his family members from Australia, but they got a chance to visit the Northwest last month.
"It's all new to them as it is to me," Haberer said.
Stribling turns heads in rookie season
During WSU's spring camp in April, Cougar coaches figured they had something special in Stribling. Considering their new Hawaiian receiver's advanced build and mature demeanor, it soon became apparent that he'd have a shot at playing time early in his career.
Would the Cougars have guessed then that he'd be the Pac-12's top rookie pass-catcher in 2021?
Probably not, but that notion might have entered the minds of WSU staffers four months later, when Stribling overpowered defensive backs and seemed to catch everything at fall camp. His name came up in interview sessions almost daily.
Stribling quickly inserted himself into the starting lineup, where he has remained since.
"The past year has been great – it's been amazing," he said. "I've been doing a lot of good things. Pullman has treated me very well. It's all been good."
For his first act as a collegian, the Cougars' No. 1 outside receiver totaled 458 yards and four touchdowns on 42 receptions.
There were some growing pains, naturally – a handful of games in which he had a hard time fashioning space when matched up against veteran Pac-12 defensive backs.
"What surprised me was how intense everything was (week to week)," Stribling said. "That was good. That was different. I'd never really experienced that before."
But he logged at least one reception in every contest and even paced the Cougars' pass-catching corps in a couple of outings, tallying 93 yards and a touchdown Sept. 25 at Utah and registering 51 yards and a score at Oregon on Nov. 13.
In terms of total production this year, Stribling topped all Pac-12 true freshmen receivers.
"Just a lot of experience out there," Stribling said when prompted to reflect on his season. "It was a good learning point.
"I just really had to adjust to the tempo and speed of the game. Coming from high school to college is a big jump. I really had to adjust my playing style and adjust to the speed of everything at this level."
The 6-foot-2, 200-pounder relied on strength to separate from smaller cornerbacks. He emerged as a dependable jump-ball target, and got physical with DBs to win positioning on intermediate comeback routes.
" 'Strib' is slowly getting better and better, and more comfortable," WSU coach Jake Dickert said last month. "Strib is a big-bodied guy who can go up and make plays."
An under-the-radar three-star recruit who graduated from Kapolei High in Honolulu in 2020, Stribling reportedly intended to play for Hawaii and Rolovich before WSU hired the Rainbow Warriors' boss in early 2020.
Stribling reopened his recruitment and spent the coronavirus-affected season training at home before deciding to follow Rolovich to Pullman.
It turned out to be a good call.
Now established as a Power Five starter, Stribling is expected to reprise his role next season as WSU's most productive outside receiver. The Cougars need him to elevate his game to some extent, considering they might be losing two star pass-catchers after the Sun Bowl.
Slotback Calvin Jackson Jr. (955 yards, seven TDs) is on his way out and Travell Harris – another inside receiver who posted 801 yards and nine scores this year – is on the fence about whether he'll return to WSU next season.
Stribling's numbers will presumably see an uptick in 2022 as he and sophomore quarterback Jayden de Laura – another fast-rising star in the Pac-12 out of Honolulu – strengthen their bond.
"We just have a good friendship, a solid friendship," Stribling said. "We've known each other a long time. That translated to the field."
---