Monitor your blood pressure to keep your heart healthy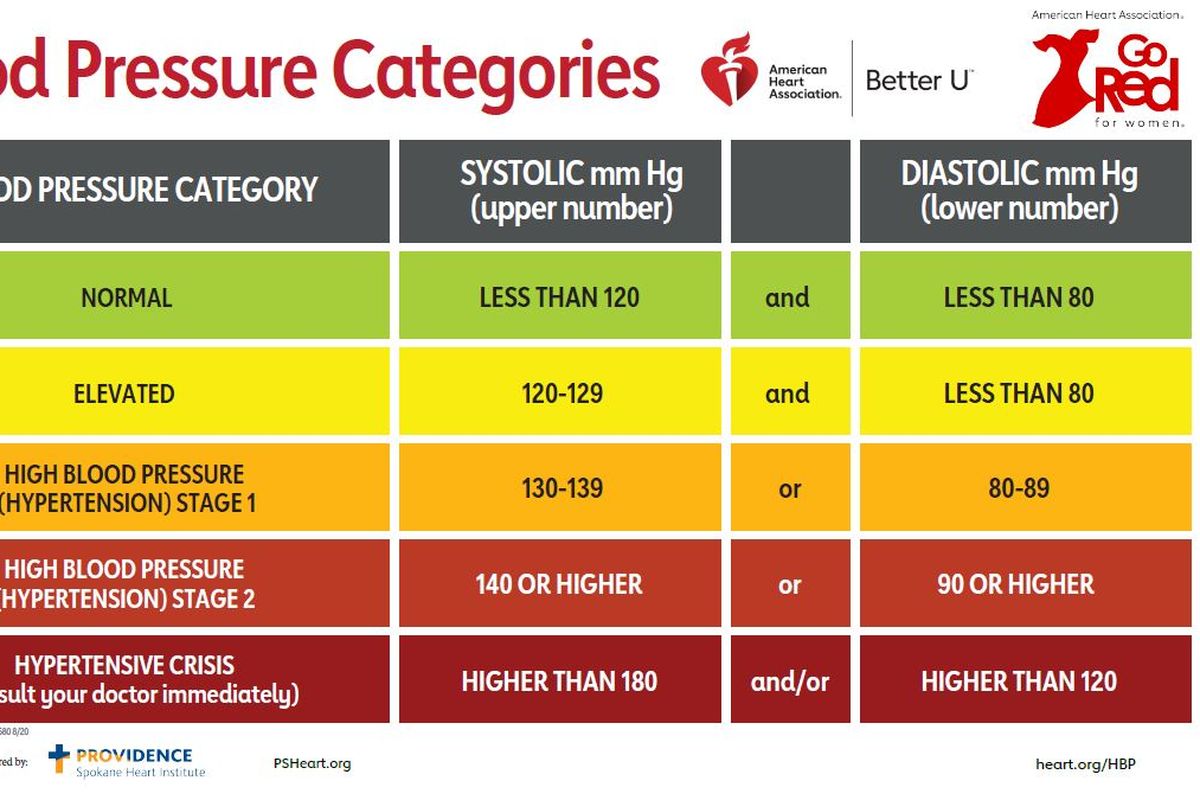 Did you know nearly half of adults with high blood pressure are women and many don't know their blood pressure numbers are high?
Although gender doesn't determine risk, health events throughout a woman's life – from pregnancy to menopause – can increase the chance of developing high blood pressure.
Uncontrolled high blood pressure can lead to a variety of health threats, including heart attack, vision loss, heart failure, kidney disease/failure and stroke. That's why high blood pressure is known as the "silent killer."
"Patients who do not control their blood pressures reduce their lifespans by an average of five years," said Janice D. Christensen, M.D., FACC, cardiologist with Providence Spokane Heart Institute.
"Controlling your blood pressure lowers your risk of heart failure by 50%, your risk of stroke by 40%, as well as reducing risk of kidney failure and heart attack."
What is blood pressure? Every time your heart beats, it creates pressure that pushes blood through a network of blood vessels, including arteries, veins and capillaries. If the pressure is consistently high, this condition is considered high blood pressure or hypertension.
Over time, friction inside artery walls caused by high blood pressure damages the tissue, and plaque begins to build in the tears. The more plaque and damage to artery walls, the narrower the insides of the arteries become, which in turn raises blood pressure. It's a vicious cycle that harms your body and overall health and well-being.
High blood pressure is often the first domino in a chain or "domino effect" that can lead to devastating and ongoing health issues. For example, high blood pressure can cause blocked vessels in the brain to burst or clog more easily, triggering stroke. It can also damage arteries in the heart, or enlarge the heart, and damage arteries around the kidneys, interfering with their ability to effectively filter blood. High blood pressure can cause vision loss by straining the vessels in the eyes.
Monitoring your blood pressure is the first step toward stopping the "domino effect" before it starts. It's important to know your blood pressure numbers, just as you know your height and weight.
Blood pressure is reported as two numbers: systolic pressure over diastolic pressure. Systolic pressure is the force of blood in the arteries when the heart beats; diastolic pressure is the force when the heart is at rest.
If your blood pressure measurement reads 120 systolic and 80 diastolic, it would appear in writing as "120/80 mmHg."
Do you have normal blood pressure, or are you in the high blood pressure range? Here's what you should know:
• Healthy blood pressure is below 120 systolic pressure, below 80 diastolic pressure.
• Elevated blood pressure is 120-129 systolic pressure, 80 or below diastolic pressure.
• High blood pressure (Stage 1) is 130-139 systolic pressure, 80-89 diastolic pressure.
• High blood pressure (Stage 2) is 140 and higher systolic pressure or 90 and higher diastolic pressure.
• High blood pressure (Stage 3) 180 and higher systolic pressure, 120 and higher diastolic pressure.
Monitoring your blood pressure at home is an important step in managing high blood pressure. Not only does home monitoring help you keep tabs on your blood pressure, but it can alert your doctor to potential health issues related to high blood pressure.
You don't need a prescription to get a blood pressure monitor. A good monitor can be purchased at most pharmacies, medical supply stores and online. Ask your health care provider for advice on choosing a monitor that's best for your situation.
Before you monitor your blood pressure, don't smoke, drink caffeinated beverages or exercise within 30 minutes before measuring your blood pressure. Empty your bladder and give yourself least five minutes of quiet rest before taking measurements.
It's important that you sit with your back straight and supported. Choose a straight-back chair rather than your soft sofa. Put your feet flat on the floor and don't cross your legs.
Support your arm on a table, with the upper arm at heart level. Don't take the measurement over clothes, the cuff should be directly on your skin. Make sure the bottom of the cuff is placed directly above the bend of the elbow.
Measure at the same time every day – morning and late afternoon.
Each time you measure, take two or three readings one minute apart and track the results. (See our blood pressure tracker here.)
Watch this video to learn more about how to properly monitor your blood pressure at home.
The American Heart Association recommends home monitoring for all people with high blood pressure. Regular blood pressure readings will help your health care provider determine whether treatments are working. However, home monitoring is not a substitute for regular visits with your provider.
"The most important partner in your hypertension treatment is your primary care provider, who can help you achieve good risk reduction," said Dr. Christensen.
If you have high blood pressure, the good news is you can make lifestyle changes to help lower your blood pressure and enhance your quality of life.
Recently, the American Heart Association and Providence Spokane Heart Institute teamed up to provide women with a range of resources to help keep their hearts healthy through blood pressure monitoring, diet, lifestyle and more.
Learn more about how to monitor your blood pressure and track it.
About Providence Spokane Heart Institute
At Providence Spokane Heart Institute, specialized physicians cover every aspect of cardiovascular care, including disorders of the heart, arteries, veins, valves and peripheral blood vessels. Staff who specializes in the diagnosis and treatment of cardiovascular disease work together in a highly integrated and collaborative group. The Providence Spokane Heart Institute treats patients at its clinics in Spokane: Providence Spokane Cardiology, Northwest Heart & Lung Surgical Associates, Providence Center for Advanced Heart Disease & Transplant, Providence Center for Congenital Heart Disease, Providence Vascular Surgery and Providence Vein Center and at several outreach clinics throughout the Inland Northwest.
About the American Heart Association
The American Heart Association is a relentless force for a world of longer, healthier lives. We are dedicated to ensuring equitable health in all communities. Through collaboration with numerous organizations, and powered by millions of volunteers, we fund innovative research, advocate for the public's health and share lifesaving resources. The Dallas-based organization has been a leading source of health information for nearly a century. Connect with the Washington division via heart.org/Spokane on Facebook, Twitter, Instagram or by calling 1-800-AHA-USA1.
---