Health care worker has allergic reaction to COVID-19 vaccine
UPDATED: Fri., Jan. 1, 2021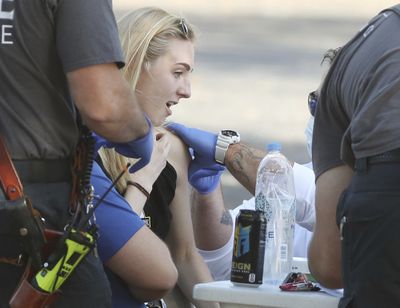 PORTLAND — A health care worker in Oregon was hospitalized after having a severe allergic reaction to the Moderna COVID-19 vaccine, according to the Oregon Health Authority.
The worker, an employee at Wallowa Memorial Hospital, experienced anaphylaxis after receiving a first dose of the vaccine this week, officials said late Thursday.
The health authority said vaccines for COVID-19 can cause mild to moderate side effects in some people. This can include pain and swelling on the arm and sometimes fever, chills, tiredness and headache.
"The Centers for Disease Control and Prevention has reported that in rare cases, some people have experienced severe allergic reactions after getting a COVID-19 vaccine," health officials said in a press release. "An allergic reaction is considered severe when a person needs to be treated with epinephrine or EpiPen, or if they must go to the hospital."
Health officials will continue to track adverse reactions to the COVID-19 vaccines.
So far, 38,698 doses of the COVID-19 vaccines — 26,639 of Pfizer and 12,054 of Moderna — have been administered in Oregon since the week of Dec. 13, officials said.
Local journalism is essential.
Give directly to The Spokesman-Review's Northwest Passages community forums series -- which helps to offset the costs of several reporter and editor positions at the newspaper -- by using the easy options below. Gifts processed in this system are not tax deductible, but are predominately used to help meet the local financial requirements needed to receive national matching-grant funds.
Subscribe to the Coronavirus newsletter
Get the day's latest Coronavirus news delivered to your inbox by subscribing to our newsletter.
---