News > Family
Back in the fold: Family finds misplaced and beloved WSU quilt
Mon., Jan. 18, 2021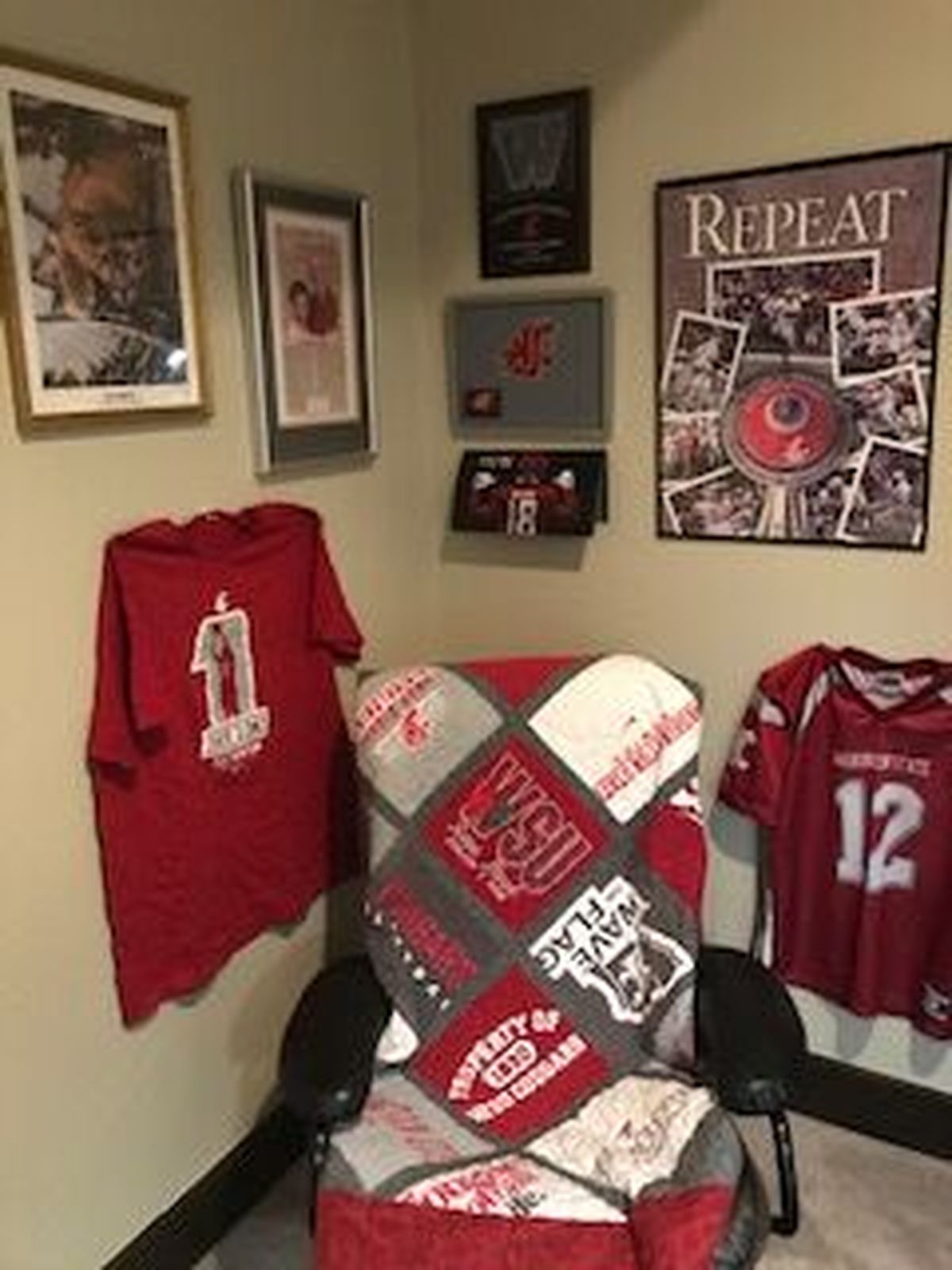 Carol McCabe Adams, who lives in Colorado, now displays the WSU-themed family quilt in her home after the item was returned at the end of December. (Courtesy)
A beloved Washington State University-themed quilt has returned back into a family's fold.
Made for her parents by Carol McCabe Adams from T-shirts of WSU family-attended events for decades, the quilt was a 2012 Christmas present she gave to Wes and Dolly McCabe of Spokane, longtime Cougar fans and donors.
Her dad at 92 died the following December, and then Dolly McCabe passed away at 98 last October.
During a hectic Thanksgiving week move tinged with grief, Adams and her siblings had to pack up their parents' belongings. In the midst of those tasks spread among many helping hands, the quilt was misplaced.
Once realized, the family put out a community call, fearing an accidental drop-off at Goodwill. After a TV news story and social media posts, a friend of Adams' brother-in-law who helped move items looked around and discovered the quilt packed into an unmarked box.
Refusing an offered reward, he immediately sent it to Adams, who lives in Colorado.
She received it in late December.
"The acquaintance of my brother-in-law didn't even realize what had happened until there was a lot of publicity about it," Adams said.
"They didn't realize what was in the box because it wasn't labeled. Both he and my brother-in-law were devastated. It didn't occur to him because he didn't know what he was moving."
"So everybody from Goodwill and all these people were looking and helping, and ultimately it was because there was so much publicity out there that the person realized that."
Adams said the reward money was donated for community causes, in a way thanking the widespread support of kindness received after news spread about the quilt.
"So we did donate to the Goodwill in Spokane and a food bank in Pullman – and to Hilinski's Hope, for a football player (quarterback Tyler Hilinski) at Washington State who took his life a few years ago and his family set up a foundation to help with mental health," Adams said.
"My parents were Cougars forever. My grandfather went to Washington State. Everyone in my family had gone, and someone suggested Hilinski's Hope, so we donated to them, as well. I've called everyone back who has called and helped me."
She's especially thankful because the quilt is a representation of memories of her parents and times spent with them among her, brother Rich and sister Diana.
"I felt like it was my parents' legacy, and they were so involved," she said. "They didn't want to make a big deal out of it, but they were so supportive of everything academics and athletics at Washington State and donated to all of those.
"The quilt was kind of a representation I guess of that because they had gone to so many events, and there were personal items made into the quilt. All of our family had attended a lot of those events with them."
Adams made the quilt from shirts that came from more than 20 WSU sporting events across the years, including football, basketball, tennis and a few collectible Cougar images.
"We'd taken the shirts, kind of secretly, because my mom hadn't worn them much, but my dad still did. So I got them, some from my brother and sister, and some from me, so they were all from everyone."
The quilt's centerpiece is a shirt from WSU's Rose Bowl appearance in 1998, another family-favorite memory.
"It was a big deal," she said. "In fact, my husband had surprised me and got tickets for us to go, and then our whole family was there together."
It was a reunion of sorts, marking generations who'd gone to Washington State.
"My brother, sister and myself, my mom, my dad, my dad's brother, my mom's dad, my sister's kids had gone to WSU. My mom was saying in September when I was visiting her, it's over 100 years because her dad went there before WWI, I guess."
Her mom remained vibrant and lived independently up to age 98. Adams said she'd gone into a hospital for what was thought to be a leg infection. Her condition turned to pneumonia, she said, and "we lost her within a week."
"She was very vital and was in the hospital, too, up to the day she passed. We were luckily between the time when they were allowing people in the hospital, so all three of us got to be with her, and then immediately they were into lockdown again."
For years, the quilt took a prominent spot on a favorite chair in a den of her parents' home, along with other WSU memorabilia in that room. Now, the quilt is a centerpiece in Adams' home.
"I appreciate all the help from the community," she said. "People called me from all over. We are so grateful."
Local journalism is essential.
Give directly to The Spokesman-Review's Northwest Passages community forums series -- which helps to offset the costs of several reporter and editor positions at the newspaper -- by using the easy options below. Gifts processed in this system are not tax deductible, but are predominately used to help meet the local financial requirements needed to receive national matching-grant funds.
Subscribe now to get breaking news alerts in your email inbox
Get breaking news delivered to your inbox as it happens.
---