Marketing > EVERCANNABIS
Idaho author's book on pot etiquette is anything but stuffy
Thu., Jan. 28, 2021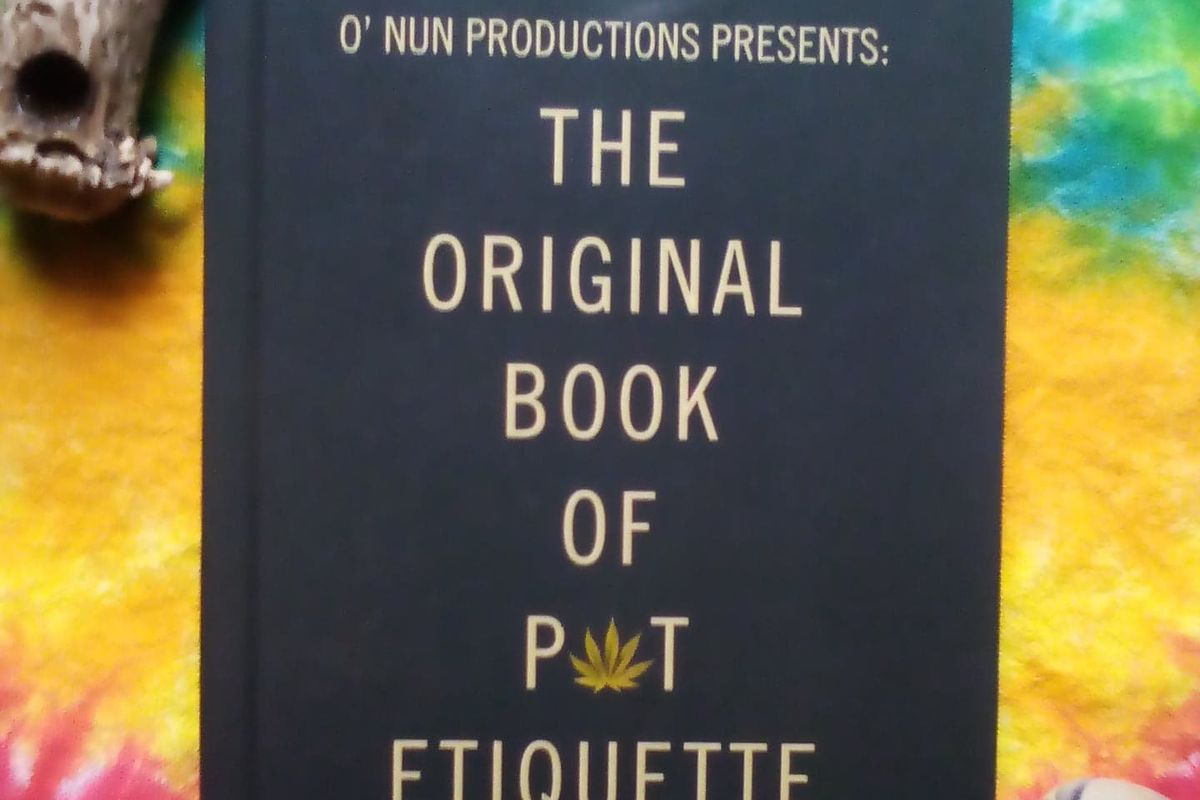 "The Original Book of Pot Etiquette" by Vanessa Fimbres (Courtesy photo)
She has a lot to say about etiquette, but Vanessa Fimbes is no Miss Manners or Ann Landers.
"Etiquette means so much more than just passing the pipe or not slobbering on the joint," Fimbres said.
Fimbres' book, "The Original Book of Pot Etiquette," includes everything from what not to do while partaking in marijuana, to the 10 Pot Commandments, to the many ways cannabis can be ingested, to her life story and how it revolves around cannabis, to ruminations on a higher power.
"When I started it, it started as a pot etiquette book. But as you can tell, I love the higher spirit. I love an entity higher than ourselves. I really felt that this was my opportunity to actually reach some people. No one would pick up a book about being a better person … but they would if there is a pot leaf on it."
Fimbres, an central Idaho resident who also spends some time each year living in Hawaii, has recognized the pot leaf symbol since she was a young child.
"This book has been in my head since I was 15 years old," she said.
While not all readers will appreciate the large print, how the topics seem almost random in some spots, and the stream-of-consciousness writing style, Fimbres says the self-published book is that way on purpose.
"It's an easy read, don't you think?" she said. "I actually wrote it as an easy read because of my daughter. People these days don't read. And the more serious stuff is in the back for people who want more information."
For some, the most interesting part of the book may be the author's story. While most writer's biographies are a couple of paragraphs at most, Fimbres spends six pages on how she grew up in the cannabis culture with hippie parents, including a dad who owned a head shop and a mother who attended "tea" parties (as in pot tea). She goes on to chronicle her travels around the country following the Grateful Dead, living with unhoused people in San Francisco, and moving from state to state, having pot-centered adventures long before it was legal.
"We were growing weed in Oregon one time and a cop came to the door," she said. "He was cool and said, 'Everything is legal until someone knows about it.' Which basically meant we should build a taller fence. And we did."
She also taught others about marijuana and its many benefits, worked with incarcerated populations and volunteered for NORML, a nonprofit group that represents the interests of American marijuana users.
"I have been an advocate for marijuana way before it was cool to be an advocate."
Beyond the advocacy and love for pot Fimbres isn't afraid to emphasize in this book, "The Original Book of Pot Etiquette" has another theme repeated throughout its pages: the importance of enjoying life and being thankful for what you have.
"It's something we should all strive for. Right now, I am looking at the river and yellow leaves and mountains. What a gift. There are people who just can't grasp how special this is. We're so caught up in the rat race, in stuff that's not really important."
That's why Fimbres says it was important to hit on topics beyond torching the bowl or – the ultimate sin for some – stealing someone else's lighter.
"Manners and etiquette in society – we're desperate for it," she said. "With the phones these days, no one looks up, no one makes eye contact. Kids can't even give you a proper greeting when introduced."
So what's next on Fimbres' to-do list? A book on child rearing or self-improvement? First, she would like to do a deluxe edition of this book, adding more photos of people smoking and interviews with people who use marijuana, followed by a book on "incredible edibles."
"I was at a party where it was just pot, no alcohol, and desserts … they were amazing."
Fimbres says she loves that marijuana has become an art, with some infused food products resembling something you would get in an upscale restaurant or fancy bakery. Most of the time for her though, when it comes to weed, Fimbres' preferences are pretty basic.
"I enjoy flower. I know there's dabs and oils and vape pens and those are nice for some things like taking a walk or running errands, but I like smoking a bong: I like bong hits."
Tracy Damon is a Spokane-based freelancer who has been writing professionally for 20 years. She has been covering i502 issues since recreational cannabis became legal in Washington.
Local journalism is essential.
Give directly to The Spokesman-Review's Northwest Passages community forums series -- which helps to offset the costs of several reporter and editor positions at the newspaper -- by using the easy options below. Gifts processed in this system are not tax deductible, but are predominately used to help meet the local financial requirements needed to receive national matching-grant funds.
Subscribe now to get breaking news alerts in your email inbox
Get breaking news delivered to your inbox as it happens.
---