Marketing > Sponsored
10 COVID-19 myth busters: Get the facts about vaccines
Some may hesitate due to incorrect information
Sun., July 4, 2021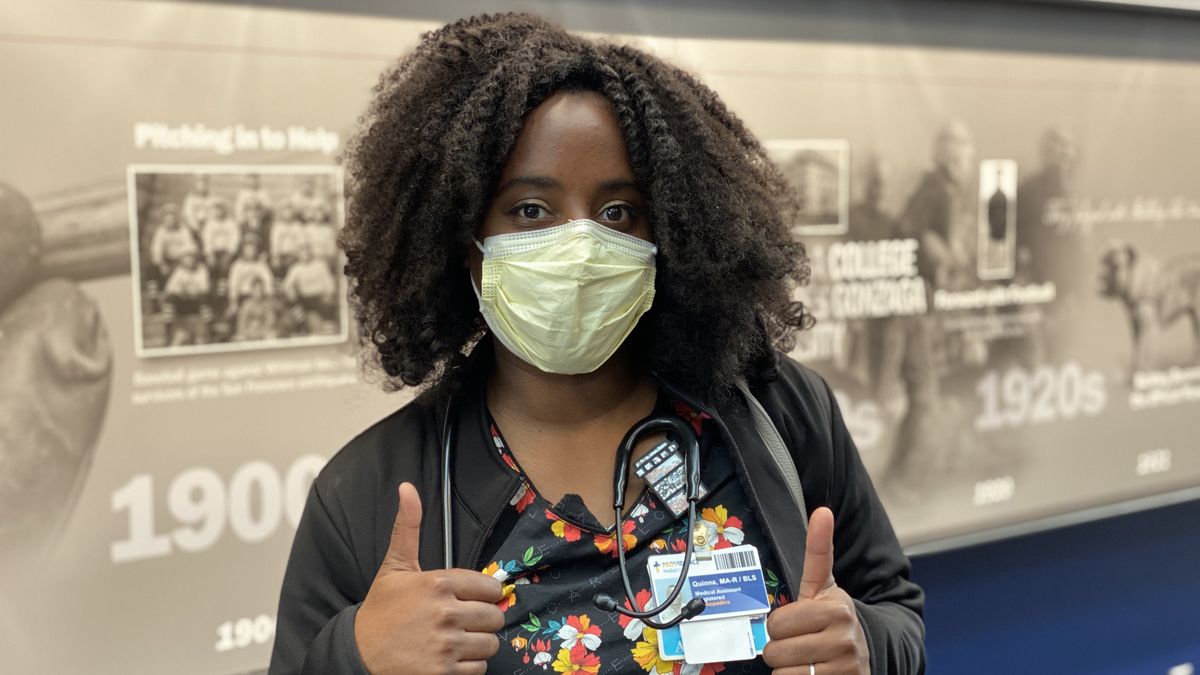 Laquinna Blair, a volunteer at the GU COVID Vaccine Clinic. (Courtesy Providence Health Care)
The importance of COVID vaccinations will be kept at the forefront of discussions as Washington state reopens after a long and challenging time.
Local, state and national health experts agree that our best way through this pandemic is to see the majority of our community get vaccinated, especially as new variants pop up across the country.
It's understandable that some people are hesitant about getting the vaccine. Their reasons are often complex and personal. As a health care provider and health system committed to the well-being of our communities, we're providing facts to help people make the best choices surrounding vaccination.
Myth 1: The COVID-19 vaccines were rushed and not safe.
Fact: The COVID-19 vaccine was made available through an emergency use authorization which was approved and deemed safe by federal health authorities. The vaccines are now under review for a full Federal Drug Administration (FDA) approval.
The Federal Drug Administration (FDA) has already designated the vaccines as safe and highly effective in preventing COVID-19. Other countries, including Canada, also found the vaccine safe and effective after evaluation. At Providence, we have our own review and approval process for COVID vaccines. The safety and well-being of our patients is our priority.  
Myth 2: Taking the COVID-19 vaccine will give me COVID-19.
Fact: The COVID-19 vaccine will not give you the virus. The COVID-19 vaccine uses messenger RNA (mRNA) to teach your immune system how to recognize and fight off the virus, should you come into contact with it. The vaccine does not include live virus and therefore cannot cause an infection.
Myth 3: The vaccine contains a microchip.
Fact: There is no microchip or tracking device in the COVID-19 vaccine. The vaccine prevents people from contracting the virus and lessens the impact if infection does happen.
Myth 4: The COVID-19 vaccine will cause me to be magnetic.
Fact: The COVID-19 vaccine will not make you magnetic. COVID-19 vaccines do not contain ingredients that can produce an electromagnetic field at the site of your injection. According to the CDC, all COVID-19 vaccines are free from metals such as iron, nickel, cobalt, lithium and rare earth alloys, as well as any manufactured products such as microelectronics, electrodes, carbon nanotubes and nanowire semiconductors. Learn more about the ingredients in the COVID-19 vaccinations authorized for use in the U.S.
Myth 5: The vaccine will change my DNA.
Fact: The COVID-19 vaccine can't alter or interact with your DNA. Messenger RNA vaccines, including the COVID-19 vaccines, help to protect against infectious diseases. The vaccine teaches our cells how to make a protein that triggers an immune response. This immune response produces antibodies that protect us from getting infected if we are exposed to the COVID-19 virus. mRNA never enters the nucleus of the cell, which is where our DNA (genetic material) is kept. The CDC provides more scientific information about mRNA vaccines online.
Myth 6: The COVID-19 vaccine doesn't protect me.
Fact: Like all vaccines, the COVID-19 vaccine was designed to protect people from contracting the virus or from getting seriously ill if one does get it. We have learned from other viruses such as polio and the measles that their vaccines have the best chance of stopping a virus when roughly 60-80 percent of a population gets vaccinated. This is our best shot at stopping COVID-19.
Myth 7: Since children are at low risk of getting COVID-19, they don't need the vaccine.
Fact: While serious illness from COVID-19 is rare in children, it does occur. In the past year, thousands of children in the U.S. have been hospitalized because of COVID-19, some have died. The vaccine has been proven to protect children from developing serious illness. It also helps prevent children from transmitting the virus to others.
Myth 8: It's not safe for my child to get the vaccine.
Fact: At this time, studies show that the COVID-19 vaccine is both safe and effective for children 12 and older. Clinical trials are underway to test the vaccines in younger children. Like adults, children may experience some side effects after getting the vaccine, but they should feel better quickly. COVID-19 vaccines have been used under the most intensive safety monitoring in U.S. history, including studies in children 12 years and older. Learn what the CDC says about vaccines and children, and see the results of a recent study.
Myth 9: The vaccine could affect my fertility or cause sterility.
Fact: According to the CDC, there is no scientific evidence to suggest that the COVID-19 vaccine affects fertility in women or causes sterility in men. Women who are pregnant should discuss the vaccine with their health care provider.
Myth 10: I've had COVID-19 and recovered so I don't need the vaccine.
Fact: People who have recovered from COVID-19 should still get the vaccine because the immune response that happens after having the virus is not as strong as the defensive response that occurs after vaccination. At this time, it is unclear how long someone is protected from getting sick again after recovering from COVID-19. It is possible for people who've had COVID-19 to contract the virus again and transmit it more easily if they haven't been vaccinated, according to the CDC.
You'll find more information about COVID-19 and the vaccines at Coronavirus.Providence.org and on the
If you'd like to get the COVID-19 vaccine but don't know where to go, visit Washington State Department of Health to find a location near you.
Local journalism is essential.
Give directly to The Spokesman-Review's Northwest Passages community forums series -- which helps to offset the costs of several reporter and editor positions at the newspaper -- by using the easy options below. Gifts processed in this system are not tax deductible, but are predominately used to help meet the local financial requirements needed to receive national matching-grant funds.
Subscribe now to get breaking news alerts in your email inbox
Get breaking news delivered to your inbox as it happens.
---