News > Pacific NW
Grizzly that fatally attacked former Sandpoint resident shot, killed in Montana
July 8, 2021 Updated Fri., July 9, 2021 at 11:22 p.m.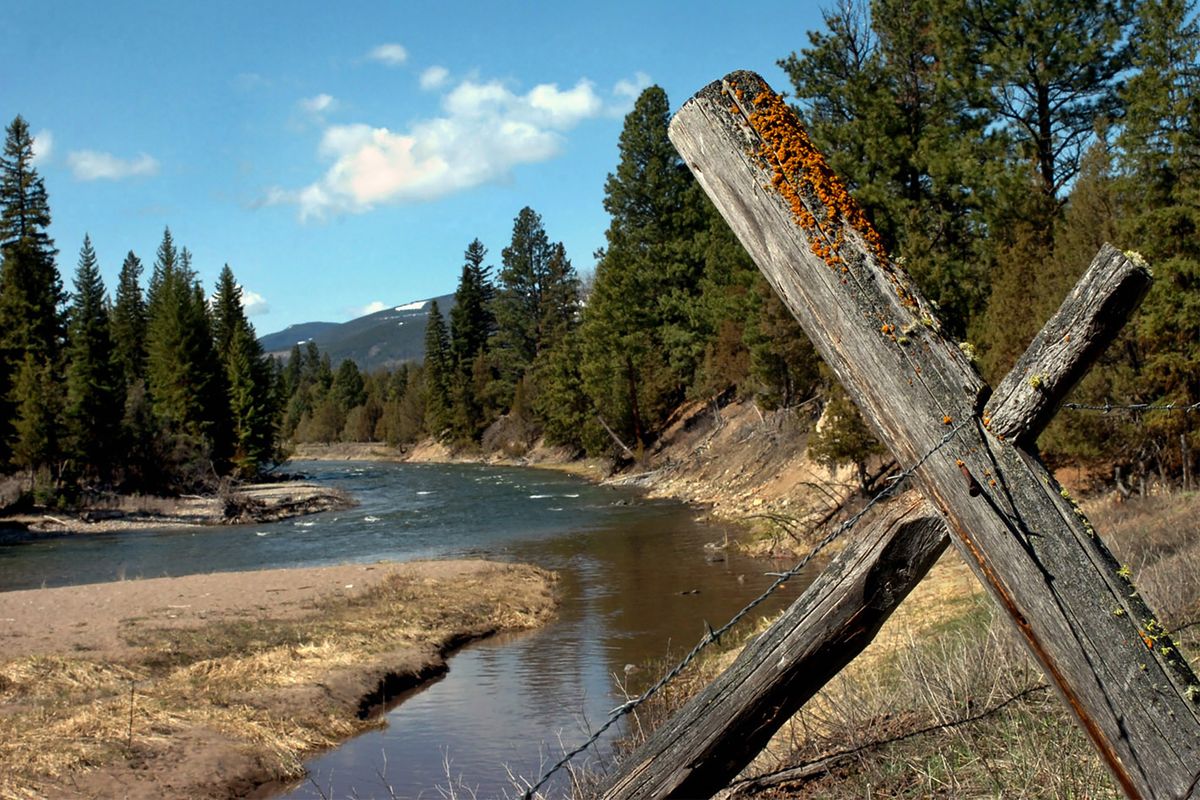 This April 26, 2006, photo shows Jacobsen Creek, a tributary of the North Fork of the Blackfoot River near Ovando, Mont. Authorities say a grizzly bear attacked and killed a person who was camping in the Ovando area early Tuesday, July 6, 2021. (JENNIFER MICHAELIS)
A federal Wildlife Services agent with night-vision equipment shot and killed a grizzly bear early Friday morning that is suspected of fatally mauling a camper and former Sandpoint resident in Ovando on Tuesday.
The grizzly was killed near a chicken coop about 2 miles from the campsite where Leah Davis Lokan, 65, was attacked in her tent at a popular long-distance bicycle campsite in the small ranching community 50 miles west of Missoula along Highway 200. Lokan was from Chico, California, but used to work as a nurse in Sandpoint.
"She was a mountain woman. That was her sanctuary and life," said Tere Porcarelli, a friend of Lokan's. "She spent so much time in the wilderness and she knew how to do everything properly. That's part of what made her such a great nurse, because you have to be precise."
Montana Fish, Wildlife & Parks spokesman Greg Lemon said evidence at the scene of the chicken coop matched another incident that occurred the same night Lokan was killed.
"The bear broke into the coop, took chickens out, laid down and ate them," Lemon said on Friday. "That's similar to what we saw at the first chicken coop raid. The tracks were the same. So we felt confident we were looking at the same bear."
FWP bear managers moved one of the five bear traps they had deployed in and around Ovando to the second coop on Thursday. They also arranged for a federal Wildlife Services specialist to monitor the trap overnight. The suspect animal returned to the coop shortly after midnight Thursday and the agent shot it.
Biologists at the FWP Wildlife Health Lab in Bozeman will examine the carcass to see if its DNA matches samples from the Ovando attack scene. They will also look for clues as to why the attack occurred, Lemon said.
"The vast majority of bears try to steer clear of people," Lemon said. "The fact this bear wasn't steering clear – in fact, approached the camp two different times in the course of 30 minutes – was clearly unnatural behavior for a bear. That's not something we can tolerate."
Ovando sits midway between Missoula and Helena, just west of the Continental Divide and south of the Bob Marshall Wilderness Complex. Long the center of the regional ranching community, it has become a popular tourist site for anglers fishing the Blackfoot River and cyclists making long-distance rides.
The campsite where Lokan died was right next to a museum and the post office of the 100-person town, surrounded by a general store, fly fishing shop, restaurant and several homes.
Powell County Sheriff Gavin Roselles said Lokan was camping in her own tent next to two others in another tent when the bear approached the campsite late Monday night. The campers had food in their tents, according to Roselles' report. They removed and secured the food, but the grizzly returned around 3:30 a.m. Tuesday and attacked Lokan. The other campers awakened and chased the bear away with bear spray.
Members of the Ovando and Helmville quick response units tried unsuccessfully to revive Lokan at the scene.
Within hours, an FWP Wildlife Human Attack Response Team had brought five mobile bear traps to Ovando. They set two in the campground, and two others near a chicken coop that was raided that night. Spotters in two helicopters flew along all the creek and river channels, using infrared vision equipment to scan through the foliage for the suspect bear.
Roselles said his deputies followed up several reports of bear sightings between Tuesday and Thursday. That included one incident on Thursday evening where a homeowner found her door ripped off and large claw marks present.
Campgrounds in Ovando remain closed until the bear necropsy is completed, Roselles said.
'She was huge in life'
Porcarelli met Lokan in the mid-90s, when Lokan started to train as an emergency room nurse. When Lokan greeted Porcarelli by taking her mountain bike to Porcarelli's house, Porcarelli knew they would be good friends.
"I was like, yeehaw! She was that kind of girl," Porcarelli said.
That was in Coeur d'Alene, before Lokan started working in Sandpoint as a nurse. Though they were no longer in the same city, Porcarelli and Lokan took trips together, as they shared a passion for cycling and the outdoors.
Though she took her job and outdoor safety seriously, Lokan also knew how to have fun, Porcarelli said.
In 1995, the pair journeyed the first 30 miles of the Pacific Crest Trail, which cyclists take from the Canadian border into Mexico. That evening, they settled into a camping spot, where Porcarelli said they "shared so much with each other."
"And the next morning, you know, the sun came up and the wildflowers looked so beautiful. I will never forget that trip," Porcarelli said.
Porcarelli said she was stunned to hear the news about Lokan's death, but she knows Lokan would want her to live fully even in her absence.
"The job of the living is to keep living," Porcarelli said. "She was that way, you know, always adventuring. Taking the longest route, climbing the highest mountains. She was huge in life."
S-R reporter Sydney Brown contributed to this report.
Local journalism is essential.
Give directly to The Spokesman-Review's Northwest Passages community forums series -- which helps to offset the costs of several reporter and editor positions at the newspaper -- by using the easy options below. Gifts processed in this system are not tax deductible, but are predominately used to help meet the local financial requirements needed to receive national matching-grant funds.
Subscribe now to get breaking news alerts in your email inbox
Get breaking news delivered to your inbox as it happens.
---