News
Family looking for answers after finding 3-year-old son's companion dog dead in vehicle at their apartment complex
UPDATED: Fri., July 16, 2021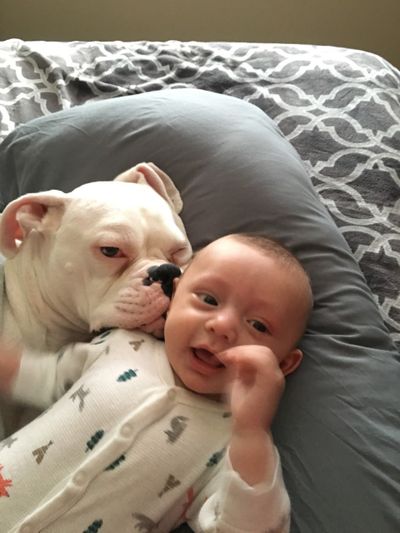 When Nicole Adams' 3-year-old son would get upset, he found the most comfort at the dog bed. That's where Halo, the family's albino boxer, would let Junior sleep with him and play with his jowls.
"They were inseparable," Adams said. "That was his best friend, and Halo always knew when Junior needed him."
Adams was present at Halo's birth and adopted him before she had her two children with husband George Sanchez. The couple had a hard time getting pregnant at first, Adams said, so she often thought of Halo as her first baby.
"Eventually an animal becomes more like a family member than like an animal," Sanchez said. "Halo was so easy. He was a lover, very happy and loving. Honestly, he was pretty much a pushover."
On July 7, Sanchez and Adams found Halo dead in a vehicle parked at their apartment complex.
Sanchez found the dog on a sheet in the middle seat of the car. Adams said she saw him covered in waste and flies, and he was caked in blood.
A Spokane Valley Police Department spokesperson said as of Wednesday afternoon, they cannot speculate whether a crime took place. The police have made no arrests and named no suspects.
At the scene, the owners of the vehicle told the responding deputy they rarely drove that SUV and had no idea the dog was inside.
The last time they had driven it, they went inside for 20 minutes before realizing they left it unlocked, they told police.
Based on the first report and each witness's account, Spokane Valley deputies could not speculate on what happened to Halo.
Sanchez said Halo went missing on July 1 after Junior and Halo briefly went out the front door while he went into the bathroom. He guessed only a few minutes passed before he found Junior in the apartment complex – but Halo was gone.
"I was panicked, you know, so I wasn't really thinking about Halo, I was thinking about my 3-year-old son," Sanchez said. "That's why it took me a minute to realize Halo wasn't there."
After days of printing missing posters and checking commercial roads in the area, Adams and Sanchez took their kids to a fireworks display for the Fourth of July. When they got back late that night, they parked near a vehicle in their complex parking lot. Junior pointed at the car and said, "Halo, that's Halo," Adams said.
At the time, the couple didn't think much of it. Adams said she thought Junior mistook another shape in the car as Halo.
The morning of July 7, Sanchez was walking their other dog Atlas and noticed a puddle by the back tire of the same car Junior pointed out.
"At first I thought it was oil because sometimes cars leak oil, that's normal. But I just wasn't feeling right about it for some reason," Sanchez said.
He smeared the puddle with a baby wipe he had grabbed from his house. When it came back stained dark-red, Sanchez decided to look inside the vehicle. Then he went to wake Adams.
"He said, 'Wake up. Halo's dead,' " Adams said.
The owner of the vehicle told police they had no idea the dog was inside because of how little they used that vehicle, and believed there had been a window of time during which someone could have entered the vehicle without them knowing. The report also mentioned the SUV had been egged.
A GoFundMe page started by the family's property manager garnered more than $2,800 in donations for the Adams-Sanchez family to move out of the complex.
"As soon as this happened, I was like, 'We gotta go,' " Sanchez said. "This is my best plan, this is what I've got to do for my family."
Adams said Junior struggles to verbally communicate as a child with autism spectrum disorder. He can say singular words, but his first full sentence he uttered to his mom was, "I'm so sad."
They adopted a new puppy for Junior the day after they found Halo's body, Sanchez said. The couple worried the trauma of losing Halo would cause cognitive regression in Junior, so that was their first priority.
Junior named the new pup "Cuppy." While the two are already close, Adams said it will be a long time before the family processes what happened.
Local journalism is essential.
Give directly to The Spokesman-Review's Northwest Passages community forums series -- which helps to offset the costs of several reporter and editor positions at the newspaper -- by using the easy options below. Gifts processed in this system are not tax deductible, but are predominately used to help meet the local financial requirements needed to receive national matching-grant funds.
Subscribe to the Coronavirus newsletter
Get the day's latest Coronavirus news delivered to your inbox by subscribing to our newsletter.
---