News > Crime/Public Safety
Nespelem evacuated after lightning fire burns over 10,000 acres, 7 homes
July 13, 2021 Updated Tue., July 13, 2021 at 10:08 p.m.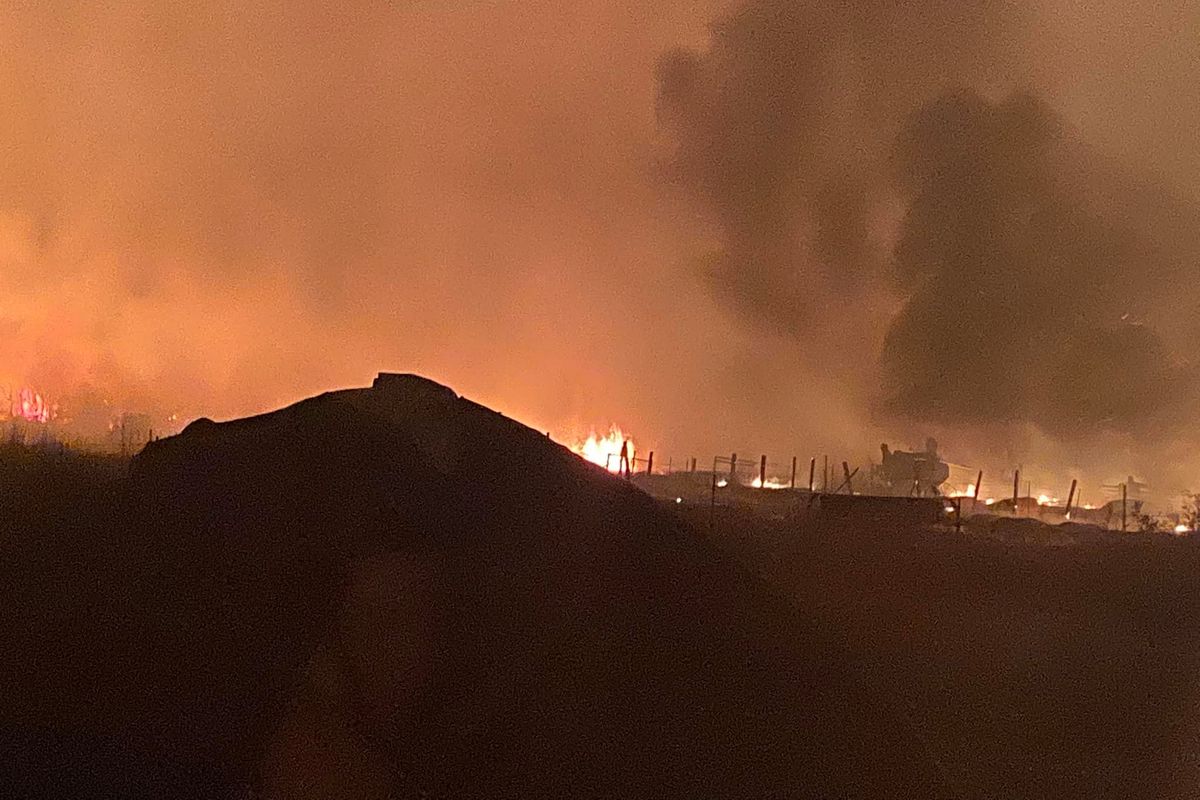 A fire near Nespelem and the Colville Indian Agency grew to over 10,000 acres Tuesday after lightning ignited the blaze Monday night. Seven homes were lost along with outbuildings and livestock. (Courtesy of Dan Nanamkin)
When Dan Nanamkin rushed back to his home near the Colville Indian Agency Monday night he was met with an inferno.
A wildfire ignited by lightning raced across 10,000 acres and burned seven homes overnight Monday. Four were vacant.
The entire town of Nespelem evacuated safely before the fire arrived, said Colville Tribal Chairman Andrew "Badger" Joseph Jr.
"It was really crazy last night," he said.
Nanamkin described the lightning as "super bright, just shooting straight down."
The Chuweah Creek/Joe Moses Fire is the largest of five fires caused by lightning, according to information from the Colville Tribes, Department of Natural Resource and Mount Tolman Fire Center. During the storm Monday night, about 60 lightning strikes hit the ground, according to the National Weather Service in Spokane.
The first reports of fire came at 7:15 p.m. southeast of Nespelem. Driven by wind and fueled with tall grass, sagebrush and timber, the fire burned 10,000 acres as it moved toward town and the Colville Indian Agency.
"Police and people were coming by the houses asking people to get up and go," Joseph said. "They can't make you do that, but a lot of people evacuated – our convalescent seniors, our nursing home was evacuated."
Seven outbuildings were also lost, but that number likely has grown, Joseph said.
"There might be more now; a while ago, we saw a big black plume of smoke go up, so that kind of says it might be a building or vehicle," Joseph said Tuesday afternoon.
The fire killed an unknown number of livestock, and some animals were severely injured and had to be euthanized. Many more are missing.
CenturyLink telephone equipment in the area was also damaged and caused a service outage.
As the fire reached the city limits of Nespelem, Nanamkin was helping his 83-year-old father leave. His dad was watching TV and didn't even realize there was a wildfire approaching town, Nanamkin said.
They drove about 21/2 miles south to Nanamkin's home near the Colville tribal headquarters. Nanamkin thought they would be safe, but the fire shot over a ridge and into the valley east of the agency campus.
For the next little bit, Nanamkin went from terrified of the flames to feeling safe when the wind would die down only to have his fear swell again when strong winds spurred the flames.
The fire eventually reached the home of Nanamkin's neighbor, burning it to the ground. As the fire moved closer to Nanamkin's house, a bulldozer arrived and scraped a fire line around his home before following Nanamkin's directions to other nearby homes.
"I didn't want to leave my home so we crawled up on top and put out a hose," Nanamkin said.
Fires on the Colville Reservation aren't new. Last year the Inchelium Complex of fires burned 19,400 acres. And year earlier Nanamkin helped people recover in the aftermath of other wildfires.
"Our reservation has really been hit hard by a lot of fires," Nanamkin said.
After last year's fires, Nanamkin worked with the Young Warrior Society, which he leads, to help support those in the communities.
"We didn't think that all of a sudden we would become the ones that had to rely on support," Nanamkin said.
Nanamkin has lived in the Nespelem area on and off his whole life, leaving for school but always returning home. He spent years running the local community center before his motivational speaking engagements became full time.
For decades, Nanamkin has been working on educational programing on Native culture and he recently received funding to finish creating a cultural youth program in the area. He has an extensive library with lots of books that contain historic plant medicines, language, and stories. If his home had burned, much of that history would have been lost, Nanamkin said.
Nanamkin, along with his niece and nephew, prayed as the fire swirled around them, he said.
"We did the Native American cultural ceremonies and prayers and last night that's what we are doing," Nanamkin said. "We're just blessed Creator had been kind to us in that way."
Low humidity combined with winds forecast for Wednesday and Thursday will likely increase fire potential and spread in the area, according to the national Weather Service in Spokane. A fire weather watch was issued Tuesday morning for Wednesday and Thursday.
"With limited resources, if the wind picks up, there's a lot of timber in those areas that we're worried about," Joseph said. "I've just got to thank our firefighters so much for being able to protect what they did in the town of Nespelem."
An archaeological site was threatened by the fires late Monday night, and Joseph had yet to receive a report as of 2 p.m. on whether they were able to save the site.
At the Colville Indian Agency headquarters, Joseph said things were "pretty safe" Tuesday afternoon, but smoke made its way into the building, making it hard to breathe. Joseph has declared a state of emergency on the reservation and closed all Forest Service roads to the public. State and county improved roads are open.
Due to low visibility, air resources have been unable to aid fire crews on the ground, and the fire remains uncontained, Joseph said. Department of Natural Resources fire crews arrived Tuesday morning and an incident management team is expected to arrive late Tuesday night to set up a command post at the Keller Community Center.
Joseph said he spoke Tuesday morning with Gov. Jay Inslee , who agreed to figure out a way to help with air support, mentioning the possibility of military helicopters flying over.
"I feel pretty good about him calling me this morning; that was really nice of him to do, you know, checking on our people," Joseph said. "Our reservation is home to a lot of our tribal members, but it's home to a lot of nontribal members as well. We care about everybody's home, no matter who they are."
Level 3 evacuations – meaning danger is imminent – were still in place as of Tuesday afternoon for residents at Owhi Flats along Cache Creek Road, the town of Nespelem and Colville Indian Agency.
Level 2 evacuations are in place along Joe Moses Road, meaning residents should be ready to leave quickly, and level one evacuations are in place for residents at Buffalo Lake and McGinnis Lake.
Evacuees are being sent to a Red Cross shelter at the Lake Roosevelt High School gym at Coulee Dam. Residents of the Colville Tribal Convalescence Center are being housed at the Coulee House, Joseph said. Some people have also gone to Omak Stampede Grounds, he added.
Last summer when the Inchelium Complex burned on the Colville Reservation, Joseph said community members were extremely generous with donated items, but those were difficult to distribute. Donations would be best used if made to the Colville Tribes, and can be sent to the tribe agency at 21 Colville St. Nespelem, Washington.
The Frosty Meads/ Friedlander Fire is also located in the Inchelium District and burned about 11/2 acres as of late Monday night. The fire is threatening the Hellgate Game Reserve and archeological sites.
The Summit Trail fire is estimated at 10 to 15 acres. It is burning toward the old Bridge Creek Fire burn scar area. The Keno Fire, northeast of Keller, is estimated at about 30 acres. There is no available information about another fire near Inchelium.
Joseph said he feels lucky their fire crews are so well-trained and were able to save the town. "We could not do what we did without them, and they put their life on the line," he said.
Local journalism is essential.
Give directly to The Spokesman-Review's Northwest Passages community forums series -- which helps to offset the costs of several reporter and editor positions at the newspaper -- by using the easy options below. Gifts processed in this system are not tax deductible, but are predominately used to help meet the local financial requirements needed to receive national matching-grant funds.
Subscribe now to get breaking news alerts in your email inbox
Get breaking news delivered to your inbox as it happens.
---