News > Health
Delta variant was Washington's dominant coronavirus strain in late June
July 21, 2021 Updated Wed., July 21, 2021 at 10:18 p.m.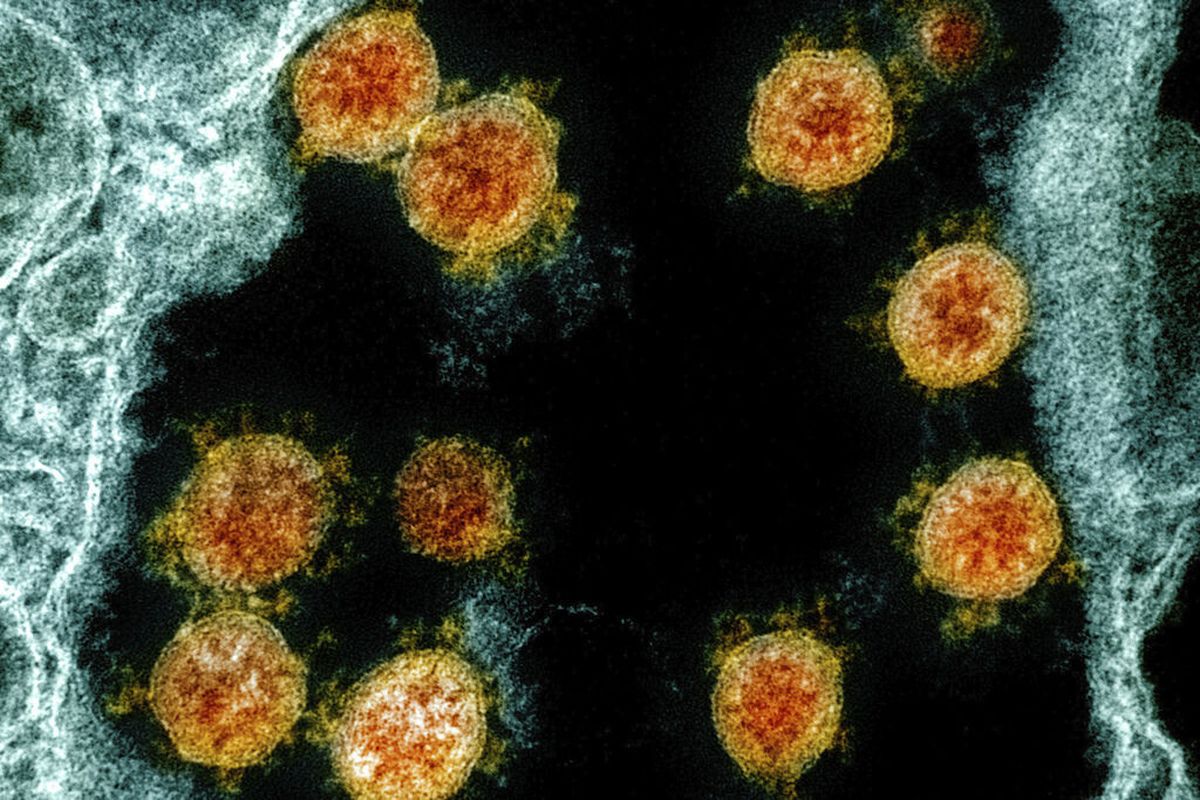 This electron microscope image made available and color-enhanced by the National Institute of Allergy and Infectious Diseases Integrated Research Facility in Fort Detrick, Md., shows Novel Coronavirus SARS-CoV-2 virus particles, orange, isolated from a patient. (HOGP)
The delta variant made up the majority of variant cases sequenced in the last two weeks of June in Washington.
During that period, delta accounted for 54.2% of cases in the state. Earlier in June, the delta variant made up just 27.5% of sequenced cases in the state.
Labs throughout the state are sending some positive COVID-19 samples to be sequenced. In June, 18% of the positive COVID-19 cases were sequenced for variants. The majority of delta variant cases are in residents who are under 35 years old.
Washington has yet to see the spike in hospitalizations that other states are seeing due to the delta variant.
In Mississippi, where there are similar vaccination rates to counties in Eastern Washington, the fast-spreading delta variant has led to a rise in hospitalizations predominantly in people younger than 50.
In Spokane County, there are a dozen confirmed cases of the delta variant, but Interim Health Officer Dr. Francisco Velázquez warned that this figure is likely not the total number of delta cases circulating in the region.
This is because the delta variant is highly transmissible.
For every person infected with delta, they will infect 3.5 to 4 additional people, Velázquez said, and those people in turn will pass it on to 3.5 to 4 people each, leading to the potential for rapid spread.
What is happening elsewhere in the country could happen in Spokane County, where 54.2% of eligible county residents have received at least one vaccine dose, and less than half of the total population has initiated vaccination so far.
"We may see some version of that here in the state of Washington and in Spokane, even if it's not the same magnitude," Velázquez said. "So we need to learn from the experience of others, because it gives us line of sight to what the next (few) months could be looking like."
Additionally, similar to other parts of the country, Spokane County's cases are being driven by the least vaccinated population: those under the age of 35.
Since June 1, 71% of the confirmed virus cases in Spokane County were in residents under the age of 50. While young people drive case rates, they also are getting vaccinated at the lowest rates. Just 40.5% of Spokane County residents ages 18 to 34 years old have had at least one dose, and 28.3% of 12 to 17 year olds have.
Velázquez stopped short of saying if and when a mask mandate might be necessary again (some cities, like Los Angeles have already reinstated them), but he said it continues to be a statewide conversation among health officers. He added that certain settings, such as hospitals, health care facilities and shelters for people experiencing homelessness, still require masks.
"I do believe if we use common sense and do the best we've been trying to do, we'll continue to manage," he said. "We've managed to turn the tide before, and I think we need to continue focusing on that and prevent the spread."
The health officer added that he continues to wear a mask in public and in crowded settings because he does not want to risk getting a variant or becoming a breakthrough case.
Here's a look at local numbers:
The Spokane Regional Health District confirmed 59 new COVID-19 cases and one additional death Wednesday.
There have been 679 deaths due to COVID-19 in Spokane County residents.
There are 33 people hospitalized with the virus in Spokane.
The Panhandle Health District confirmed 41 new COVID-19 cases and no additional deaths. There are 23 Panhandle residents hospitalized with the virus.
Local journalism is essential.
Give directly to The Spokesman-Review's Northwest Passages community forums series -- which helps to offset the costs of several reporter and editor positions at the newspaper -- by using the easy options below. Gifts processed in this system are not tax deductible, but are predominately used to help meet the local financial requirements needed to receive national matching-grant funds.
Subscribe now to get breaking news alerts in your email inbox
Get breaking news delivered to your inbox as it happens.
---