News > Crime/Public Safety
Fire that prompted Silverwood Theme Park evacuations now 75% contained as other area fires burn
UPDATED: Sat., July 24, 2021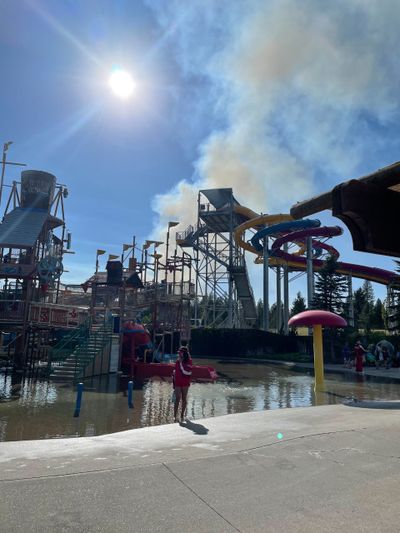 A fire that started near Silverwood Theme Park on Friday afternoon was 75 acres and 75% contained, according to the Idaho Department of Lands Saturday evening.
The department said on its fire news feed that Idaho Department of Lands, Kootenai County Sheriff's Office and several local agencies were responding with ground resources to the blaze.
Officials said they would likely reopen part of Brunner Road, where the fire started, between North Morgan Pine and North Neighbors Court. The Kootenai County Sheriff's Office said it opened Seasons Road on Saturday afternoon..
The Kootenai County Sheriff encouraged people to stay away from the roads on which the fire was reported. On Friday night, these included Brunner, Diagonal and Clagstone roads near Athol, Idaho.
Authorities went door-to-door to issue evacuations late Friday night, according to the department.
These residents were given the OK to return on Saturday afternoon, according to the IDL. As of Friday night, two outbuildings were potentially lost, and two cars were damaged.
No primary structures were damaged, and some houses lost power in the area Friday night, the IDL said.
Other fires continued to torch Eastern Washington on Saturday. Here's a recent update on some of those:
Northrup Fire
A fire burning about 5 miles southwest of Electric City grew to 252 acres and was 65% contained as of Saturday evening, said Grace DeBusschere with the Southeast Washington Type 3 Incident Management Team.
As of 6 p.m. Saturday, level one "be aware" evacuation orders were set for areas east of Highway 155 between milepost 18 and Osborn Bay Campground Road.
State route 155 reopened on Saturday, and Steamboat Rock State Park is also open, DeBusschere said.
The fire was reported at Northrup Canyon Road on Thursday. Firefighting resources from Grand Coulee, Electric City, Coulee Dam, Coulee City, Grant County, Lincoln County and the Bureau of Land Management responded.
Sherwood Fire
A fire burning on the Spokane Reservation about 2 miles north of Wellpinit grew to 500 acres on Saturday, according to a news release from the Northeast Interagency Center. Officials had the blaze 30% contained.
Immediate level 3 "go now" evacuations were given to everyone on Drum and Cottonwood roads on Saturday afternoon, according to The Rawhide Press. Drum, Cottonwood and Wilkinson roads remained closed on Saturday.
Spruce Canyon
Crews are also battling a fire on Spruce Canyon Road near Black Lake. The fire was reported at 90 acres and 0% containment on Saturday evening.
The fire was burning in a timber-rich area that will make containing the fire difficult, said Starr Farrell, public information officer with the Northeast Washington Incident Management Team 2 Type 3.
Highway 20 was closed for most of Saturday, but it reopened around 3 p.m. with a pilot car to get drivers through for as long as the fire does not approach the road, Farrell said.
"People should be aware that it can close again," Farrell said.
Stevens County Emergency Management set level two evacuation orders for residents near the Black Lake area.
Goddard Road Fire
A fire near Rice spanned 815 acres and was 50% contained on Saturday, according to Isabelle Hoygaard with the Washington State Department of Natural Resources.
Level 2, or "be ready," evacuation orders remained in place for residents living in the Pleasant Valley and Goddard Road areas between Highway 25 and Rickey Canyon Road. Previous level 3, or "leave now," orders were lifted.
All road closures in the area were lifted as of Saturday evening, Hoygaard said.
Summit Trail
Near Inchelium and the Colville Agency, a fire jumped its containment line and grew to 7,706 acres. It was 5% contained on Saturday.
According to an update on the Northeast Washington Fire Information Facebook page, level one evacuations have been issued for the area from south of Lafleur on Hall Creek Road to Hall Creek Flat, including Lynx Creek Road. Seyler Valley Road south to Bridge Creek Road to include Mollenberg Lane residents are also under level one orders, as are those living in the Twin Lakes area.
Drivers were told to expect one-way controlled traffic from 8 a.m. to 8 p.m. Sunday from Carson Beach west to Beaver Dam Creek.
Chuweah Creek
In Nespelem, a 36,820-acre fire burning on the Colville Reservation was 50% contained on Saturday.
Evacuation orders have been lowered to level one for the residents of Nespelem and Keller, the Buffalo Lake and McGinnis Lake communities, the San Poil Valley/Highway 21 corridor from South Nanamkin Road to Keller Ferry, residences at Owhi Flats and east of Owhi Lake, as well as residences along Cache Creek Road.
Road closures remained for Cache Creek Road, Buffalo Lake Road between Manila and Cache Creek Road, and the Cache Creek Cut Off Road.
Steptoe Canyon
A fire about 5 miles southwest of Colton grew to 2,700 acres and was 20% contained as of Saturday afternoon. According to a release from the Southeast Washington Interagency Incident Management Team 1, four structures were threatened and none were damaged as of Saturday afternoon.
Officials closed Steptoe Canyon Road from Rimrock Road to Snake River. They urged drivers to drive slowly on Wawawai Road between the junction at Steptoe Canyon Road and 5 miles north of the junction.
Local journalism is essential.
Give directly to The Spokesman-Review's Northwest Passages community forums series -- which helps to offset the costs of several reporter and editor positions at the newspaper -- by using the easy options below. Gifts processed in this system are not tax deductible, but are predominately used to help meet the local financial requirements needed to receive national matching-grant funds.
Subscribe to the Coronavirus newsletter
Get the day's latest Coronavirus news delivered to your inbox by subscribing to our newsletter.
---