News > Local government
Have strong opinions on Spokane Valley's roads? The city wants to hear from you
July 26, 2021 Updated Tue., Nov. 9, 2021 at 7:42 p.m.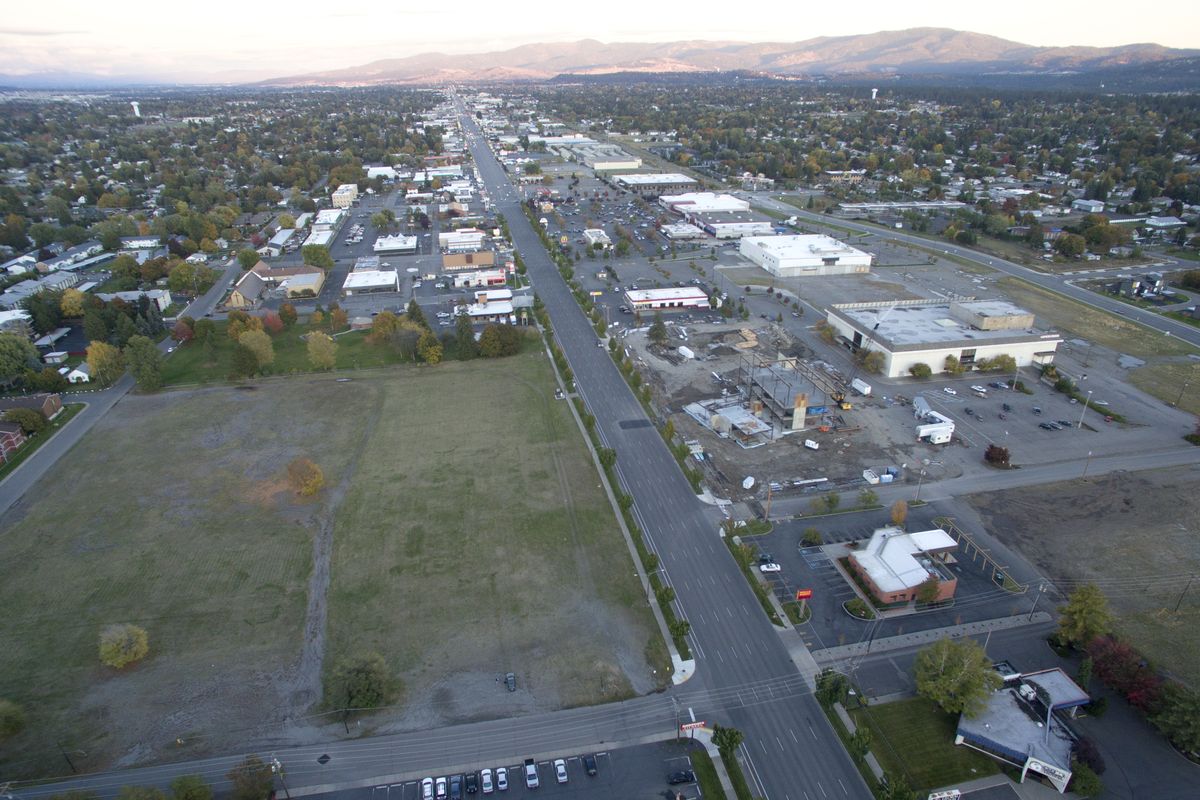 Sprague Avenue is seen in an aerial photo taken in 2016. Spokane Valley is seeking public input on its roads as it considers options for funding future maintenance.  (JESSE TINSLEY/THE SPOKESMAN-REVIEW)
Spokane Valley wants to know what you think about its roads.
On Monday, the city announced it has created a 14-question road survey asking respondents to answer questions about the current state of the city's roads and how the city should prioritize road spending going forward. You can find the survey at spokanevalley.org/pmp. Click the gray button near the top of the page that says, "Take our survey here!"
Road spending has been an important issue in Spokane Valley ever since the city incorporated in 2003.
There's general consensus among Spokane Valley officials that the city's roads are in good shape. The question is what the city should do to keep them that way and how to pay for it.
Since 2011, Spokane Valley has spent an average of $8 million a year on roads. That $8 million is mostly spent strategically on arterial roads – the busiest thoroughfares, such as Sprague Avenue.
Less trafficked side streets haven't received as much attention. The longer the city goes without investing more significantly in those roads, the more expensive it will be to repair or rebuild them.
Keeping a road in good shape is six to 10 times cheaper than rebuilding a road damaged beyond repair, city leaders say. Many Spokane Valley officials say fixing residential streets now, before they fall apart, is the fiscally responsible move.
City staff say the city should double road spending to $16 million a year to ensure the city's road network remains in good condition.
Recently, the city has ramped up its efforts to devise road maintenance solutions.
In March, City Council created a 22-member Streets Sustainability Committee, primarily made up of Spokane Valley business representatives, transportation officials and at-large community representatives.
That group is tasked with finding sustainable options for the city's future road upkeep.
Local journalism is essential.
Give directly to The Spokesman-Review's Northwest Passages community forums series -- which helps to offset the costs of several reporter and editor positions at the newspaper -- by using the easy options below. Gifts processed in this system are not tax deductible, but are predominately used to help meet the local financial requirements needed to receive national matching-grant funds.
Subscribe now to get breaking news alerts in your email inbox
Get breaking news delivered to your inbox as it happens.
---