Sports > Gonzaga basketball
Recap and highlights: No. 1 Gonzaga roars back, beats BYU for WCC Tournament title
March 9, 2021 Updated Wed., March 10, 2021 at 3:08 p.m.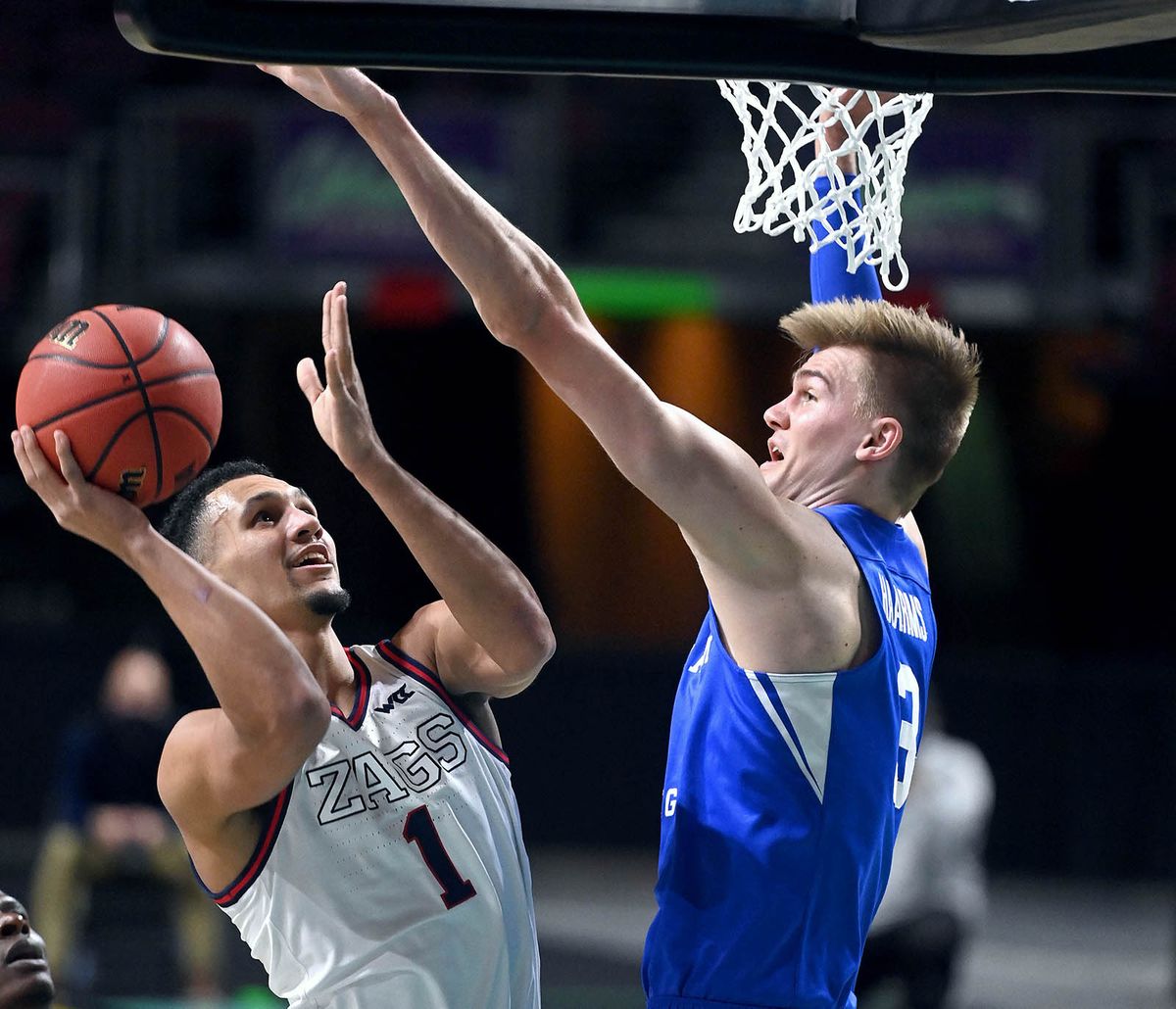 Gonzaga guard Jalen Suggs (1) takes a shot as BYU forward Matt Haarms (3) defends during the first half of a West Coast Conference Tournament final NCAA college basketball game, Tuesday, March 9, 2021, at the Orleans Arena in Las Vegas. (COLIN MULVANY/THE SPOKESMAN-REVIEW)
LAS VEGAS — BYU took a 12-point lead into the halftime break and mounted the biggest threat to Gonzaga's perfect season, but Jalen Suggs, Corey Kispert and the Bulldogs regrouped in the second half and overcame the Cougars 88-78 to win the West Coast Conference Tournament championship at Orleans Arena.
Suggs, the tournament MVP, finished with a game-high 23 points and made consecutive 3-pointers late in the second half to seal an 18th WCC Tournament championship for the Bulldogs, who've claimed nine of the last 11 titles in Las Vegas. Suggs also had five rebounds and five assists.
Kispert, who started 1 of 6 from the field and scored just three points in the first half, came out of his slump in a big way and made a trio of 3-pointers early in the second half to cut BYU's lead to three points. The WCC Player of the Year finished with 17 points and five rebounds and was 4 of 10 from beyond the arc.
Joel Ayayi finished with 18 points and nine rebounds, Drew Timme had 14 points and seven rebounds and Andrew Nembhard was the fifth Zag in double figures, with 13 points.
The top-ranked Bulldogs (26-0), who won their 30th consecutive game dating back to last season to extend the country's longest win streak, are widely expected to enter the NCAA Tournament as the top overall seed and will learn their first-round pairing in Indianapolis this Sunday. Gonzaga is aiming to become the first team since Indiana in 1975-76 to cap an undefeated season with a national championship.
A perfect season hung in the balance for the entirety of the first half and part of the second, as a BYU team coming off a thrilling double-overtime win over Pepperdine the night before got off to a torrid start shooting the ball and led 53-41 at halftime. The Cougars shot 21 of 31 (67%) from the field in the first half and opened 9 of 13 (69%) from the three-point line.
BYU's hot shooting didn't last and the Cougars missed their first nine 3-point attempts in the second half, allowing Kispert and GU to tie the game at 57-57.
But the Cougars withstood Kispert's 3-point flurry and re-extended the lead to nine points on a three-point play from All-WCC First Team selection Alex Barcello.
Unfazed, the Bulldogs went on a 10-0 run to take their first lead since the first half, going up 69-68 on Ayayi's fast-break layup. BYU tied it at 71-71 and 73-73, but Suggs made consecutive 3-pointers inside the final 2:30 to open up a nine-point Gonzaga lead and the Cougars never recovered.
Mark Pope's team shot 2 of 15 from the three-point line in the second half, while Mark Few's was 6 of 13. The Bulldogs went just 18 of 27 from the free throw line, but shot 20 more free throws than their opponent.
15:49 – BYU 7, Gonzaga 5: Gideon George has three points and the Cougars lead the Bulldogs at the first media timeout.
Andrew Nembhard has three points for Gonzaga on a catch-and-shoot 3-pointer. Jalen Suggs has two points.
Suggs has been active early. The freshman point guard is 1-of-4 shooting with one assist.
BYU is 3-of-5 shooting.
10:45 – BYU 26, Gonzaga 19: A 6-0 run by the Cougars pushes the lead to 7 and Bulldogs coach Mark Few calls a timeout.
Trevin Knell has seven points to lead BYU, which has made six of its last seven shot attempts. Gideon George, Brandon Averette and Matt Haarms each have five points.
BYU is shooting 10 of 15.
Gonzaga is led by Joel Ayayi's six points. Jalen Suggs and Andrew Nembhard each have five.
GU senior Corey Kispert is 0-of-4 shooting and center Drew Timme has not attempted a shot.
7:11 – BYU 37, Gonzaga 26: The Cougars lead by 11 on the back of 75% shooting.
Trevin Knell, Brandon Averette and Matt Haarms each have seven points for BYU. The Cougars are 6 of 9 from 3-point range.
Gonzaga trailed 37-24, it's largest deficit this season.
Zags center Drew Timme has three points on just two shot attempts.
Corey Kispert still has yet to score for GU. The Zags are led by Joel Ayayi's eight points.
3:54 – BYU 45, Gonzaga 37: The Bulldogs have made six of their last seven shot attempts but the Cougars still lead by 8.
BYU is 18-of-25 shooting and 8 of 11 from 3-point range. Gonzaga is 13 of 26 and 6 of 11.
Gonzaga's leading scorer Corey Kispert finally got on the scoreboard with a 3-pointer before the under-4 timeout. He is 1-of-5 shooting.
Joel Ayayi leads Gonzaga with 11 points. Jalen Suggs has nine points.
BYU is led by Trevin Knell's 10 points.
Halftime
BYU 53, Gonzaga 41: Trevin Knell has 15 points and the red-hot Cougars lead the Bulldogs by a dozen at the break in Las Vegas.
Knell is 5-of-7 shooting, including 4-of-5 from 3. BYU is 21-of-31 shooting (67.7%) and 9 of 13 from 3 (69.2%).
Joel Ayayi and Jalen Suggs each have 11 points to lead Gonzaga.
Gonzaga's leading scorer Corey Kispert, 19.3 points-per-game, has just three points on 1-of-6 shooting. Center Drew Timme, 18.9 ppg, is 2-of-3 shooting for six points.
The Zags are shooting 46.7% and have made six 3-pointers.
Brandon Averette and Matt Haarms each have added nine points for BYU.
Leading 20-19, the Cougars went on an 11-0 run behind five points from Haarms and 3 from Averette.
Gonzaga was able to cut the deficit to 8, but eight points from Knell in the final 5:10 of the half helped BYU take a double-digit edge into halftime.
BYU's 53-39 lead with under a minute left is the largest deficit the Zags have faced this season.
Second half
17:13 – BYU 55, Gonzaga 52: Corey Kispert has three made 3-pointers in the first 3 minutes of the half and the Bulldogs have trimmed the Cougars' lead to 3.
Kispert has a team-high 12 points.
BYU is just 1-of-5 shooting to start the half. 
11:18 – BYU 61, Gonzaga 57: The Cougars lead by 4 as both teams have slowed down on offense.
BYU is shooting just 25% this half after shooting 67.7% in the first.
Gonzaga hasn't scored in the last 2:32 after having the game tied 57-57.
7:31 – BYU 68, Gonzaga 66: After falling behind 68-59, Gonzaga has gone on a 7-0 run heading into the under-8 media timeout.
Corey Kispert has 16 points to lead Gonzaga. Jalen Suggs has scored 15 points.
BYU is led by Trevin Knell's 17 points.
The Cougars used an 11-2 run to build the 9-point lead.
3:36 – Gonzaga 75, BYU 73: The Bulldogs lead by 2 behind 17 points each from Corey Kispert and Jalen Suggs.
Gonzaga took its first lead since six minutes into the game when Joel Ayayi scored on a fast-break layup with seven minutes left to put the Zags up 69-68.
Starting 5
Pregame
Individual leaders
Team stats
Game Preview
Local journalism is essential.
Give directly to The Spokesman-Review's Northwest Passages community forums series -- which helps to offset the costs of several reporter and editor positions at the newspaper -- by using the easy options below. Gifts processed in this system are not tax deductible, but are predominately used to help meet the local financial requirements needed to receive national matching-grant funds.
Follow along with the Zags
Subscribe to our Gonzaga Basketball newsletter to stay up with the latest news.
---