News > Idaho
Thousands in North Idaho still without power after strong winds Sunday
UPDATED: Mon., March 29, 2021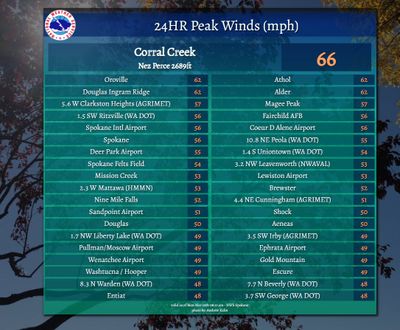 Thousands remained without power Monday in North Idaho after strong winds Sunday night.
More than 3,300 Avista customers, mostly in the Coeur d'Alene area, were without power as of 8 a.m.
There were 133 Inland Power customers in Spokane were without power early Monday.
The National Weather Service warned that Sunday's high winds could bring down trees and cause power outages and officials issued a public safety alert .
When the weather system made its way to Eastern Washington the winds shifted south sending the strongest winds toward Yakima, said Joey Clevenger, National Weather Service Meteorologist. 
"It just didn't impact Spokane as much," Clevenger said. 
The maximum gust at the Spokane International Airport was about 56 mph at about 4:30 p.m. An hour later in Coeur d'Alene the maximum gust was 56 mph. 
While there were some power outages in the region, the storm didn't cause as much damage as expected.
"It's kinda hard to say what made it so that it's not as impactful," Clevenger said. "There are other factors out of just the wind speeds that can create power outages." 
Unlike in January, the ground was a bit more dry potentially making root systems  more sturdy , Clevenger said. 
For the rest of the day Monday, Spokane can expect breezy winds but "nothing like they were yesterday," Clevenger said. "Just some nice kit flying weather."
Local journalism is essential.
Give directly to The Spokesman-Review's Northwest Passages community forums series -- which helps to offset the costs of several reporter and editor positions at the newspaper -- by using the easy options below. Gifts processed in this system are not tax deductible, but are predominately used to help meet the local financial requirements needed to receive national matching-grant funds.
Subscribe to the Coronavirus newsletter
Get the day's latest Coronavirus news delivered to your inbox by subscribing to our newsletter.
---