COVID vaccinations offered aboard Washington ferries
UPDATED: Tue., May 25, 2021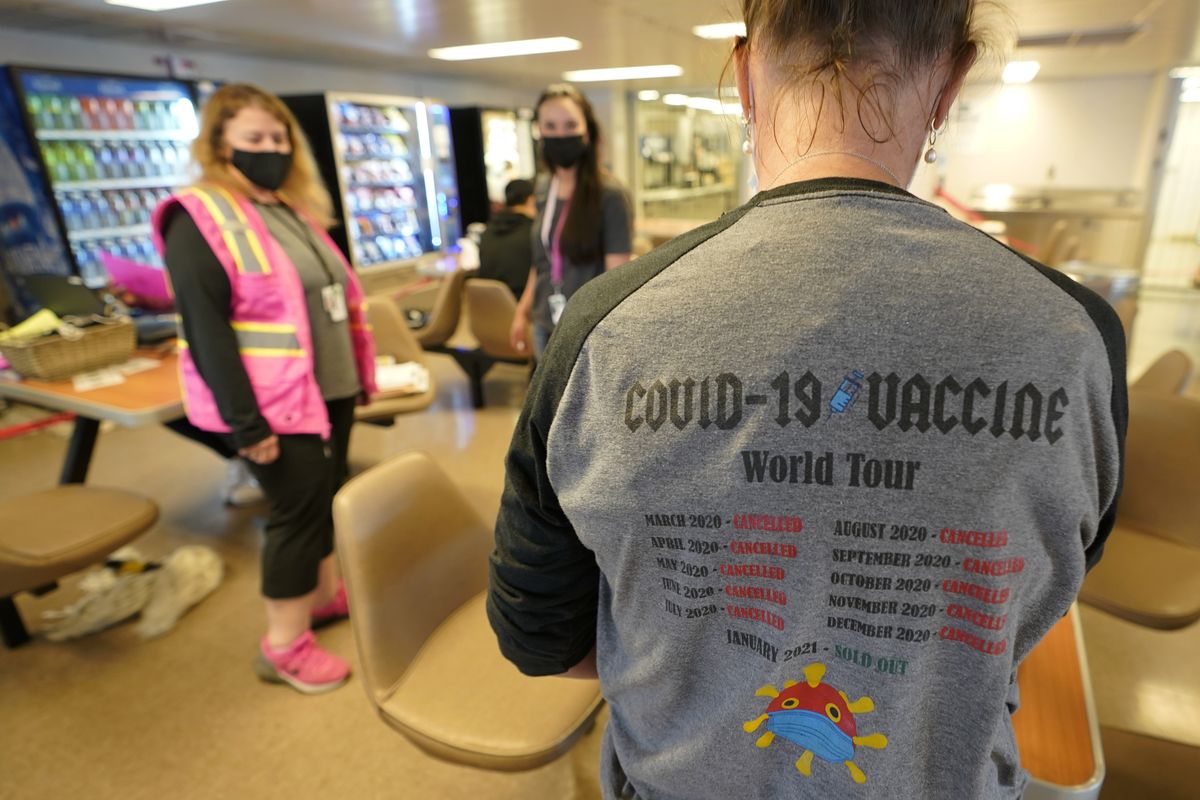 Amber Coole, right, a medical assistant with Peninsula Community Health Services, wears a T-shirt that reads "COVID-19 Vaccine World Tour" as she works in a clinic set up in the galley area of a Washington state ferry sailing from Bremerton, Wash. to Seattle, Tuesday, May 25, 2021. Tuesday was the first day of several dates that the vaccine will be offered to people on ferry sailings between the two cities. (Ted S. Warren)
Associated Press
SEATTLE – People in Washington state can now get a COVID vaccination on the ferry.
The state Department of Transportation and Peninsula Community Health Services are offering shots aboard the Seattle-Bremerton ferry runs from Tuesday until Thursday.
Another round of shots will be given next week, from June 1 to 3.
KOMO reports that interested passengers can get the vaccine on sailings departing from mid-morning until late afternoon.
Among those getting vaccinated on board the ferry from Bremerton to Seattle Tuesday was Gavin Davis, who was taking the ferry to his job in Seattle working a night-shift in security and loss-prevention.
Davis said because he works nights and sleeps during the day, he had not yet found time to get vaccinated, but when he boarded the ferry and was told he could get the shot on his way to work, he accepted, and got the first shot of the Pfizer vaccine.
Local journalism is essential.
Give directly to The Spokesman-Review's Northwest Passages community forums series -- which helps to offset the costs of several reporter and editor positions at the newspaper -- by using the easy options below. Gifts processed in this system are not tax deductible, but are predominately used to help meet the local financial requirements needed to receive national matching-grant funds.
Subscribe now to get breaking news alerts in your email inbox
Get breaking news delivered to your inbox as it happens.
---