Huge American flag stolen from California veterans cemetery
UPDATED: Mon., May 31, 2021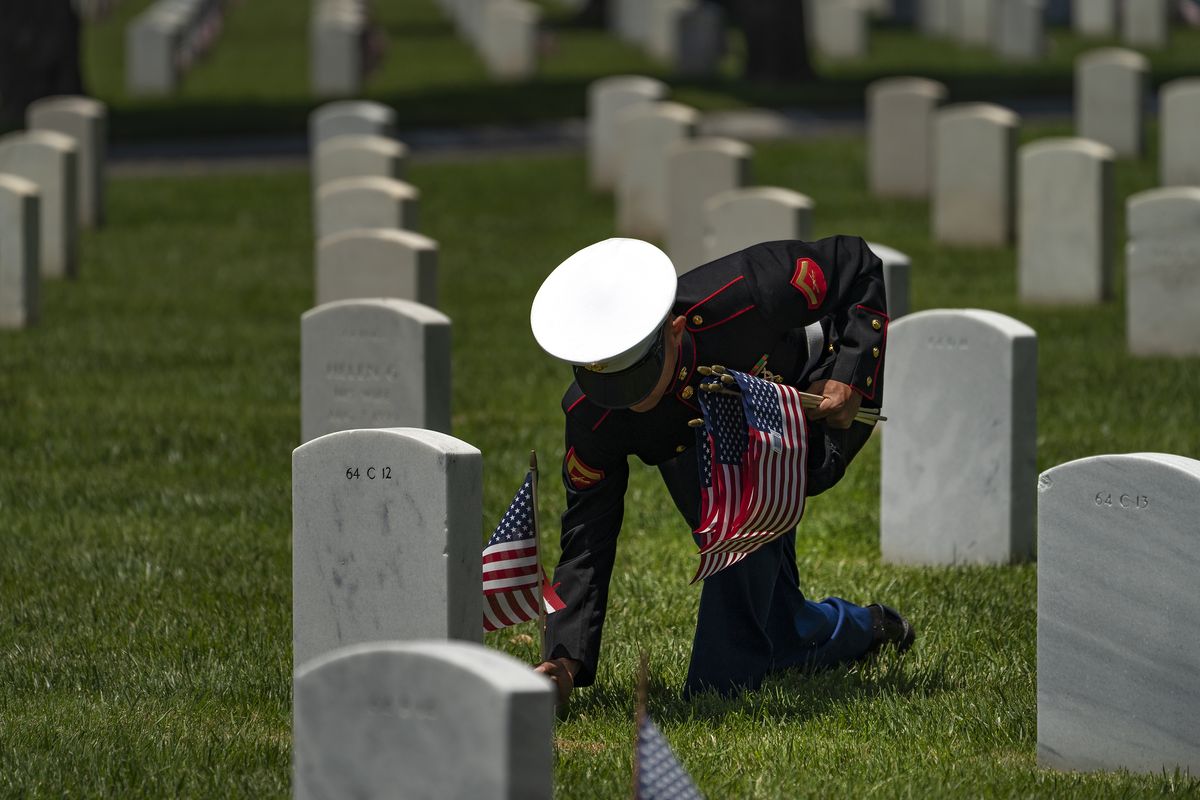 A member of the U.S. Marine Corps, who wants to remain anonymous, honors veterans graves at the Los Angeles National Cemetery in Los Angeles, Monday, May 31, 2021. He has placed American flags for the past 15-years, first as a boy scout, this year as a U.S. Marine. (Damian Dovarganes)
Associated Press
LOS ANGELES – Authorities said a huge American flag and several smaller flags were stolen from a Southern California veterans cemetery over the Memorial Day weekend.
Les' Melnyk, a spokesperson for the Department of Veterans Affairs' National Cemetery Administration, said the garrison flag at Los Angeles National Cemetery was reported stolen sometime late Sunday or early Monday.
The cemetery's gates were closed at the time, Melnyk said.
Veterans Affairs police are investigating the theft of the flag, which measures 25 feet by 30 feet, Melnyk said.
The crime "cannot detract in the slightest way from the honor and respect we pay on this Memorial Day to those service men and women who made the ultimate sacrifice for our nation," Melnyk said.
Rebekah Adams, a volunteer at the Los Angeles National Cemetery Support Foundation, said it would be difficult to remove the flag that is usually handled by three people.
"It's so sad and shocking something like this would happen on Memorial Day," Adams said.
The cemetery dates to the late 19th century and is operated by the Veterans Administration.
Local journalism is essential.
Give directly to The Spokesman-Review's Northwest Passages community forums series -- which helps to offset the costs of several reporter and editor positions at the newspaper -- by using the easy options below. Gifts processed in this system are not tax deductible, but are predominately used to help meet the local financial requirements needed to receive national matching-grant funds.
Subscribe now to get breaking news alerts in your email inbox
Get breaking news delivered to your inbox as it happens.
---