Sports > WSU football
Recap and highlights: No. 5 Oregon takes control of Pac-12 North, inches closer to playoffs with win over Washington State
Nov. 13, 2021 Updated Mon., Nov. 15, 2021 at 3:16 a.m.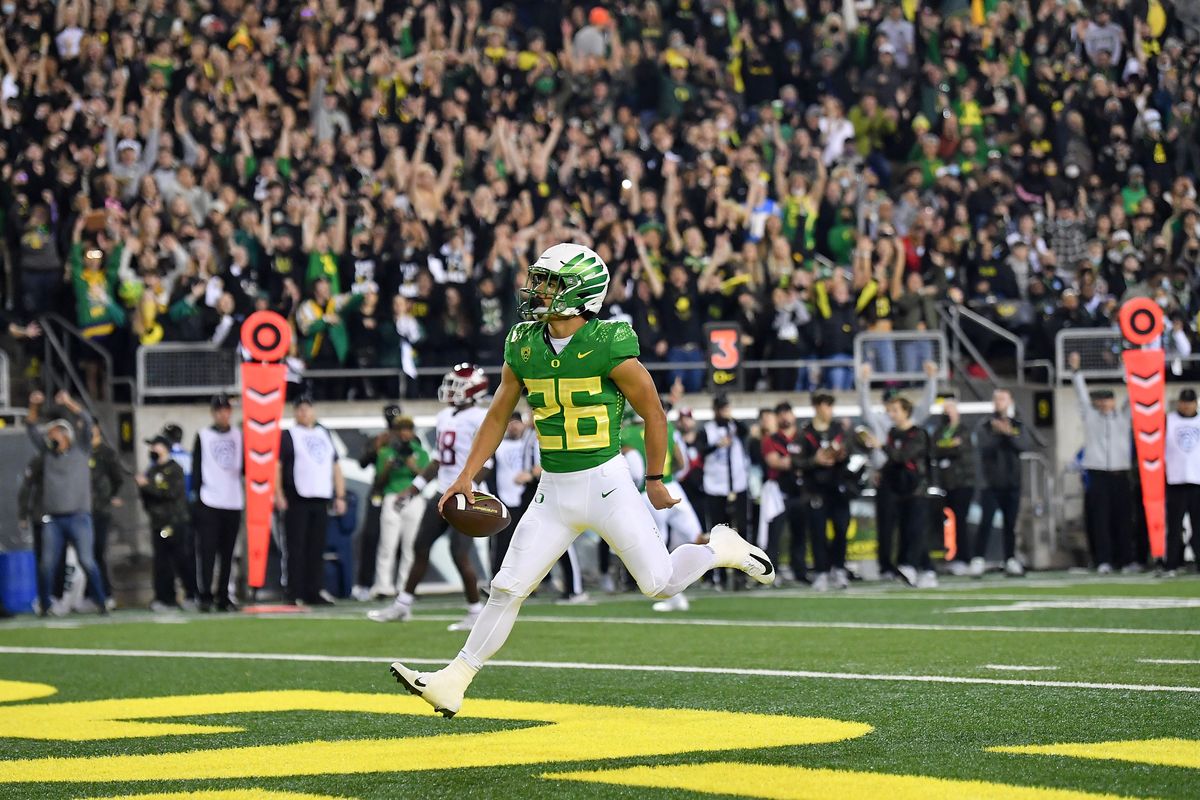 Oregon Ducks running back Travis Dye (26) runs the ball in for a touchdown against WSU during the first half of a college football game on Saturday, Nov 13, 2021, at Autzen Stadium in Eugene, Ore. (Tyler Tjomsland/The Spokesman-Review)
Oregon's rushing attack was too strong for Washington State to stop in Eugene Saturday.
The Ducks (9-1, 6-1 Pac-12, CFP No. 3) gashed the Cougar defense for 307 yards, lead by quarterback Anthony Brown's 123, to earn a 38-24 win over the Cougars (5-5, 4-3) and take full control of the Pac-12 North.
WSU was outscored 24-10 in the second half.
If not for the Cougars forcing two fumbles – one where Brown was stripped at the WSU goal line – the score could have been more lopsidded.
UO averaged 6.5 yards a carry, while WSU managed just 3.6 on the ground.
Jayden de Laura completed 20 of 36 passes for 280 yards and two touchdowns, but had two interceptions and a fumble that went into the endzone for a touchback on the opening drive.
First quarter
14:01 - WSU 0, UO 0: Jayden de Laura makes a statement on the second play of the game with a 70-yard completion to Calvin Jackson Jr. down to the Ducks 7. 
13:41 - WSU 0, UO 0: Jayden de Laura fumbles out of the endzone for an Oregon touchback. Tough break for the Cougars after big play to start the game.
11:41 - WSU 0, UO 0: The Cougar defense forces a 3-and-out after the turnover. Tom Snee punts 41 yards to the WSU 30.
9:36 - WSU 0, UO 0: Potential first overall pick Kayvon Thibodeaux drops Jayden de Laura for a 7-yard sack and the Cougars are forced to punt. Oregon takes over at its 25.
3:51 - UO 7, WSU 0: Travis Dye breaks the deadlock with a 1-yard plunge up the middle. That caps an 11-play 75 yard drive.
3:44 - UO 7, WSU 0: Jayden de Laura makes a costly throw into double coverage that is intercepted by Verone McKinley III at the Ducks' 47.
2:04 - UO 14, WSU 0: Anthony Brown completes an 11-yard touchdown to Travis Dye over the middle for a touchdown. The Duck running back is the teams' reception leader on the season. 
0:00 - UO 14, WSU 0: The Cougars punt to the Oregon 38, where the ducks will take over at the start of the second quarter. 
Second quarter
11:53 - UO 14, WSU 0: The Cougars force and Oregon punt near midfield and take over on their own 11.
9:22 - UO 14, WSU 0: De'Zhaun Stribling stopped short of the line to gain on third down and the Cougars are forced to punt. Oregon starts on its own 30.
WSU has just 44 yards of offense outside of the 70-yard pass to Calvin Jackson Jr. on the second play of the game. Cougs also 1 of 4 on third down attempts.
9:08 - UO 14, WSU 0: The Cougs are back to their fumble forcing ways. Jahad Woods knocks it loose from Travis Dye, recovered by Jaylen Watson at the Oregon 46. 
6:52 - UO 14, WSU 7: De'Zhaun Stribling streaks across the middle and Jayden de Laura finds him for a 14-yard touchdown untouched.
4:49 - UO 14, WSU 7: Brennan Jackson sacks Anthony Brown for a loss of five and Travis Dye is stopped on a flair pass on the following play. Cougars start on their own 27 after the Oregon punt.
0:11 - WSU 14, UO 14: Jayden de Laura throws a beautiful pass to Travell Harris down to the UO 1, then two plays later keeps an option play for a 1-yard touchdown.
Halftime
Washington State scored 14 unanswered points to tie the game before halftime. Jayden de Laura made a costly interception late in the first quarter that Oregon capitalized to take a 14-0 lead, but the Cougars quickly scored off a Duck fumble in the second to get back in the game.
De Laura is 12 of 19 for 199 yards and a touchdown, and added a rushing touchdown before the break. The Cougars have outgained the Ducks 233-157 and both teams are even in third down conversions – 4 of 7. 
Third quarter
14:50 - WSU 14, UO 14: Lucas Dunker Jr. returns the opening kickoff 64 yards to the WSU 36, making a statement to open the half.
12:52 - UO 21, WSU 14: Anthony Brown scrambles up the middle, hits the sideline and dives the final four yards for a touchdown. Brown is the Ducks leading rusher with 61 yards on 10 carries.
9:57 - UO 21, WSU 14: Jayden de Laura can't find Calvin Jackson Jr. on third down and the Cougs are forced to punt. The Ducks start on their own 5.
2:54 - UO 24, WSU 14: Camden Lewis makes a 22-yard field goal to cap off a 13-play 91 yard drive that bled 7:03 off the clock.
2:05 - UO 24, WSU 14: Cougars can't get anything going on offense and punt after a 3-and-out to the UO 31.
Fourth quarter
10:28 - UO 24, WSU 14: Game-changing play by George Hicks III, who strips the ball from Anthony Brown at the goal line and returns it to midfield.
8:39 - UO 24, WSU 14: Jayden de Laura completes a 39-yard pass to Travell Harris down to the Oregon 11, but is sacked by Kayvon Thibodeaux on second down to set up a third-and-16 from the UO 17.
8:31 - UO 24, WSU 17: Dean Janikowski's 34-yard field goal is good. Plenty of time for more Pac-12 After Dark craziness to insert itself into this one.
5:52 - UO 31, WSU 17: Byron Cardwell darts through a big hole up the middle and runs 27 yards untouched for a touchdown.
3:53 - UO 31, WSU 17: Jayden de Laura's pass is intercepted by Bryan Addison and that should do it.
2:07 - UO 38, WSU 17: Byron Cardwell scores on a 22-yard rushing touchdown and the Ducks are pouring it on late.
0:09 - UO 38, WSU 24: Travell Harris catches a 2-yard touchdown from Jayden de Laura and that's a bad beat for Oregon betters that had the Ducks -14.
Pregame
Washington State travels to Eugene to take on No. 5 Oregon with the winner taking control of the top spot in the Pac-12 North at 7:40 on ESPN.
The Cougs (5-4, 4-2 Pac-12) are coming off a bye, while the Ducks (8-1, 5-1, CFP No. 3) beat Washington 26-16 on a rainy night in Seattle. WSU last beat Arizona State 34-21 on Oct. 30 and will play its first night game since a season-opening loss to Utah State. 
Oregon enters the game a 14 point favorite, as the Ducks control their own destiny toward their first playoff appearance since 2014 – beating Florida State 59-20 for the only Pac-12 win in the CFP.
Series history
Oregon holds a 51-42-7 series lead over WSU dating back 1901 where the Cougs won 16-0 in Pullman. 
The Ducks have won the last two meetings, though before that the Cougs had won four straight including a 34-20 victory in 2018 that saw College Gameday come to the Palouse.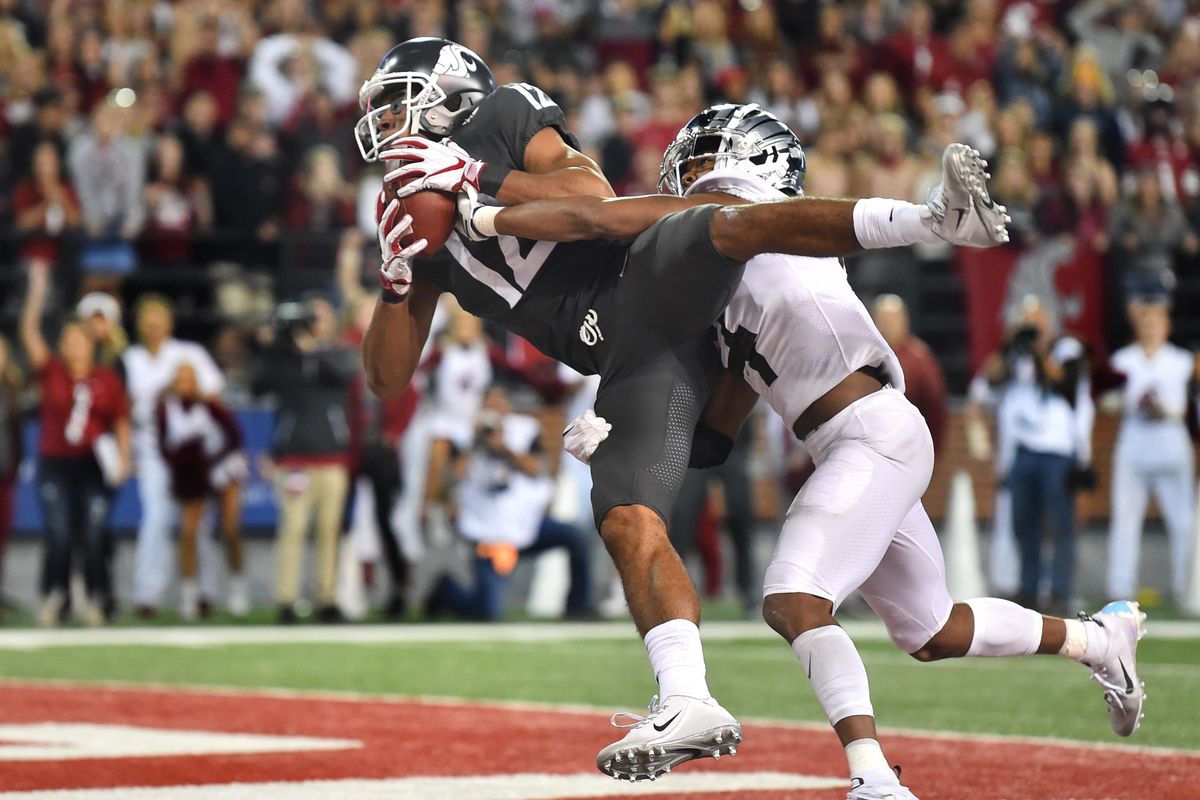 Washington State Cougars wide receiver Dezmon Patmon (12) hauls in a touchdown pass against Oregon Ducks cornerback Thomas Graham Jr. (4) late in the fourth quarter of a college football game on Saturday, October 20, 2018, at Martin Stadium in Pullman, Wash. WSU won the game 34-20. (Tyler Tjomsland / The Spokesman-Review)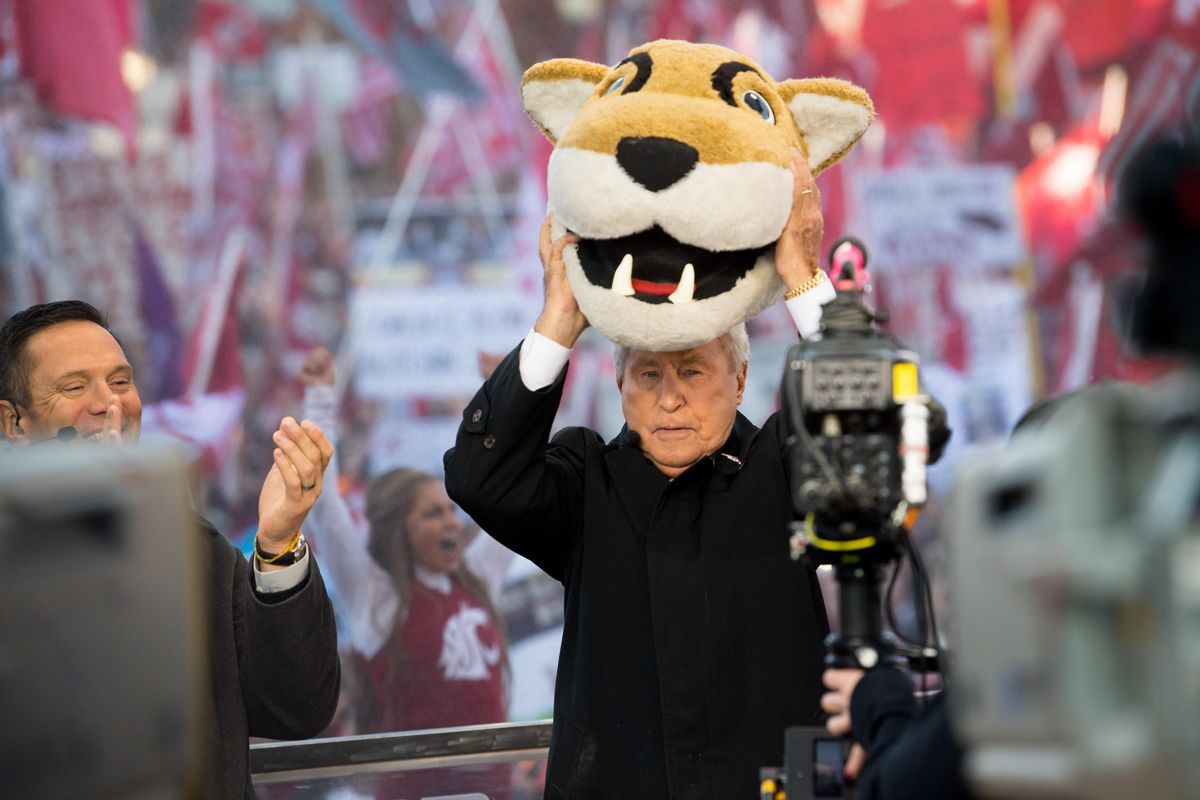 Lee Corso holds the Cougar mascot head high, indicating his prediction of a WSU win in the closing minutes of Saturday's ESPN GameDay show, much to the delight of former WSU quarterback Drew Bledsoe, left, and the raucous WSU crowd. (Tyler Tjomsland / The Spokesman-Review)
Team stats
Individual leaders
Game preview
More on the Cougs
Local journalism is essential.
Give directly to The Spokesman-Review's Northwest Passages community forums series -- which helps to offset the costs of several reporter and editor positions at the newspaper -- by using the easy options below. Gifts processed in this system are not tax deductible, but are predominately used to help meet the local financial requirements needed to receive national matching-grant funds.
Subscribe to the Cougs newsletter
Get the latest Cougs headlines delivered to your inbox as they happen.
---