News > Pacific NW
Tens of thousands lose power as windstorm hits Spokane and Inland Northwest
Nov. 15, 2021 Updated Tue., Nov. 16, 2021 at 11:17 a.m.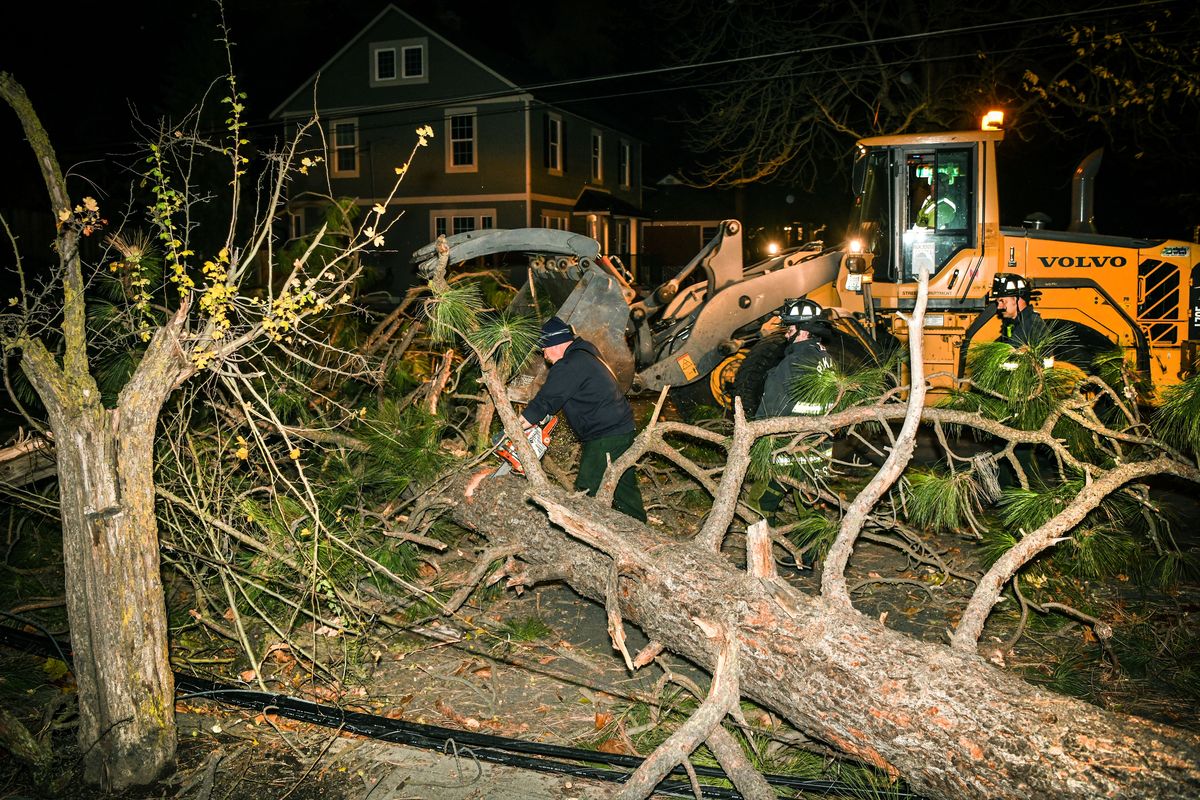 City crews and firefighters work to clear a fallen tree blocking Bernard Street at 22nd Avenue on Monday in Spokane. Strong winds toppled the pine tree, taking down utility lines and just missing a car. (DAN PELLE/THE SPOKESMAN-REVIEW)
A windstorm roared into the Spokane region Monday afternoon, snapping branches, toppling trees and knocking out power to about 40,000 homes and businesses at its peak.
Gusts topping 60 miles per hour were recorded at Spokane International Airport and forecasters at the National Weather Service predicted some blasts could hit 70 mph when the final numbers are in. The unseasonably warm afternoon began giving way to a cold front as a brief thunderstorm blew through the area.
At 6:30 p.m. Avista was reporting power outages affecting about 22,000 customers in its Eastern Washington and North Idaho service territory.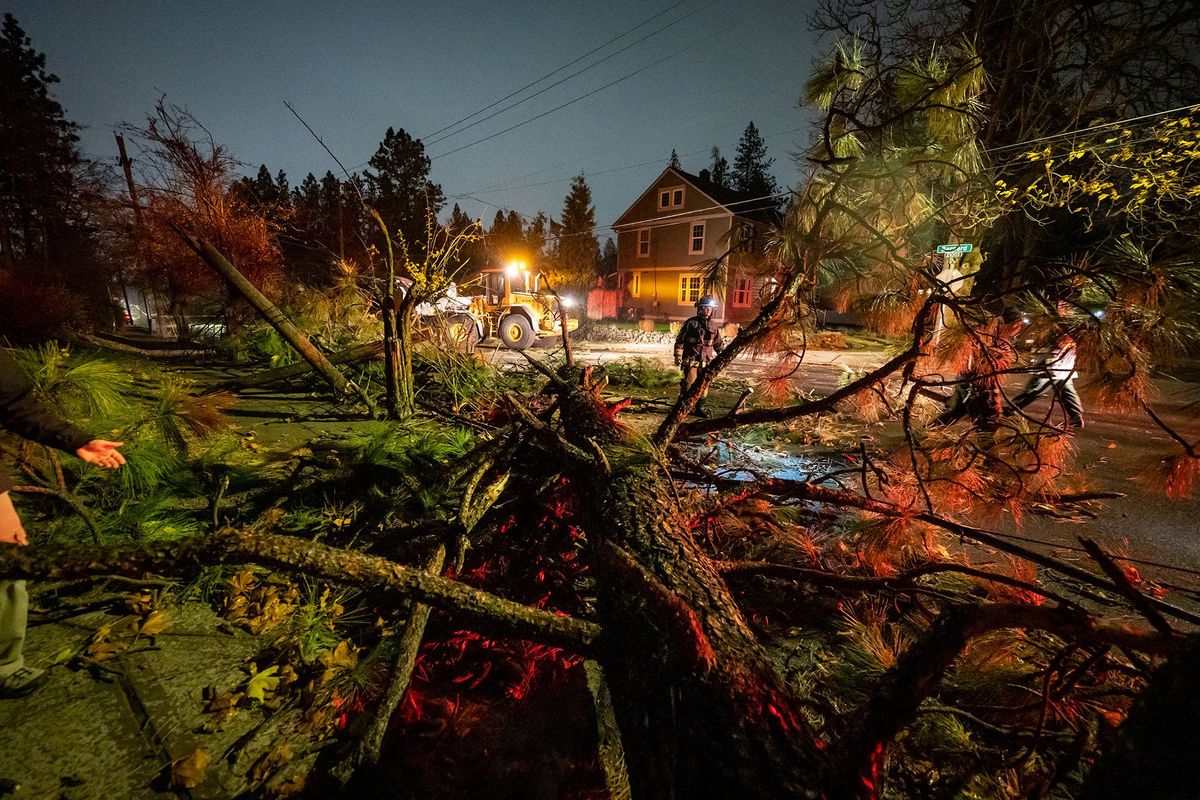 Strong winds toppled a pine tree at Bernard and 22nd taking down utility lines and just missing a car during Monday's windstorm. (Colin Muvany/The Spokesman-Review)
Inland Power and Light reported more than 6,000 without power. Kootenai Electric Cooperative reported more than 4,000 without power at 6 p.m., and Northern Lights, Inc. reported more than 5,000.
Half of the sky was an eerie pink in Spokane as the winds began to pick up. By late afternoon, the wind was strong enough to knock a grown man off balance.
By 5 p.m., the wind had already started causing damage.
A gust shattered a window at Mechanics Pride Tire & Automotive – although it wasn't entirely the wind's fault.
"It was already cracked and damaged," Mechanics Pride Service Writer Austin Adair said of the window. "It just kind of exploded."
Adair said the window explosion didn't hurt anybody. It also didn't really cause much financial harm, because Mechanics Pride had already been trying to get the window replaced. All the explosion did was frighten a few customers.
"It scared the daylights out of those guys," Adair said.
Strong winds also damaged the iconic sign that rises above the historic Fox Theater.
At about 4:30 p.m., a handful of theater staffers stood at the corner of Monroe Street and Sprague Avenue, staring nervously upward as one of the sign's aluminum panels flapped and clanged in the wind.
Earlier in the afternoon, a powerful gust had ripped off the "O" on one side of the "FOX" sign, sending it flying over the roof and into the street.
The airborne "O" didn't hurt anyone, although it could have. It's roughly the size of a queen mattress and took three people to carry it out of the street.
Jeff vom Saal, executive director of the Spokane Symphony and Fox Theater, said he was nervous the winds would rip off more of the sign's letters.
"We're just hoping it doesn't come down and hit anybody," vom Saal said.
Elsewhere, downed trees forced the closure of Bernard Street near 20th Avenue in Spokane.
State Route 20 near Sherman Pass, between Kettle Falls and Republic, was reopened after downed trees blocked the road earlier Monday afternoon. It was closed again soon after when more trees fell, the Washington state Department of Transportation wrote on Twitter.
Andy Barth, Inland Light and Power's government affairs and community relations officer, said the company's light crews are ready to repair power lines and remove downed trees as quickly as possible, if necessary.
"This is what they get paid to do," Barth said. "They're good at their jobs."
The windstorm arrived two days shy of the sixth anniversary of the 2015 monster that caused millions of dollars of damage in Spokane and left thousands without power for more than a week. That storm had peak gusts upward of 70 mph, said National Weather Service Meteorologist Rebekah Cheatham .
"This is going to be a faster-moving front," Cheatham said.
While winds were expected to calm overnight, there may be some remnants in the morning.
"Tuesday morning we may still have some gusts in the 20s," Cheatham said. "Then throughout the day we'll get down to some light and variable type of winds."
The Spokane International Airport recorded a tentative high of 58 degrees, falling short of tying a 125-year-old record of 60 degrees, NWS Spokane Meteorologist Todd Carter said.
Temperatures are expected to return to normal mid-week with high temperatures in the upper 30s and low 40s, Cheatham said.
Estimated power restoration times likely won't be available until the storm has passed, both Avista and Inland Light and Power said.
Avista outages can be reported online at myavista.com/outage or by calling (800) 227-9187. Barth encouraged Inland Light and Power customers to call the company at (877) 668-8243 if they lose power or if they see a downed power line. The company has an automated outage detection system, but Barth said eyewitness accounts are valuable.
S-R reporter Sydney Brown contributed to this story.
Local journalism is essential.
Give directly to The Spokesman-Review's Northwest Passages community forums series -- which helps to offset the costs of several reporter and editor positions at the newspaper -- by using the easy options below. Gifts processed in this system are not tax deductible, but are predominately used to help meet the local financial requirements needed to receive national matching-grant funds.
Subscribe now to get breaking news alerts in your email inbox
Get breaking news delivered to your inbox as it happens.
---