Recap and highlights: Washington State blows out Washington to win first Apple Cup since 2012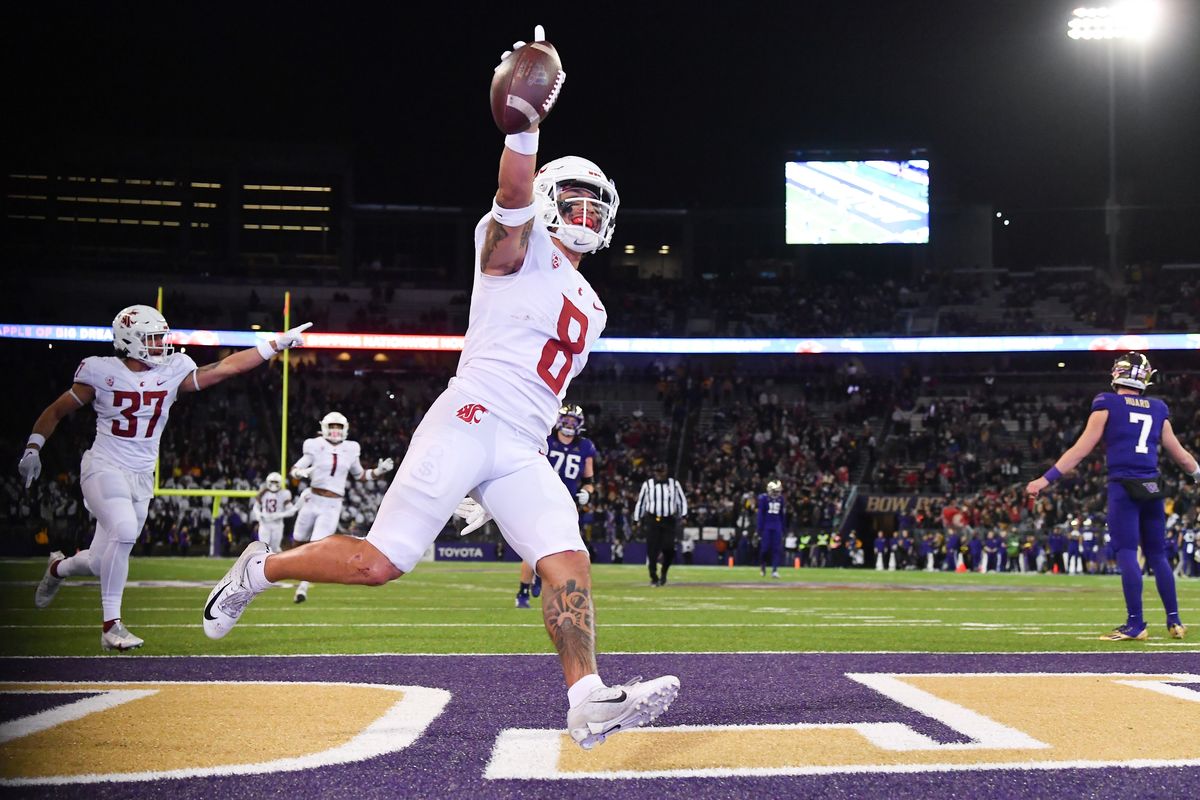 The seven game drought is over – the Apple Cup is coming back to the Palouse.
Washington State dominated Washington en route to a 40-13 win in Seattle on Friday.
The Cougars (7-5, 6-3 Pac-12) earned their most lopsided victory over the cross-state rival Huskies (4-8, 3-6), besting a 26-point margin set in 1973.
WSU quarterback Jayden de Laura and interim head coach Jake Dickert were near-perfect in their first Apple Cup.
De Laura was 27 of 32 for 245 yards and added three carries for 31 yards.
Meanwhile, UW quarterback Sam Huard was thrust into the rivalry for his first career start, going 17 of 31 for 190 yards and four costly interceptions.
Cougar running back Max Borghi was as electric as ever, taking 22 carries for 129 yards and two touchdowns.
WSU will await the result of tomorrow's rivalry between Oregon and Oregon State. If the Beavers pull off the upset, the Cougars will be representing the Pac-12 North in the conference championship game.
First quarter
13:36 - WSU 0, UW 0: Jayden de Laura steps up in the pocket delivers a strike to Donovan Ollie for a gain of 17 yards on third and long.
Big pick up from de Laura after Borghi was stuffed at the line of scrimmage on back-to-back carries to start the game.
11:27 - WSU 7, UW 0: Max Borghi scampers in for a 32-yard touchdown to open the scoring after a 7 play 75-yard drive.
UW defenders were not interested in tackling the Cougar running back, as he spun off a defender around the 10 yard line.
4:16 - WSU 10, UW 0: Dean Janikowski's 31-yard field goal attempt is good.
UW's defense holds strong, but the Cougars have their first two-score lead in the first quarter of an Apple Cup since 2003.
1:57 - WSU 10, UW 0: The Huskies go three-and-out, after a fumbled handoff pushed UW back to its own 11.
The punt goes into the endzone for a touchback after UW had a chance to pin the Cougars inside the five.
0:00 - WSU 10, UW 0: The Cougars face a third-and-7 to start the second quarter.
The first 15 minutes couldn't have gone better for WSU, who is dominating so far. The Cougars have out-gained the Huskies 153-2 and controlled the ball for 11:31. No first downs yet for UW.
Second quarter
14:15 - WSU 10, UW 0: Max Borghi has a 54-yard touchdown called back as Travell Harris is called for holding.
11:04 - WSU 10, UW 0: Sam Huard's pass is intercepted by Armani Marsh and returned to the Huskies' 34 yard line.
Huard is 3 of 7 for 17 yards and an interception in his first start.
6:32 - WSU 13, UW 0: The Huskies come away with another redzone stop and Dean Janikowski converts a 25-yard field goal.
2:36 - WSU 13, UW 7: Kamari Pleasant scores a 10-yard touchdown run, as the Huskies finally come to life on offense with a 9 play 75-yard drive.
After multiple redzone opportunities, WSU now with just a one-score lead. 
0:00 - WSU 13, UW 7: Dean Janikowski's 48-yard field goal is no good. Cougars dominated the first half, but go into the locker room with a slight advantage over the Huskies. 
Halftime
Washington State takes a one-score lead into halftime, despite dominating the early proceedings of the 113th Apple Cup.
WSU has outgained UW 255-63 and controlled the ball for 20:36 minutes, but settled for field goals on two redzone possessions and missed a 48-yard field goal as time expired on the half.
The Huskies finally got on the board late in the second quarter after struggling to move the ball for most of the half. UW has gained 17 rush yards on 10 carries.
The Cougars' 6 penalties for 55 yards – including a revoked 54-yard touchdown run by Max Borghi – have set themselves back.
Still, the WSU offense has been effective. Jayden de Laura is 16 of 17 for 164 yards and Max Borghi has 11 carries for 70 yards and a touchdown.
UW will receive the ball to start the second half.
Impact performance
Third quarter
13:36 - WSU 13, UW 7: Quick three-and-out for the Huskies to start the second half. WSU takes over on its own 22.
7:37 - WSU 20, UW 7: Max Borghi punches in a 1-yard touchdown to cap a 10 play 78-yard drive. Borghi now at 15 carries for 89 yards and two touchdowns – tying the career school touchdown record.
Jayden de Laura has been excellent in his first Apple Cup. He has completed 21 of 22 passes for 211 yards and added two carries for 19 yards.
6:49 - WSU 20, UW 7: Derrick Langford comes down with an interception at the UW 41 – Sam Huard's second of the night.
Not a great first Apple Cup for the Husky freshman, who is 4 of 11 for 46 yards and 2 INT's.
3:55 - WSU 23, UW 7: Dean Janikowski sinks a 41-yard field goal to increase the Cougar lead.
2:47 - WSU 23, UW 7: Sam Huard throws an interception right to Justus Rogers, who returns it to the Husky 29.
UW had a great opportunity after a 55-yard pass to Rome Odunze, but turned it over on the next play.
Fourth quarter
14:23 - WSU 30, UW 7: Deon McIntosh punches in a 2-yard touchdown, as the Cougars capitalize on the turnover. McIntosh is penalized for celebrating with Butch – the WSU mascot – but he'll be forgiven by Cougar fans for that.
Cougars are in striking distance of surpassing their largest Apple Cup win, which was a 26-point margin in 1973.
11:55 - WSU 30, UW 13: Rome Odunze comes down with a highlight reel one-handed catch in the endzone. The 2-pt attempt is intercepted.
8:35 - WSU 33, UW 13: Dean Janikowski makes a 39-yard field goal – his fourth of the game.
8:23 - WSU 40, UW 13: Sam Huard's pass bounces off the hands of his target and Armani Marsh is there for an interception that he returns 28 yards for a touchdown.
That's Huard's fourth INT of the day, and if the score holds will be WSU's most lopsided win in Apple Cup history.
Pregame
Washington State travels to Seattle to play the 113th Apple Cup against Washington today at 5 p.m. on FS1.
The Cougars (6-5, 5-3 Pac-12) are lead by interim coach Jake Dickert, while the Huskies (4-7, 3-5) have interim Bob Gregory at the helm, after both teams fired their head coaches earlier in the season.
WSU hasn't won the annual rivalry since 2012, and haven't won it in Seattle since 2007. Suddenly the stakes are even higher for the Cougars after Oregon lost to Utah last weekend – a WSU win, and an Oregon State win over the Ducks tomorrow would lift the Cougars into the Pac-12 Championship game.
WSU is a one point favorite according to Vegas Insider Consensus.
Series history
UW holds a 74-32-6 series lead over WSU, dating back to a 5-5 tie in when the teams first met in 1900.
The Huskies have dominated the series in recent years, winning the last seven meetings and 10 of the last 11.
Team stats
Individual leaders
Game preview
More on the Cougs
---