Sports > Outdoors
Nordic skiers, fat bikers looking ahead to season after disappointing 2021
Sun., Nov. 28, 2021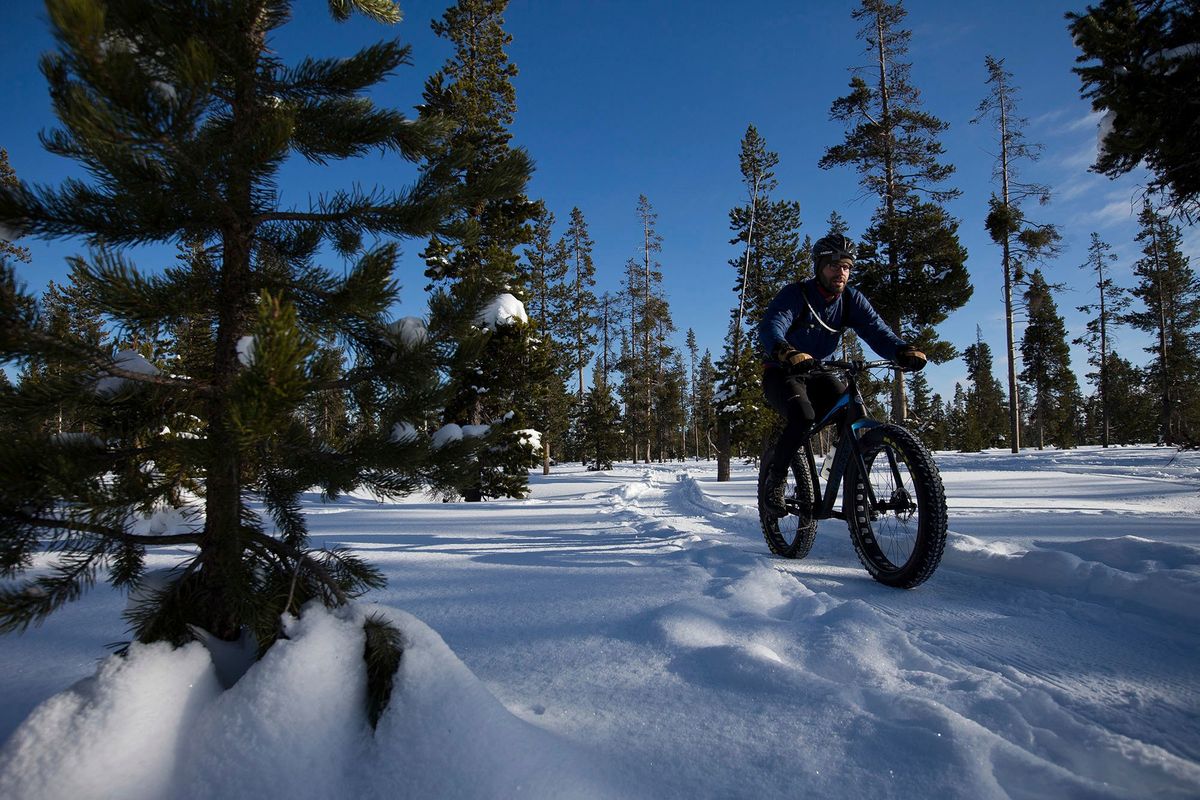 Adam Holt, of Bend, Oregon, rides a fat bike on one of the groomed single-track trails at Wanoga Sno-Park in Bend in early 2016. For those who just refuse to stop mountain biking, even when most central Oregon single-track is covered in snow, fat bikes are an option. (Associated Press)
Frank Benish was all geared up and ready to groom trails in Riverside State Park for fat biking in 2020, but COVID-19 struck and the snow didn't cooperate.
"Last year, you might as well forget about it between COVID and everything else," he said.
Which makes the 2021-22 season all the more exciting for Benish and other fat bike aficionados.
"Anticipating that we will get some snow this year, so that's looking good," Benish said.
Benish anticipates grooming about 25 miles at Riverside State Park, depending on the snow pack and he's received tentative permission to groom a the Geophysical Sno-Park in the Colville National Forest.
That will be in addition to the mixed-use trails at 49 Degrees North and Mount Spokane.
Fat bikers are also looking with anticipation toward the newly opened Etter Ranch addition to Antoine Peak as well as a new system of trails on Mica Peak, although neither area will be groomed.
Spokane Parks and Recreation will groom a number of areas, if there is enough snow. To check for trails, visit my.spokanecity.org/recreation/outdoor/groomed-trails.
One note of caution from Benish: Fat bikes, like most bicycles, remain hard to buy or rent due to supply chain issues.
"The sport is growing," he said.
North Idaho trails opening
In North Idaho, the Pend Oreille Peddlers have built single-track trails for fat biking near Sandpoint, proving riding options just minutes from downtown, executive director Jason Welker said.
"You're never far from your car," Welker said.
The 188-acre Pine Street Woods Community forest offers cross-country skiing and fat biking throughout the winter months, he said. The area has been open for two years, although like in the Spokane region last winter was a bit of a dud, Welker said.
"It's the relatively easy nature of the trails," he said of the area's attraction. "The whole property is up at about 2,500, 2,700 feet. There is not a lot of climbing or descending that you have to do so you can do all these loops."
The Pend Oreille Peddlers groom between 4 and 5 miles of single-track for fat biking, although that depends on the snow. That's in addition to cross-country ski trails groomed for both Nordic and skate skiing.
A recreation center is also on-site, providing Nordic skis and snowshoes.
Cross-country skiing
Langlauf Spokane's chief cross-country skiing event will be back in 2022, race director Tim Ray said. The race will be held Feb. 6 to avoid conflicting with Super Bowl Sunday.
"We are planning on pressing ahead," he said.
The Washington State Park's Selkirk Lodge is still closed due to COVID-19 concerns, which could hamper postrace celebrations. Ray said the 10-kilometer classic skiing race, which started in 1980, will otherwise be back after a year's absence.
In 2020, Langlauf held its 40th race just weeks before the pandemic shut down most events.
Meanwhile, grooming will start at Mount Spokane's extensive cross-country skiing trail network on Wednesday, although a few volunteers have started grooming a little, Ray said.
Local journalism is essential.
Give directly to The Spokesman-Review's Northwest Passages community forums series -- which helps to offset the costs of several reporter and editor positions at the newspaper -- by using the easy options below. Gifts processed in this system are not tax deductible, but are predominately used to help meet the local financial requirements needed to receive national matching-grant funds.
Subscribe to the sports newsletter
Get the day's top sports headlines and breaking news delivered to your inbox by subscribing here.
---