News > Higher education
WSU nursing and veterinary students team up for clinic aimed at people and pets
Oct. 1, 2021 Updated Wed., Oct. 6, 2021 at 8:10 p.m.
WSU College of Veterinary Medicine students prepare canine vaccines during the Heathy People + Healthy Pets free health care service clinic for homeless and low-income people and their pets Wednesday at 412 E. Spokane Falls Blvd. in Spokane. (Dan Pelle/THE SPOKESMAN-REVIEW)
Washington State University nursing and veterinarian students joined forces Wednesday to protect people and their four-legged friends.
The graduate students administered free vaccinations, screenings and treatments at the WSU Center for Clinical Research and Simulation in Spokane as part of the annual Healthy People + Healthy Pets event.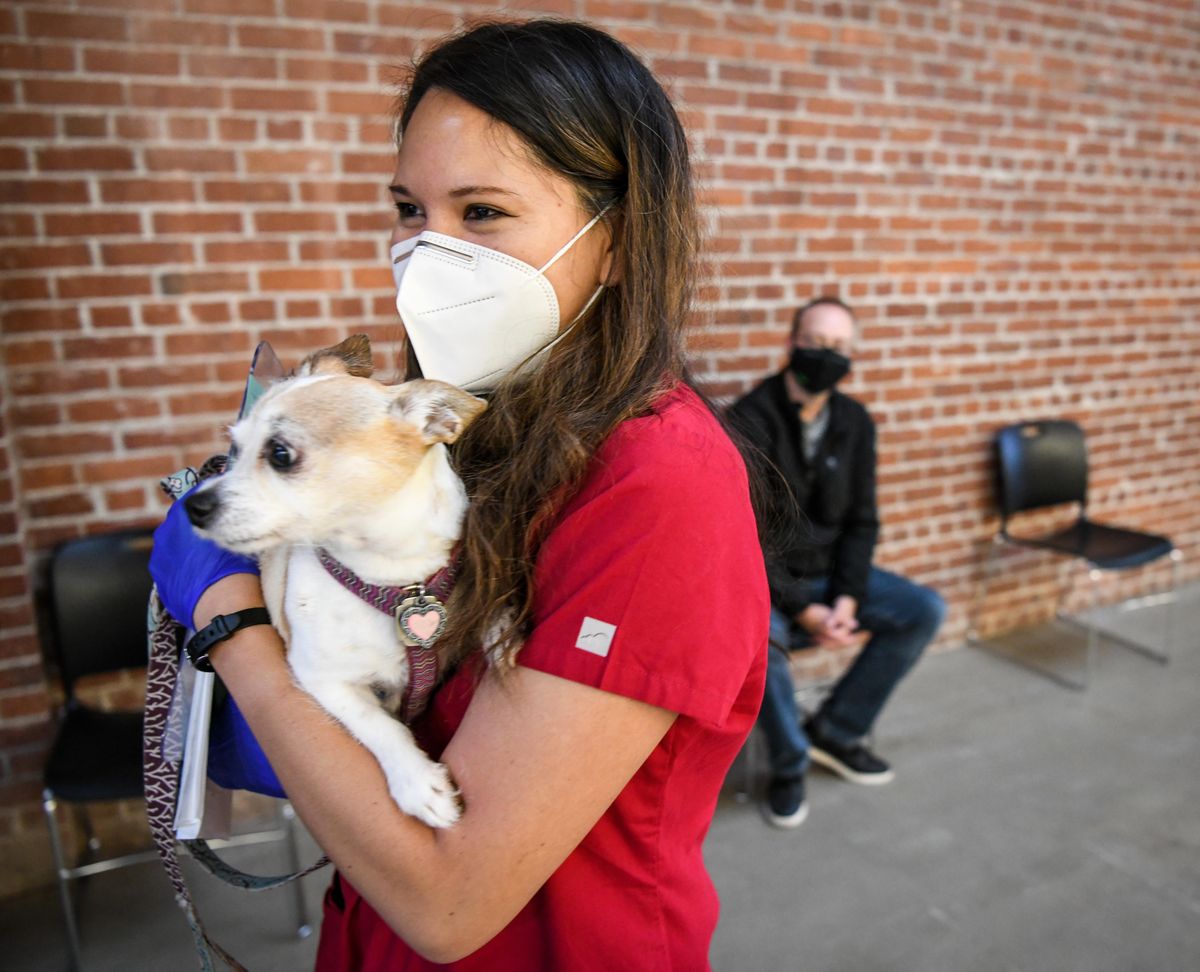 WSU Vet student Vanessa Ung carries away Iris, belonging to Andrew Wilson, right, after he brought the dog into the WSU College of Nursing and WSU College of Veterinary Medicine Healthy People + Healthy Pets free health care clinic, Wednesday, Oct. 6, 2021, at 412 E. Spokane Falls Boulevard in Spokane.Iris was suffering from a rear leg problem. (Dan Pelle/THESPOKESMAN-REVIEW)
Dr. Gail Oneal, PhD program director for the College of Nursing, said she and Dr. Raelynn Farnsworth, director of the Veterinary Teaching Hospital in Pullman, started the event a few years ago with public health as a driving force.
"People and pets can give each other diseases," said Oneal, noting rabies as an example.
Oneal said the target audience of the event is homeless and low-income people who do not have the money for preventative care.
She said she has seen homeless people with animals in downtown Spokane who have given food to their pets before they ate themselves.
"A couple of them said the only person who really loves me is my cat or dog, or in one case it was a duck," Oneal said. "So I said, we got to do something."
Haydyn Inahara, a nursing student, said she and three other nursing students set to graduate in December planned the event as part of a senior community health project.
Inahara said ensuring the event complied with COVID-19 protocols was the biggest challenge.
"It's hard, but we're all making a difference in the community and I think that's why we chose nursing," Inahara said.
Oneal said students planning the event learn skills needed to organize clinics in their communities when they become registered nurses.
"That's part of a nurse's role," she said.
Oneal said at least 18 nursing students administered COVID-19, flu and other vaccines. They also checked blood pressure, glucose levels to look for diabetes and answered questions about patients' medications.
Farnsworth said 11 veterinary students traveled from Pullman to provide vaccinations, such as for rabies, as well as physicals and other treatments.
"I love that we're able to reach out to the community and provide this kind of preventative medicine," said Isla Dubendorf, a veterinary student. "I've been hoping to do this for a while, and so now that I'm a senior and I'm finally getting to do it, I'm so stoked. It's awesome."
Andrew Wilson brought his 10-year-old Jack Russell Terrier, Iris, in for shots and to diagnose and potentially treat Iris' limp. He said he definitely saved money bringing his dog to the event, and it provided the students with experience.
"It's a fantastic thing that they're doing here," Wilson said.
Jessica Bowen brought her 8-week-old Australian Shepherd and mastiff mix, Nyx, in for vaccines.
"I really enjoyed all of the people," Bowen said. "They have been awesome. I don't think I've ever been around a group of nice people like this doing kind of a charity thing."
Local journalism is essential.
Give directly to The Spokesman-Review's Northwest Passages community forums series -- which helps to offset the costs of several reporter and editor positions at the newspaper -- by using the easy options below. Gifts processed in this system are not tax deductible, but are predominately used to help meet the local financial requirements needed to receive national matching-grant funds.
Subscribe now to get breaking news alerts in your email inbox
Get breaking news delivered to your inbox as it happens.
---