News > Nation/World
European-Japanese space mission gets 1st glimpse of Mercury
UPDATED: Sat., Oct. 2, 2021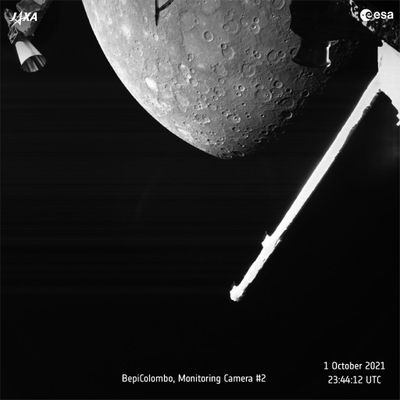 Associated Press
BERLIN – A joint European-Japanese spacecraft got its first glimpse of Mercury as it swung by the solar system's innermost planet while on a mission to deliver two probes into orbit in 2025.
The BepiColombo mission made the first of six flybys of Mercury at 4:34 p.m. Friday, using the planet's gravity to slow the spacecraft down.
After swooping past Mercury at altitudes of under 125 miles, the spacecraft took a low resolution black-and-white photo with one of its monitoring cameras before zipping off again.
The European Space Agency said the captured image shows the Northern Hemisphere and Mercury's characteristic pock-marked features, among them the 103-mile-wide Lermontov crater.
The joint mission by the European agency and the Japan Aerospace Exploration Agency was launched in 2018, flying once past Earth and twice past Venus on its journey to the solar system's smallest planet.
Five further flybys are needed before BepiColombo is sufficiently slowed down to release ESA's Mercury Planetary Orbiter and JAXA's Mercury Magnetospheric Orbiter. The two probes will study Mercury's core and processes on its surface, as well as its magnetic sphere.
The mission is named after Italian scientist Giuseppe "Bepi" Colombo, who is credited with helping develop the gravity assist maneuver that NASA's Mariner 10 first used when it flew to Mercury in 1974.
Local journalism is essential.
Give directly to The Spokesman-Review's Northwest Passages community forums series -- which helps to offset the costs of several reporter and editor positions at the newspaper -- by using the easy options below. Gifts processed in this system are not tax deductible, but are predominately used to help meet the local financial requirements needed to receive national matching-grant funds.
Subscribe to the Coronavirus newsletter
Get the day's latest Coronavirus news delivered to your inbox by subscribing to our newsletter.
---