News > Crime/Public Safety
Spokane County Jail sued by mother whose daughter fatally overdosed behind bars
UPDATED: Fri., Oct. 8, 2021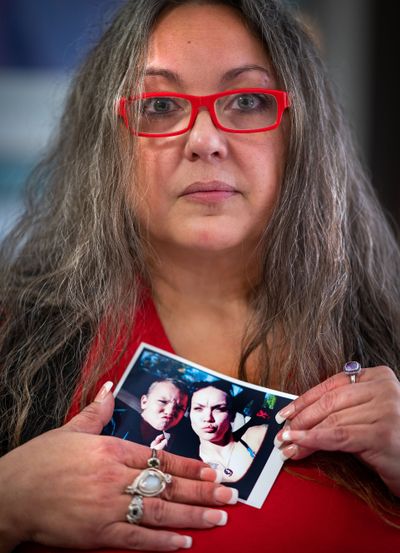 Four years ago, Kelly O'Connor got the news that no mother ever wants to hear.
Her daughter, Cambrea "Cami" Bishop, 26, died in the Spokane County Jail, shortly after her arrest for a probation violation.
Everything about Bishop was larger than life, her mother said, from her laugh to her smile to her 6-foot-1 stature.
"She lit up the room," O'Connor said. "I always used to say that she was just happy to be here."
After O'Connor made it through the shock of learning her daughter was gone, she had questions about why. The Spokane County Medical Examiner said Bishop died from pulmonary edema, a condition caused by excess fluid in the lungs making it difficult to breathe.
Bishop was detoxing off drugs she used before her arrest; O'Connor said she was puzzled by the cause of death. Bishop's estate filed a lawsuit last month against Spokane County and John McGrath, the Spokane County Jail director at the time, alleging the jail was negligent and did not properly care for Bishop.
Reaching for recovery
As a child, Bishop was always singing and smiling.
She had a "magnetic personality," said Bishop's longtime attorney, Jeffry Finer.
Then, as a teen, things began to take a turn. Bishop got pregnant when she was 16.
"It was rough" O'Connor said. "I definitely wasn't ready to be a grandma."
Shortly after Bishop gave birth to her son, she began dealing with substance abuse.
"Partying is not therapy, but that's how she used it," Finer said.
She had always struggled with the fact that her dad wasn't in her life, said O'Conner, who raised her children as a single mother while in recovery herself.
"She was looking to fill up that space that her dad left there," O'Connor said.
In 2013, Bishop pleaded guilty to fraud charges in federal court. Then in 2016, she was back in court for possession of a stolen firearm as a felon. She pleaded guilty to those charges in 2017 and was sentenced to 18 months in prison. Court documents at the time indicate Bishop was addicted to drugs and sought treatment as part of her plea agreement.
At that sentencing, she told the court that her mother was her hero because she was able to shake her addiction, Finer recalled.
"That's who I want to be – that's who I need to be," she told the court, according to Finer.
Recovery for Bishop, like most people, was up and down, O'Connor said. O'Connor was still taking care of Bishop's son, but her daughter was making progress.
Then she had a relapse. Bishop called her mother and told her she messed up and likely would have to go back to jail for violating the terms of her federal supervision. Bishop was ready to do the time and get back into recovery, O'Connor said.
"That was her whole goal, was to just get back on track," O'Connor said.
Difficult detox
In July 2018, Bishop was arrested for violating the terms of her federal supervision and was booked into the Spokane County Jail, where she began to detox from heroin, according to the lawsuit.
A toxicology screen when Bishop was booked showed ecstasy, marijuana, amphetamine, methamphetamine and opiates in her system, according to the lawsuit.
She was prescribed medications to treat nausea and diarrhea, but nothing to treat her cravings for the drugs, the lawsuit said.
Two days later, Bishop was released from detoxification monitoring while still suffering from cravings, according to the lawsuit.
During this time, O'Connor talked to Bishop, who sounded upbeat despite feeling terrible, she said.
The next morning, she told her fellow inmates she intended to "go shopping," indicating she would look for contraband drugs to relieve the cravings, the lawsuit said.
The lawsuit posits that jail staff knew contraband substances were easily smuggled into the jail and available to detainees. Just a few hours later, a detainee can bee seen on surveillance video "slipping something" into Bishop's cell.
At about 1:30 p.m. July 18, 2018, Bishop was found face down and unresponsive in her bed. Despite efforts to resuscitate her, Bishop was pronounced dead a short time later.
A search of Bishop's cell turned up Buspar, a drug commonly used to treat anxiety. The drug was also found in her stomach. According to the lawsuit, that drug combined with her anti-diarrhea medication could have caused dangerous interactions, even resulting in her death.
Finer argues in the lawsuit that crowding in the jail, ineffective security practices and the county's failure to operate a safe facility all contributed to Bishop's death because the facility allowed contraband substances in and didn't provide proper detox treatment.
'They're not safe there'
Despite the jail having a medical-assisted treatment program at the time of Bishop's death, she was not given medication like suboxone, which eliminates cravings and prevents many withdrawal symptoms.
The jail's suboxone program began in August 2017, a year before Bishop's death, according to the county. Spokane County declined to comment for this story through spokesman Jared Webley, who said the county doesn't comment on pending litigation.
Years after her daughter's death, O'Connor is still struggling to come to terms with what happened. She watches her friends who also have children worry as they relapse, and worry about them dying in jail where they're supposed to get help, just like Bishop.
"I watch them suffer, and when their children maybe mess up, break the law, they get arrested," O'Connor said. "The first thing they say is, 'They're safe now.' And my heart crumbles into a million pieces, because the first thing I want to do is go, 'No, they're not. They're not safe there.' Because that's what I used to think, too."
Local journalism is essential.
Give directly to The Spokesman-Review's Northwest Passages community forums series -- which helps to offset the costs of several reporter and editor positions at the newspaper -- by using the easy options below. Gifts processed in this system are not tax deductible, but are predominately used to help meet the local financial requirements needed to receive national matching-grant funds.
Subscribe to the Coronavirus newsletter
Get the day's latest Coronavirus news delivered to your inbox by subscribing to our newsletter.
---