Marketing > Sponsored
Ovarian cancer: How Amy Lindh fought a hard-to-diagnose cancer – and won
Sun., Oct. 31, 2021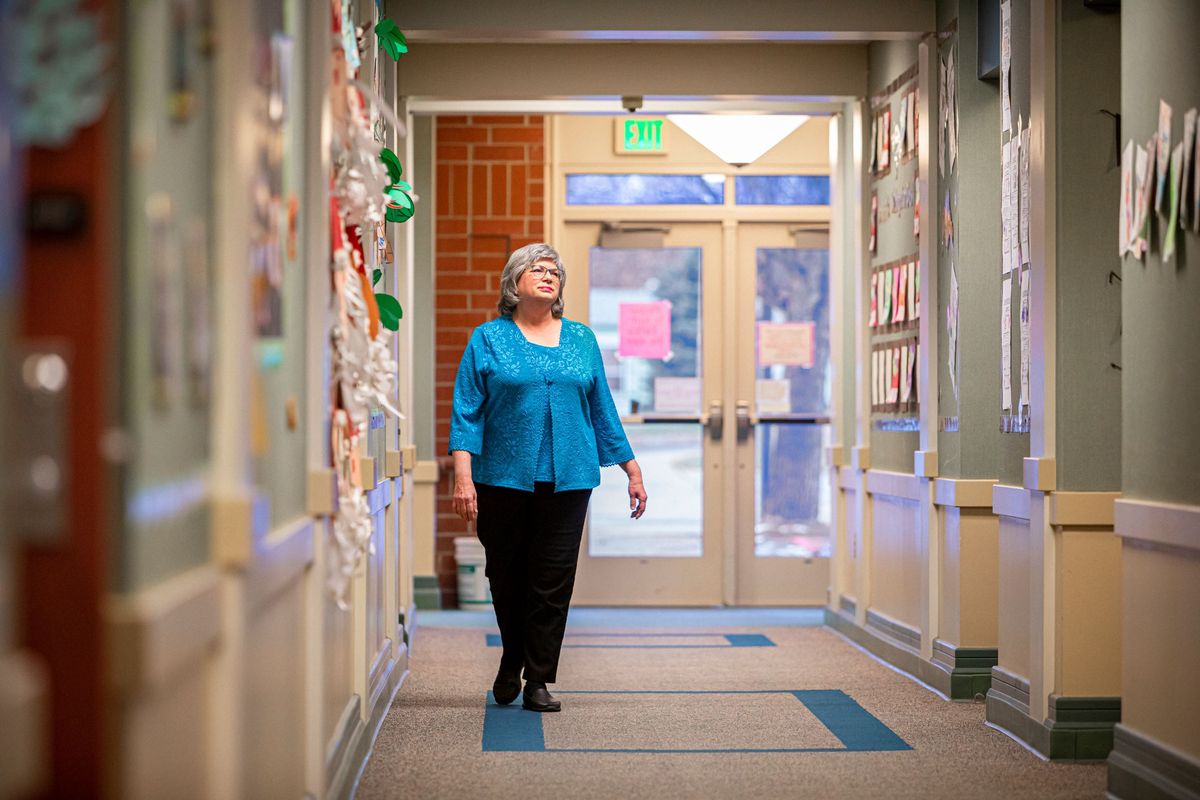 Amy Lindh received specialized care through Providence Gynecologic Oncology Clinic in Spokane. (Courtesy Providence Health Care)
With the help of gynecologic oncology specialists at Providence, Amy beat cancer—and found the courage to accomplish things she'd never dreamed of.
A month before her 49th birthday, Amy Lindh had her annual exam and was told everything looked good. A month later, the Deer Park teacher was short of breath, losing weight, and throwing up black clumps of blood with long tentacles she describes as "spiderlike."
Considering her history of digestive issues and complicated periods, she passed off the symptoms. After her husband encouraged her to see a doctor, Amy underwent a series of tests and was diagnosed with ovarian cancer.
"I really thought they were going to tell me I had irritable bowel syndrome or inflammatory bowel disease," Amy says. "I was not expecting ovarian cancer." While it was a difficult diagnosis for Amy and her family, she was relieved to finally learn that her symptoms weren't just in her head.
Amy's family doctor referred her to Melanie Bergman, M.D., Providence Gynecologic Oncologist, a name Amy also found while doing her own research. A week later she was in surgery.
Specialized Oncology Care Close to Home
As a gynecologic oncologist, Dr. Bergman handles complicated surgeries that regular OB-GYN practitioners don't feel comfortable doing, including administering cancer surgeries and treatments.
When asked about the team at Providence Gynecologic Oncology Clinic in Spokane, Dr. Bergman says "it's unique." With 40 fellowship spots per year and roughly a thousand fellowship-trained gynecologic oncologists across the country, she and two other doctors provide the only care of this kind in Spokane, drawing patients from outlying regions when specialty care is required.
With cancer spreading throughout Amy's diaphragm and abdomen, Dr. Bergman and her team performed a specialized debulking procedure to remove the cancer, followed by two types of chemotherapy, intravenous therapy as well as intraperitoneal chemotherapy given through a port in her abdomen.
Upon learning Amy had a double lumpectomy to treat breast cancer in 2001, Dr. Bergman conducted genetic testing. When that test returned positive, Amy had a preventative double mastectomy based on Dr. Bergman's recommendation.
Building Lasting Relationships
"Because you're in the fight of your life, you form a different bond with your oncologist than you may with your general doctor," says Amy. "Dr. Bergman has a genuine care for keeping people free of this disease."
"The journey," explains Dr. Bergman, "and I keep using that word because it is a journey, is that you meet a patient and they have something that has now changed their life. They never thought they'd get cancer. We bond with them. I have been caring for some patients for 19 years and that's rewarding."
Today, nine years after her first treatment, Amy is cancer- free and continues to show no evidence of the disease that changed her life. "The only reason I'm here is because I had a very awesome oncologist. That and the grace of God,." Amy says.
A Life Beyond Cancer
Amy's post-cancer life isn't only more optimistic, it's more fuller than ever. She worked with Providence to set up a gynecologic cancer support group, and even travels to Washington, D.C. once a year with medical staff to advocate for ovarian cancer funding, testing and research. With some encouragement from Dr. Bergman, she's also competing in triathlons. In 2018, she completed a triathlon with Dr. Bergman and another ovarian cancer survivor on her team. Amy did the swim leg of the race. She is still very active, exercising several times each week.
"Those are things I would never have done on my own," Amy says. "They encourage you to live a fuller life and reach out and encourage other women going through this. They look at you as more than a patient."
Knowing When to Seek Treatment
"I'm a big believer that patients know their own bodies," says Dr. Bergman. "If you think something is wrong or has changed, even a subtle change, you should go to your general practitioner."
"It mimics other conditions," Amy says. "If I have flu-like symptoms for three or more days, I know it's not the flu. Ovarian cancer is something that can't be detected on a Pap smear. Twenty-two thousand women a year will be diagnosed, and about 12,000 will die because they wait too long. If you can get to a good gynecologic oncologist early, your survival rate goes up considerably."
Amy encourages anyone whose life has been impacted by ovarian cancer to get involved with a support group and to accept the care of those around you. She attributes her success and survival to her husband Jay, her Deer Park community and her care team for the support she received and continues to receive.
"As women, we're caregivers," says Amy. "We also need to learn to accept care from others when we're not well."
Amy's messages are simple: She is passionate about promoting early detection for cancer. And she is thankful for God's healing grace.
Learn more about ovarian cancer treatment and prevention at here. To sign up for a virtual cancer support group, including the gynecologic support group, which is available to all, including those who are not patients of Providence, please call (509) 474-5490 or email PHConcologynavigator@providence.org.
Local journalism is essential.
Give directly to The Spokesman-Review's Northwest Passages community forums series -- which helps to offset the costs of several reporter and editor positions at the newspaper -- by using the easy options below. Gifts processed in this system are not tax deductible, but are predominately used to help meet the local financial requirements needed to receive national matching-grant funds.
Subscribe now to get breaking news alerts in your email inbox
Get breaking news delivered to your inbox as it happens.
---