News > Health
WSU, sports arenas across state now requiring proof of vaccination at games
Sept. 7, 2021 Updated Tue., Sept. 7, 2021 at 10:13 p.m.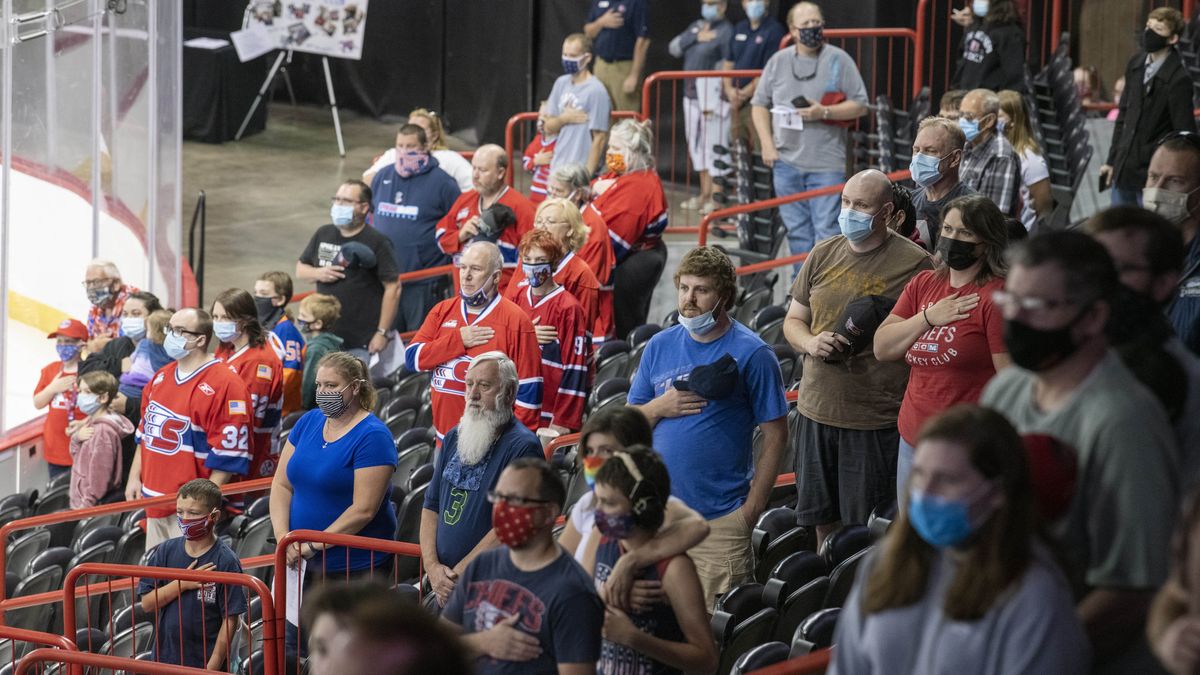 Most fans wore masks to the Spokane Chiefs' annual Red-White Game on Sunday at the Spokane Arena. (Jesse Tinsley/THE SPOKESMAN-REVIEW)
Washington State University joined athletic teams across the state when it announced fans 12 and older will have to get vaccinated to attend games, a decision made by arenas and athletic departments to offset spikes in COVID-19 hospitalizations.
For everyone 5 and older, masks will be required starting Tuesday at WSU Athletics events, WSU said in a statement. Attendees 12 and over will have to show proof of their vaccination at home games starting in October, with the first contest scheduled for Oct. 9 against Oregon State University at Gesa Field.
For unvaccinated guests 12 and over, the stadium will require a negative COVID test from within three days before the game, according to WSU's statement.
The WSU Cougars were one of several teams to update the vaccine and mask policies, mirroring mandates announced Tuesday by the University of Washington and the Seattle Kraken.
In a statement, Husky Athletics announced attendees will get their vaccination verified on-location starting Sept. 25 at the home football game against UC Berkeley.
All attendees of Husky Athletics events 5 and over will also have to wear a mask starting Tuesday, according to the statement.
During the UW game against Arkansas State on Sept. 18, guests can take advantage of an optional pop-up vaccine site or get their vaccine status approved at one of the verification sites, according to the UW statement.
Guests who go through this verification will only have to do it once. UW said it would release more details on how vaccines will be verified in the coming days.
King County Executive Dow Constantine said Public Health – Seattle & King County would work with businesses, sports teams and venues to develop clear vaccine verification policies, according to a statement from the county Tuesday.
The Seattle Kraken and Climate Pledge Arena announced Tuesday all guests 5 and older will have to wear masks and those 13 and over will have to show proof of vaccination or a negative COVID test result from within 72 hours before game time.
Those who have valid religious or medical exemptions will have to provide a negative COVID test result from within 48 hours before game time, said Don Graham, senior vice president of events at Oak View Group and COVID task force lead for Climate Pledge Arena.
More details on accepted exemptions will be communicated after guidance from health experts and the Centers for Disease Control and Prevention, Graham said.
"We will have, obviously, everybody be masked, including the vaccinated individuals, folks that are exempt coming in with a negative test and the children under 12 who can't get a COVID-19 vaccination," Graham said. "There will be an extra layer of protection."
Graham said the arena will consider refunds for Kraken games on a case-by-case basis. Other Climate Pledge Arena events like concerts will have to be worked out with show promoters, who may have a different policy, Graham said.
The team's first home game is Oct. 23 against the Vancouver Canucks at the Climate Pledge Arena in Seattle. They will play an exhibition game at Spokane Arena on Sept. 26, where the vaccination requirement also will be in effect.
The Kraken will also require vaccinations for all full-time and part-time employees and contractors, according to the statement. About 94% of these staff members are fully vaccinated, and the arena set a vaccine cutoff date for Oct. 1, said De'Aira Anderson, corporate communications manager with the Seattle Kraken.
The NHL does not disclose vaccination status of its players, Anderson said.
The Seattle Seahawks, Mariners and Sounders announced similar vaccination and testing requirements for attendees 12 and over. Masks are required for all fans 5 and over. This goes into effect for the Sept. 19 home game against the Tennessee Titans.
Those who don't get vaccinated will have to show a negative COVID result from within 72 hours of kickoff, the Seahawks said in a statement, and anyone seeking a medical exemption from the mask mandates will have to fill out a form three days before the game.
The Spokane Chiefs hockey club did not have a vaccine mandate as of Tuesday afternoon, but did set a mask requirement for everyone 5 and over, said Brian Cobb, vice president of marketing and communications for the hockey club. Masks are recommended for children ages 2-4.
"Given all the news that's happened today, we will continue to monitor and evaluate best practices," Cobb said, adding they would defer to local and state health authorities for policy guidance.
Local journalism is essential.
Give directly to The Spokesman-Review's Northwest Passages community forums series -- which helps to offset the costs of several reporter and editor positions at the newspaper -- by using the easy options below. Gifts processed in this system are not tax deductible, but are predominately used to help meet the local financial requirements needed to receive national matching-grant funds.
Subscribe now to get breaking news alerts in your email inbox
Get breaking news delivered to your inbox as it happens.
---