Sports > WSU football
Recap and Highlights: WSU beats Portland State 44-24 behind de Laura's four touchdowns
Sept. 11, 2021 Updated Sat., Sept. 11, 2021 at 7:08 p.m.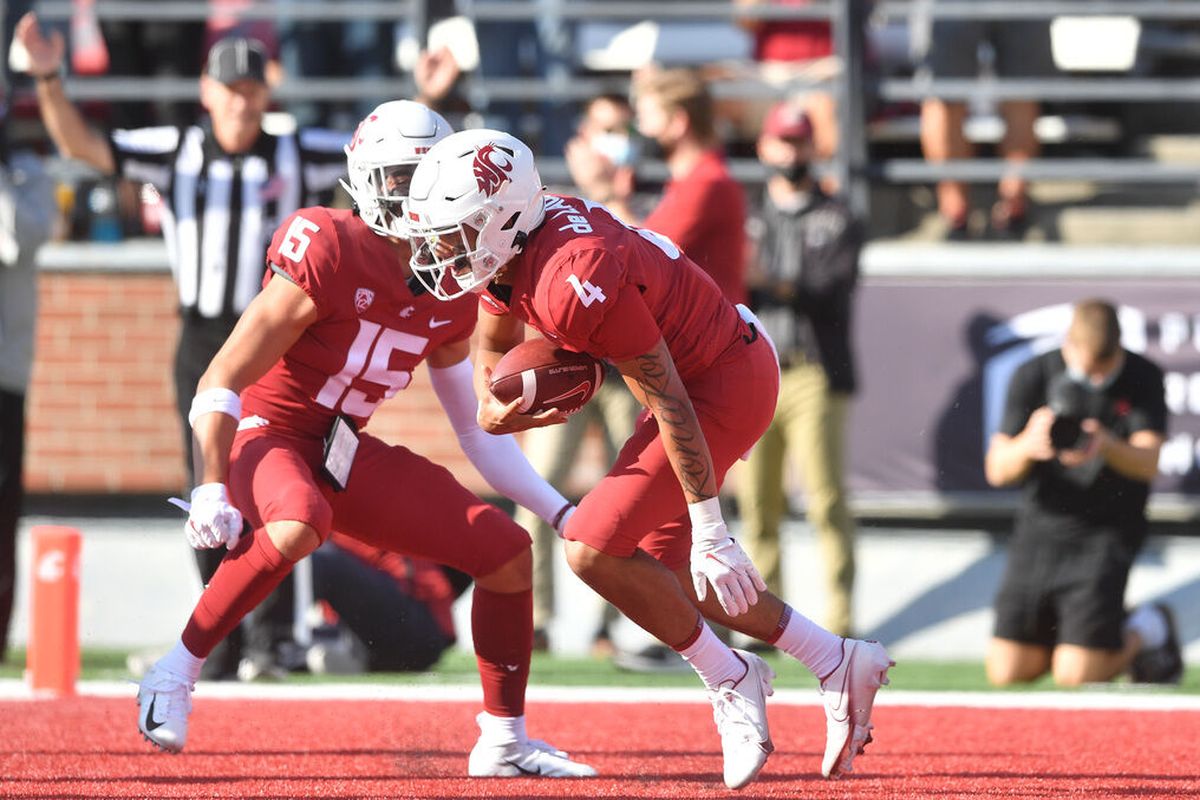 Washington State Cougars quarterback Jayden de Laura (4) celebrates with wide receiver Mitchell Quinn (15) after he scored a touchdown against the Portland State Vikings during the first half of a college football game on Saturday, Sep 11, 2021, at Martin Stadium in Pullman, Wash. (Tyler Tjomsland/The Spokesman-Review)
PULLMAN – In its season opener last week, Washington State took a two-touchdown lead and left the door open in a way that allowed its opponent to stage a late comeback and finish off an unlikely upset. Seven days later, the Cougars left no doubt, slamming it early on a Portland State team that never looked like it had a chance to win consecutive games on the Palouse.
Seven days after scoring just 23 points in a loss to Utah State, WSU matched that total midway through the second quarter against the Big Sky Vikings, taking a three-touchdown lead into the halftime break before winning 44-24 at Gesa Field. It was the first time the nonconference opponents had played since 2015, when Portland State left Pullman with a 24-17 upset win over Mike Leach and the Cougars.
WSU (1-1) opens Pac-12 Conference play next Saturday at 12:30 p.m. PT against South division favorite USC (1-0).
The Cougars thumped the Vikings behind a dominant rushing attack that was led by running backs Deon McIntosh and Max Borghi, who combined for 123 of WSU's 162 total rushing yards. After a midweek outcry from WSU fans to feature Borghi and McIntosh more than the Cougars did in the opener when they got just 15 carries, the team's top two rushers registered 15 carries in the first half and 21 in total. Third-string running back Nakia Watson also had four carries, all coming in the fourth quarter.
One week after replacing Jarrett Guarantano in the second quarter, quarterback Jayden de Laura made his first start of the season and completed 21 of 29 passes for 303 yards, three touchdowns and one interception. The Vikings also had to account for the mobility of WSU's starting quarterback, who had two rushing plays of 10-plus yards including a rushing TD in the first half.
Following a three-and-out on their first offensive drive, the Cougars were able to move downfield efficiently on their next series and de Laura's 21-yard scramble was followed by a 22-yard touchdown pass to Jackson Jr.
De Laura tossed an interception in the end zone on the ensuing WSU drive, but the sophomore punched in two more touchdowns before the half was over, scampering in for a 10-yard score before completing to Travell Harris for a 19-yard touchdown. Borghi had WSU's first touchdown in the second half, taking a pitch from de Laura into the end zone from one yard out, and de Laura closed the scoring with a 13-yard toss to Harris.
After surrendering 21 second-half points last week, WSU's defense posted two shutout quarters, keeping the Vikings off the scoreboard form the 2:05 mark in the second quarter until the 2:57 mark in the fourth.
Highlights:
First quarter
13:16 - WSU 0, PSU 0: The Cougars go three-and-out on their opening drive. Max Borghi carried the ball to the right side on third down and fumbled while being rolled over a Portland State defender, but is ruled down after an official review. 
11:49 - WSU 0, PSU 0: PSU's Malik Walker fumbles at the 50 yard line, where WSU freshman Andrew Edson comes away with the recovery. 
10:55 - WSU 0, PSU 0: Jayden de Laura breaks evades tacklers in the pocket and rushes for a 21-yard gain to the PSU 22.
9:42 - WSU 7, PSU 0: Jayden de Laura completes a 22-yard touchdown to Calvin Jackson Jr., who leaps over a defender to make a spectacular catch in the back of the endzone.
8:50 - WSU 7, PSU 0: Andrew Edson sacks PSU QB Davis Alexander to force a three-and-out. Edson recovered a fumble earlier in the quarter and is credited with his first career sack.
4:49 - WSU 7, PSU 0: The Cougars string together a five play 44-yard drive, but Jayden de Laura is picked off in the endzone by Anthony Adams.
3:59 - WSU 7, PSU 0: WSU's defense forces another three-and-out, and now have allowed 30 yards on 10 plays.
2:17 - WSU 7, PSU 0: Jayden de Laura is sacked by VJ Malo and Kennedy Freeman for a loss of 12, forcing a three-and-out.
0:00 - WSU 7, PSU 0: Portland State gains 34 yards down to the WSU 49 yard line before the end of the first quarter.
Second quarter
10:25 - WSU 7, PSU 7: QB Davis Alexander caps off a 67-yard Viking drive with a 1-yard touchdown run on a read-option. The Cougars stuffed PSU on first and second down, but were not able to contain Alexander on third down around the edge. 
9:10 - WSU 14, PSU 7: Jayden de Laura makes a defender miss and runs in a 10-yard touchdown. It didn't take long for the Cougars to answer back from the Vikings' score, after Cody Williams returned the kickoff 61 yards. 
5:46 - WSU 14, PSU 7: Cougars keep gashing PSU on the ground. Borghi carries three straight times for 19 yards, followed by a 16-yard run from Deon McIntosh.
5:12 - WSU 21, PSU 7: A 29-yard pass from Jayden de Laura to Travell Harris sets up a 16-yard touchdown run from Deon McIntosh. Cougars drive 80 yards in seven plays.
3:47 - WSU 21, PSU 7: Davis Alexander puts together runs of 16 and 14 yards to take the Vikings down to the Cougar's 29 yard line.
3:07 - WSU 21, PSU 10: Cody Williams' 46-yard field goal is good.
1:07 - WSU 27, PSU 10: Jayden de Laura completes a 19-yard touchdown to Travell Harris. De Laura is 10 of 13 for 151 yards, two touchdowns and one interception in the first half. He also has four carries for 22 yards and a score. PAT is no good.
0:30 - WSU 27, PSU 10: Justus Rogers comes away with an interception right before the end of the half on the Vikings' 40 yard line.
0:00 - WSU 30, PSU 10: Dean Janikowski nails a 23-yard field goal as the clock expires in the first half.
Third quarter
13:22 - WSU 30, PSU 10: Davis Alexander comes out of the locker room and converts two first downs with three straight completions of 15, 4 and 13 yards. 
10:42 - WSU 30, PSU 10: The Vikings' drive stalls at the WSU 17 yard line and turn the ball over on downs after a deflected pass in the backfield by Brennan Jackson.
9:06 - WSU 30, PSU 10: Jayden de Laura uncorks a deep pass down the sideline into traffic and Calvin Jackson Jr. leaps above defenders to pull down a 37-yard catch.
7:11 - WSU 30, PSU 10: The Cougars turn the ball over on downs at the PSU 31 yard line.
4:33 - WSU 30, PSU 10: PSU's drive stalls and Travell Harris returns the punt 22 yards to the Cougars' 34 yard line.
2:13 - WSU 37, PSU 10: Max Borghi skips inside the left pylon on a speed option for a 1-yard touchdown. Jayden de Laura set up the play with a 19-yard completion to De'Zhaun Stribling, who made an acrobatic play to get a foot down on the sideline. 
Fourth quarter
14:53 - WSU 37, PSU 10: Brennan Jackson and Willie Taylor III sack Davis Alexander and WSU takes over on their own seven yard line after a 49-yard punt.
12:46 - WSU 37, PSU 10: Jayden de Laura is sacked by VJ Malo on the WSU one yard line. Nick Haberer's punt is downed on the Cougar 34.
9:53 - WSU 37, PSU 10: Davis Alexander's pass falls incomplete on fourth down and the Cougars take over on their own 24.
9:38 - WSU 37, PSU 10: Victor Gabalis enters the game at quarterback for the Cougars and throws three straight incompletions. PSU calls for a fair catch on the punt at its own 39.
6:34 - WSU 37, PSU 17: Davis Alexander finds Beau Kelly past the Cougars' secondary for a 39-yard touchdown.
6:31 - WSU 37, PSU 17: The Cougars recover a PSU onside kick and Jayden de Laura re-enters the game at quarterback.
2:02 - WSU 44, PSU 17: Jayden de Laura completes a 13-yard touchdown to Travell Harris on 4th-and-6. Harris has six catches for 80 yards and two touchdowns.
0:23 - WSU 44, PSU 24: Davis Alexander caps off a nine play 75-yard drive with a three yard touchdown pass to Nate Bennett.
WSU missing key DB's
Washington State will be playing thin in its secondary against a team that thrives on its quarterback-to-receiver connection.
Cougar defensive backs Armani Marsh, Armauni Archie, Tanner Moku and Chris Jackson did not run through warm-ups with WSU ahead of its matchup with Portland State on Saturday afternoon at Gesa Field.
Marsh started at nickel last week but seemed to disappear from the field later in the Cougars' 26-23 loss to Utah State. His backup, Archie, filled in. He was tagged with a pass interference penalty on the Aggies' game-winning drive but otherwise did not surrender a big-yardage play.
Moku, a sophomore walk-on, played a key role in the secondary's rotation last week and finished as WSU's No. 2 tackler on the night with eight.
Jackson, a transfer cornerback from Michigan State, did not play in Week 1 either.
Safety Daniel Isom shifted to nickel for the game against the Vikings. Tyrone Hill Jr., a Buffalo transfer, started at safety.
Pregame
Around the Pac-12
After the Pac-12 North went 1-5 in the opening week, No. 12 Oregon made a statement by knocking off No. 3 Ohio State 35-28.
Game Preview
Individual leaders
Team Stats
More on the Cougs
Local journalism is essential.
Give directly to The Spokesman-Review's Northwest Passages community forums series -- which helps to offset the costs of several reporter and editor positions at the newspaper -- by using the easy options below. Gifts processed in this system are not tax deductible, but are predominately used to help meet the local financial requirements needed to receive national matching-grant funds.
Subscribe to the Cougs newsletter
Get the latest Cougs headlines delivered to your inbox as they happen.
---