News > Crime/Public Safety
TSA finds 6-inch knife taped inside carry-on bag at Spokane airport
UPDATED: Thu., Sept. 16, 2021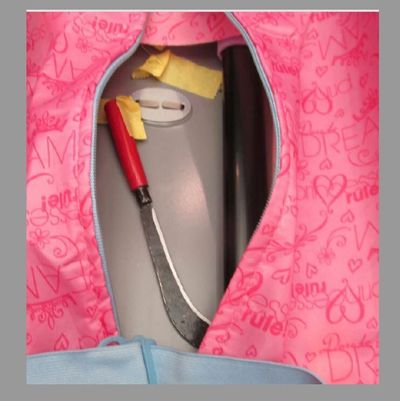 Transportation Security Administration officers discovered a 6-inch knife taped in the liner of a traveler's carry-on bag during a routine screening at the security checkpoint Sept. 10 at the Spokane International Airport, according to a post on TSA Pacific's Twitter account.
Lorie Dankers, TSA spokesperson, said yellow tape was used to tape the knife in the lining of the pink luggage.
"Every day across the country TSA officers do find prohibited items," Dankers said. "Most of those are not artfully concealed like this one was."
Dankers said TSA will review the circumstances of the event and determine if the traveler will face a civil penalty.
She said TSA can assess fines for alleged actions like these, but it is not a law enforcement agency and cannot levy criminal penalties. She said the incident will be reviewed over the coming weeks.
Dankers said TSA does not reveal the names of travelers. 
Todd Woodard, a Spokane airport spokesperson, said in a text message that the knife was legal but was a prohibited item in the area of the terminal building beyond the passenger security checkpoint. The knife was confiscated, he said.
Dankers reminded travelers to carefully check the contents of their bags and not bring prohibited items, like knives, to the security checkpoint.
Editor's note: This story was updated on September 16 to reflect the correct date of the incident. 
Local journalism is essential.
Give directly to The Spokesman-Review's Northwest Passages community forums series -- which helps to offset the costs of several reporter and editor positions at the newspaper -- by using the easy options below. Gifts processed in this system are not tax deductible, but are predominately used to help meet the local financial requirements needed to receive national matching-grant funds.
Subscribe to the Coronavirus newsletter
Get the day's latest Coronavirus news delivered to your inbox by subscribing to our newsletter.
---