Marketing > Sponsored
First Interstate Bank's Volunteer Day benefits 234 nonprofits
Fri., Sept. 17, 2021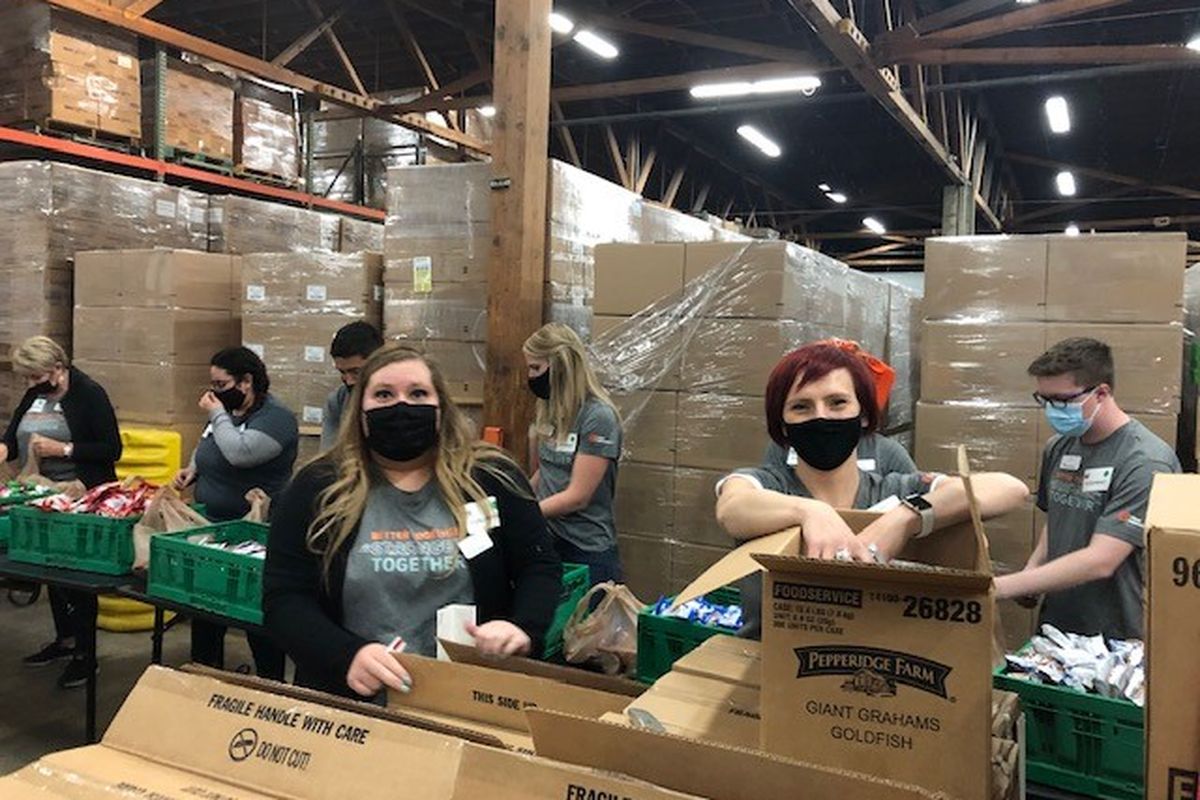 First Interstate Bank employees volunteering with Second Harvest Inland Northwest. (Courtesy First Interstate)
To mark its fourth annual Volunteer Day, First Interstate Bank closed all branches at noon on September 8 to grant employees paid time to volunteer in their communities. More than 1,820 employees supported 234 separate nonprofit organizations across six states, making this year's impact the largest ever.
Volunteer Day in Spokane
The overarching philanthropic focus of this year's Volunteer Day was anchored in combating poverty, hunger, and homelessness. However, employees were empowered to select whichever nonprofit organization they desired to ensure they catered to the specific needs of their communities.
Here in Spokane, volunteers participated in five service projects, supporting five organizations including Hillyard Senior Center and Second Harvest, among others. Throughout these organizations, volunteers could be seen assembling food kits at Second Harvest and visiting seniors at the Hillyard Senior Center.
"This day simply concentrates and magnifies the efforts of our wonderful employees, who give and give generously to the places where we live and work," said TJ Brill, Eastern Washington Market President. "We are honored to celebrate the power of community with our neighbors today."
Recognizing the challenges brought on by COVID-19, employees were given the option to volunteer onsite at organizations that accommodated safe social distancing. Additional options allowed employees to volunteer remotely—from their home, from the Bank, or virtually by hosting webinars or financial education seminars.
"With the 2021-2022 school year beginning it was critical for us to be able to assemble kits from bulk product in order to begin getting them out the door and into kids hands mid-September," said Chris Houglum, Second Harvest's vice president of philanthropy. "It's an understatement to say we were relying on the many hands of First Interstate volunteers to get our initial inventory of Bite2Go kits ready for distribution. First Interstate volunteers got it done! Working efficiently, they helped assemble thousands of Bite2Go kits to ensure food insecure students have food to bridge the weekend meal gap. More than 6,000 Bite2Go kits were assembled."
Commitment to Community
Giving back on Volunteer Day isn't just a one-and-done focus for First Interstate. It's a philanthropic philosophy employees bring to life every day at the $18.9 billion organization with branches across six states.
"Giving back to the places we call home is what makes us who we are," said First Interstate President and CEO, Kevin Riley. "Yes, we're a full-service community bank, but more importantly, we're a trusted community partner and neighbor. We are honored to celebrate the power of community with you on Volunteer Day—and every day."
In addition to Volunteer Day, First Interstate champions other innovative philanthropy-focused programs, including Teach Children to Save, Neighbors Feeding Neighbors, Coats and More, and Get Smart About Credit.
Additionally, through the organization's volunteer match program, the bank pays nonprofits $10 for each hour First Interstate employees volunteer at their organizations.
First Interstate also matches employee donations to nonprofits and is committed to donating 2% of its net income before taxes to charitable organizations. In fact, over the past 11 years, First Interstate has contributed $36.3 million in donations and 143,000 volunteer hours to nonprofits across its footprint.
Making a Difference in the Places We Call Home
To learn more about Volunteer Day or the additional services that First Interstate offers, visit firstinterstate.com or stop into one of First Interstate's more than 150 branch locations.
Local journalism is essential.
Give directly to The Spokesman-Review's Northwest Passages community forums series -- which helps to offset the costs of several reporter and editor positions at the newspaper -- by using the easy options below. Gifts processed in this system are not tax deductible, but are predominately used to help meet the local financial requirements needed to receive national matching-grant funds.
Subscribe now to get breaking news alerts in your email inbox
Get breaking news delivered to your inbox as it happens.
---