News > Business
Avista seeks increases to natural gas rates in Washington, Idaho
UPDATED: Fri., April 29, 2022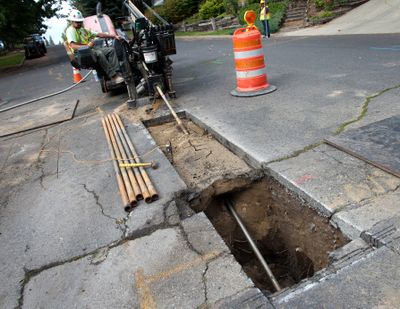 Avista Corp. customers in Washington and Idaho might see an increase to their natural gas bills in the coming months.
The utility filed a Purchased Gas Cost Adjustment (PGA) request to the Washington Utilities and Transportation Commission and the Idaho Public Utilities Commission, Avista announced Friday.
Avista would not profit off the changes, the company says; rather, PGA requests are filed by utilities to adjust rates based on the costs of wholesale natural gas, according to the Washington utilities commission.
"Since the last PGA filings were made, the price of wholesale natural gas has continued to rise with dramatic sustained increases since late March, with prices reaching levels not seen in over 13 years," the company said in the release. "About 40% of an Avista natural gas customer's bill is the combined cost of purchasing natural gas on the wholesale market and transporting it to Avista's system."
If approved, the changes would take effect July 1.
Residential natural gas customers in Washington, who use an average of 67 therms per month, would see their monthly bills rise from $64.86 to $72.66, an approximately 11.7% increase, according to Avista.
In Idaho, residential natural gas customers who use an average of 63 therms per month would see their monthly bills rise from $55.86 to $61.30, or approximately 9.7%.
"As the effects of inflation impact the entire country, the cost of doing business is going up for all companies and industries," the company said in the release. "This filing is an effort to incrementally align customers' rates with the market conditions."
Local journalism is essential.
Give directly to The Spokesman-Review's Northwest Passages community forums series -- which helps to offset the costs of several reporter and editor positions at the newspaper -- by using the easy options below. Gifts processed in this system are not tax deductible, but are predominately used to help meet the local financial requirements needed to receive national matching-grant funds.
Subscribe now to get breaking news alerts in your email inbox
Get breaking news delivered to your inbox as it happens.
---