Dallas area hit by 1-in-1,000-year flood; cars float in water-filled roads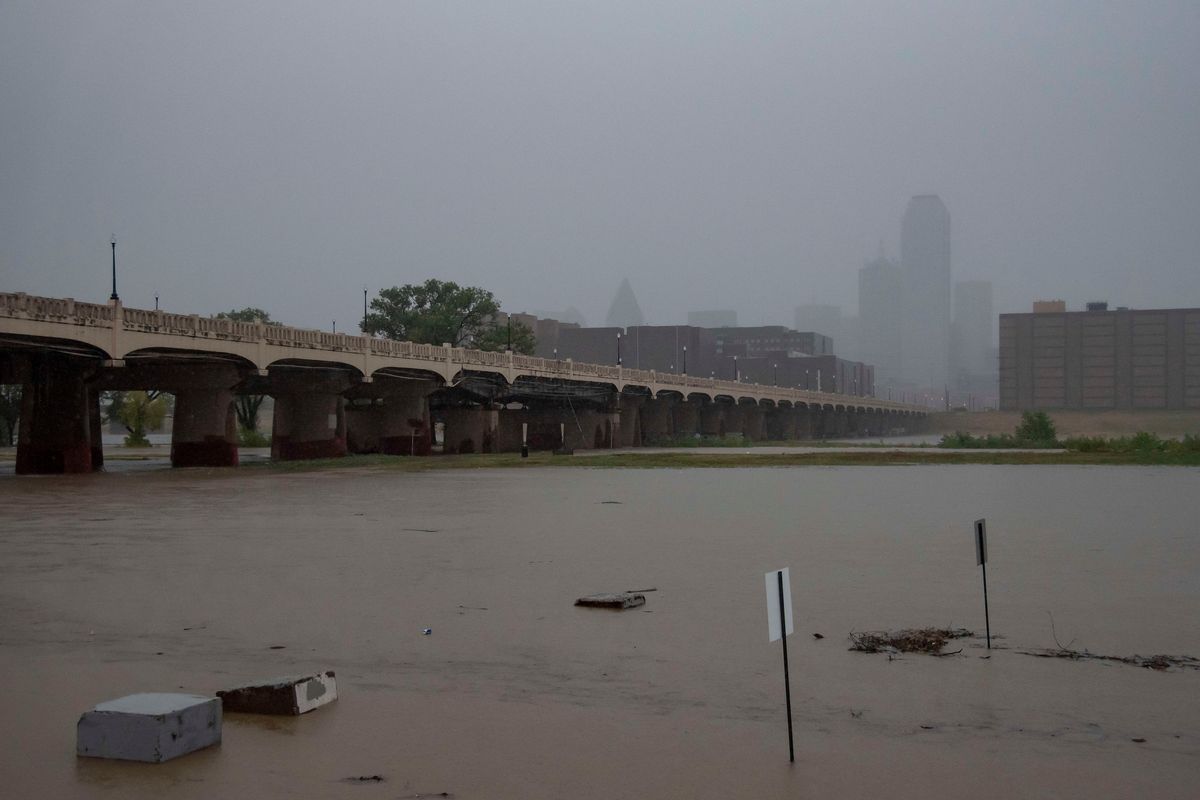 DALLAS – Streets and highways around Dallas remained waterlogged on Monday afternoon, after flash floods struck the Dallas-Fort Worth area overnight. Signs of flooding lingered even after the rain had mostly cleared from the metroplex.
Authorities conducted water rescues and evacuated residents from areas with ongoing flooding; cars remained abandoned, some parked on the sides of interstates, either flooded or damaged by crashes; numerous highway ramps and lanes were shut down. At the interchange of Interstates 30, 45 and 75 flooding had traffic down to a trickle in one lane.
In some isolated areas, the rainfall totals would be considered a 1-in-1,000-year flood – a remarkable reversal given the dramatic drought that Dallas had faced for months. Several rainfall gauges had recorded more than 10 inches. A record-breaking 3.01 inches of rain was recorded in one hour at Dallas-Fort Worth International Airport. The National Weather Service in Fort Worth warned of continued risk for "life-threatening flash flooding," extending its flash flood warning in and around Dallas County . The risk of damage from the floods is "considerable," it said, warning residents not to drive on flooded roads and to move immediately to higher ground. Flash flood warnings were also issued for Canton, Texas.
The downpour marked the latest such flood that has occurred over the past few weeks across the United States. In one week alone, three 1-in-1,000-year rain events occurred – inundating St. Louis, eastern Kentucky and southeastern Illinois. The term, often considered controversial in part because it's misunderstood, is used to describe a rainfall event that is expected once in every 1,000 years, meaning it has just a 0.1% chance of happening in any given year. But such events can occur more than every thousand years.
Human-driven climate change has been found to increase the frequency of such high-precipitation events – a warmer atmosphere, capable of holding more moisture, can produce heavier rain. According to the Intergovernmental Panel on Climate Change's 2022 report, the rate of extreme precipitation events that cause severe flooding is expected to increase in the future.
Several water rescues were ongoing Monday across the Dallas-Fort Worth area. As of 8 a.m. local time, Dallas Fire and Rescue had responded to 141 water-related emergencies, according to the city's emergency management office. By 10 a.m., the Fort Worth Fire Department was responding to 25 high-water rescue calls, and Dallas police were responding to an additional 43 "high water calls."
After the flooding rains move out of the Dallas area, they were expected to continue to track along Interstate 20 toward areas such as Shreveport, La. The National Weather Service's Weather Prediction Center issued a moderate risk of excessive rainfall for northeastern Texas and northwestern Louisiana, with 3 to 5 inches of rain expected in the area and rates of 2 to 3 inches per hour possible.
More excessive rain was expected Tuesday, with the moderate risk for heavy rainfall spreading farther across northern Louisiana into parts of Alabama.
---